UFC, Showtime begin refunds for Mayweather-McGregor PPV glitches
August 29, 2017 - 6:20 pm
Updated August 29, 2017 - 6:37 pm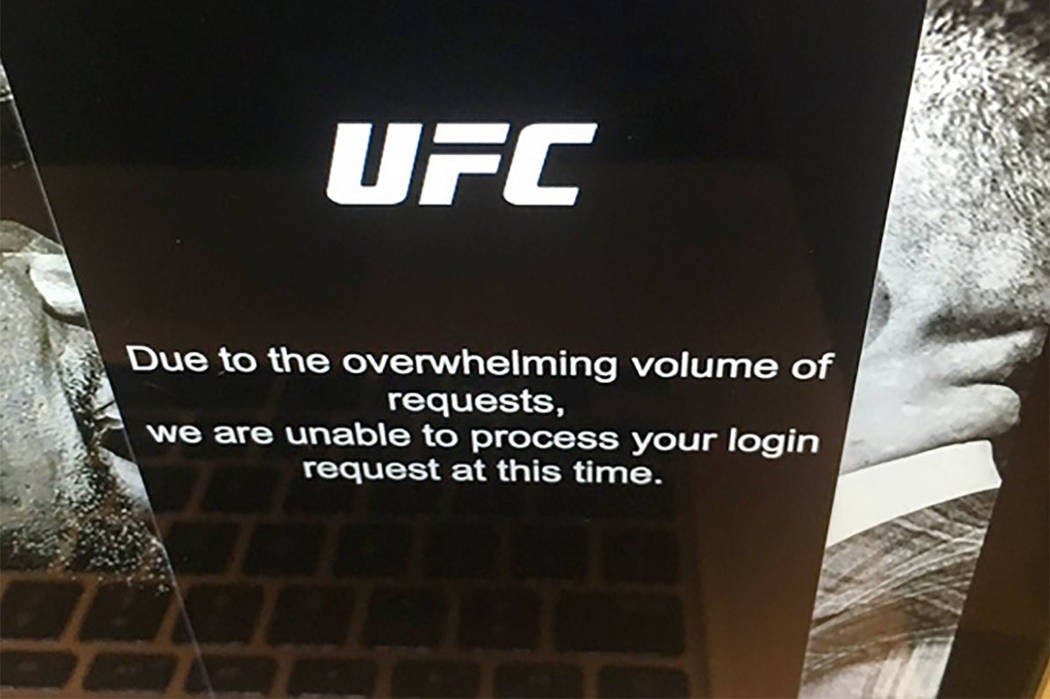 The bout between UFC superstar Conor McGregor and undefeated boxer Floyd Mayweather is likely to go down as the most lucrative fight in combat sports history when all the numbers are counted.
Some of that money may not stay in the coffers for very long.
UFC officials decided late Tuesday to begin offering refunds to customers affected by technical difficulties during the broadcast through their Fight Pass platform.
"We always try to put on the biggest and most exciting fights," UFC president Dana White said in a statement. "We want our fans to have the best experience when watching our events. Unfortunately, we didn't deliver the way we wanted to on Saturday because of NeuLion's technical issues on UFC.TV. As usual, we always take care of our fans and will fix this. We have started processing refunds immediately for anyone that could not access the fight after purchase."
It's unclear how many viewers were affected or if potential refunds might change Mayweather's and McGregor's payday. Mayweather indicated he believes the fight will break the previous record of 4.6 million buys for his 2015 bout against Manny Pacquiao.
White's announcement comes after a class action lawsuit was filed by attorneys Mark Geragos of Los Angeles and Michael Fuller of Portland on Monday in U.S. District Court in Oregon. The lawsuit seeks refunds and potential punitive damages from Showtime due to streaming issues that caused audio and video lapses during the broadcast as well as some consumers to miss portions of the fight on the network's app and web platform.
"To his extreme disappointment and frustration, plaintiff … quickly learned that defendant's system was defective and unable to stream the Mayweather fight in HD as defendant had advertised," the lawsuit claims. "Instead of being a 'witness to history' as defendant had promised, the only thing plaintiff witnessed was grainy video, error screens, buffer events, and stalls."
Screenshots from the broadcast and social media messages from other consumers were included in the suit.
The main event was actually delayed about 20 minutes to allow affected streaming services and cable companies time to fix the issues, which have largely been blamed on overloaded servers due to last-minute orders. Mayweather said after the fight he had been informed of problems mostly concentrated in Florida and California.
Representatives from Showtime said Monday the company received "a very limited number of complaints."
Showtime Senior Vice President of Sports Communications Chris DeBlasio said in a statement the company would provide refunds to customers who had purchased the fight through its platforms and experienced technical problems.
"For those that could not see the fight on those platforms, Showtime will issue a full refund," DeBlasio said Monday. "Of course, the goal is to deliver at the highest quality all of the content."
Consumers who went through other apps or cable and satellite providers will likely have to go through those services in order to file or complaint or receive a refund.
According to the lawsuit in Oregon, those joining the class action suit are entitled to recover actual damages or $200, whichever is greater. Punitive damages may also be sought.
Contact Adam Hill at ahill@reviewjournal.com or 702-277-8028. Follow @adamhilllvrj on Twitter.
Related
PPV delay didn't affect Mayweather-McGregor bout, says Showtime
PPV issues cause problems for Mayweather-McGregor card