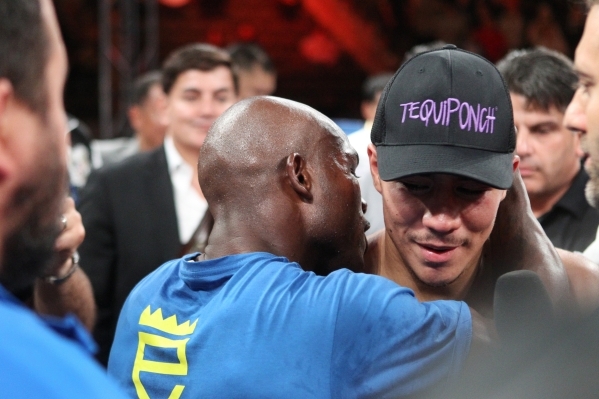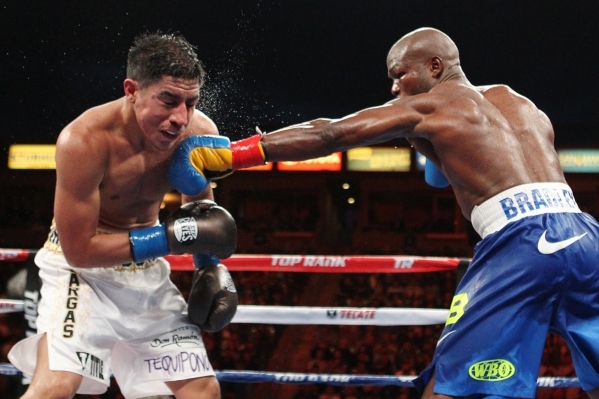 Jessie Vargas is still upset over how his June 27 WBO welterweight title fight with Timothy Bradley ended at the StubHub Center in Carson, Calif.
Vargas, who lost a 12-round unanimous decision to Bradley in a fight that was accidently stopped prematurely by referee Pat Russell with just eight seconds remaining, hopes to get back in the ring in either September or October.
"We're looking at some things," said Vargas (26-1, nine knockouts). "Right now, I need to get my mind right before I get back to training. I'm still angry about what happened with the way the Bradley fight ended."
His manager, Cameron Dunkin, is working on a couple of options.
There's still going to be big opportunities for Jessie," Dunkin said. "I don't think the loss hurt him at all. HBO is still interested in him. He can probably fight on truTV. He's not going away anytime soon."
Vargas was rumored to be paired with Brandon Rios in September. But Dunkin, who manages both fighters, said that's not going to happen. The likelihood is that Rios will fight Ruslan Provodnikov on HBO in what would be an absolute war.
"I don't see it," Dunkin said. "But if Brandon doesn't get to fight Provodnikov, I'd love to see Jessie fight (Provodnikov). Jessie's got the speed and the smarts to not take too much punishment and it would be a great fight."
Dunkin also threw out welterweight Sadam Ali's name as a possible opponeent for Vargas, maybe for Oct. 24 on the undercard of Terrence Crawford's next fight in Omaha, Neb. Ali is promoted by Golden Boy and with Top Rank doing business with Oscar De La Hoya's company again, that's a fight that could be made without too much drama and turmoil.
"That could be a great fight," Dunkin said. "We've talked about Jessie and Ali. We'll see what happens. I just told Jessie to stay positive and everything will work out."
Dunkin said Vargas continues to explore taking legal action against the California State Athletic Commisssion for the way the fight ended.
"He still feels very strongly about the record and he wants the loss changed to a no contest," Dunkin said. "What he really wants is a rematch with Tim but that's not likely going to happen. But he's hired an attorney and they're looking into it. So far, nothing has been filed (in court) but we'll see what happens."
MAGDALENO HURT — Las Vegas super bantamweight Jessie Magdaleno injured his right hand while sparring Thursday and he will not fight Rey Perez in Frisco, Texas on Saturday.
Magdaleno (21-0, 15 KOs) said he felt his hand go numb after landing a punch. He did not suffer any broken bones but his hand had swelled up and he had no choice but to withdraw.
"I hate not fighting," Magdaleno said in a text Friday. "But hopefully I'll be back soon."
FLOYD HONORED — For the third consecutive year, the Nevada Boxing Hall of Fame has chosen Floyd Mayweather Jr. as its Nevada Fighter of the Year.
Mayweather defeated Manny Pacquiao at the MGM Grand Garden on May 2 in what was the richest bout in boxing history. The live gate was $72 million, the pay-per-view buys were 4.4 million producing revenue of $440 million.
For Mayweather, this year's honor has extra meaning. His uncle Roger will be inducted into the Hall on Aug. 8 at Caesars Palace.
"I appreciate the Nevada Boxing Hall of Fame for selecting me as Fighter of the Year once again," Mayweather said in a statement. "My uncle Roger is also being inducted into the Nevada Boxing Hall of Fame. He was a great fighter and is a fantastic trainer who doesn't always receive the credit he deserves. It's nice for him to be recognized for his role in boxing for so many years."
Other award winners include Layla McCarter as the Women's Fighter of the Year; Jarred Santos of UNR as the Amateur Fighter of the Year; Mike Martino, the current executive director of USA Boxing, will receive the President's Award; and Yank Barry will be given the Hall's Humanitarian Award.
ANTI-DOPING WORKSHOP — The Nevada Athletic Commission will have a workshop at 9 a.m. Monday in Room 4500 at the Sawyer Building on its proposed new anti-doping regulations.
It's an opportunity for the public to ask questions about the tougher laws for all combat sports in the state and provide input to the commission. In addition, Dr. Timothy Trainor and Dr. Charles Bernick will be at the meeting to talk about fighter safety and head injuries.
For those unable to attend but who want to participate, they can do so by telephone. The call-in number is 1-877-873-8018, access code 9001021#.
Contact reporter Steve Carp at scarp@reviewjournal.com or 702-387-2913. Follow @stevecarprj on Twitter.