Veteran Hopkins to defend IBF title on his own terms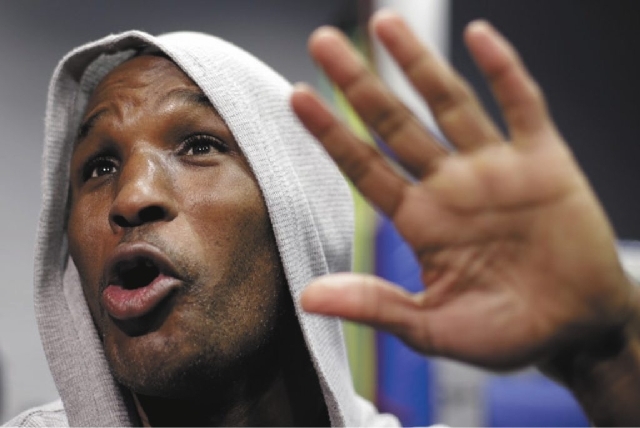 NEW YORK — Every day, it seems as if there's a different opponent for Bernard Hopkins.
First it was Karo Murat. Then it was Sergey Kovalev. Beibut Shumenov wants to fight him. So does Adonis Stevenson. Then Murat was back in the picture after his visa problems suddenly were resolved after their July 13 fight was called off.
But amid all the clutter, one thing remains constant. Hopkins is his own boss, and as far as he's concerned, no sanctioning body will dictate terms to the 48-year-old IBF light heavyweight champion.
"I'm a veteran of the shenanigans," Hopkins said Friday in Brooklyn, where he called Paulie Malignaggi's WBA welterweight title fight against Adrien Broner on Saturday at Barclays Center. "They think they're playing chess and I'm playing checkers. But I'm the one who's playing chess. I'm always a step ahead."
Hopkins (53-6-2, 32 knockouts) wants to fight Stevenson (21-1, 18 KOs), who scored a stunning first-round knockout of Chad Dawson (31-3, 17 KOs) on June 8 in Montreal.
"I want to do what's good for boxing," said Hopkins, who won a 12-round unanimous decision over Tavoris Cloud (24-1, 19 KOs) on March 9 to retain his title. "Stevenson's the best fight out there for me. Not that the others aren't worthy. It means they're not a legend, and at this stage of my career, they have to come to Bernard Hopkins."
Yet, Hopkins won't duck Murat (25-1-1, 15 KOs) if it means keeping his title. Kovalev (21-0-1, 19 KOs) signed Friday to fight WBO champ Nathan Cleverly (26-0, 12 KOs), so he's out of the picture for now.
"Without a belt, they'll try to bury me," Hopkins said of the IBF. "So I'll fight my mandatory and keep the belt. When you have the chickens, you don't have to look for the fox. The fox is coming."
■u2007TESTING CONTROVERSY — Timothy Bradley and Juan Manuel Marquez have agreed to random drug testing leading up to their Oct. 12 WBO welterweight title fight at the Thomas & Mack Center. But Marquez reportedly is balking at dealing with the United States Anti-Doping Agency and the Voluntary Anti-Doping Agency, which have been contracted to administer the prefight tests.
Bradley (30-0, 12 KOs) is insisting the 39-year-old Marquez (55-6-1, 40 KOs) abide by the agreement and allow USADA and VADA to test him. In response to the 29-year-old Bradley's demand, Marquez is insisting that Bradley be reweighed the day of the fight and not weigh more than 10 pounds over the 147-pound limit.
In an attempt to placate both fighters, Top Rank chairman Bob Arum might ask the Nevada Athletic Commission to handle testing for both fighters.
NAC executive director Keith Kizer said he talked to Arum on Thursday but could not take action until Top Rank filed a written request that the commission would have to approve. Arum would have to pay for the testing, and both fighters would have to provide locations where they can be found, regardless of day or time.
"We went through this three years ago when (Floyd) Mayweather and (Manny) Pacquiao were negotiating to fight, and obviously it never came to pass," Kizer said. "It's pretty much the same thing here. If the promoter requests it, agrees to pay for it and the protocols are set in advance, we'll be glad to handle it."
Marquez, who employed former Bay Area Laboratory Co-Operative figure Angel Heredia as his conditioning coach for his fourth fight with Pacquiao on Dec. 8, passed drug tests before and after he knocked out Pacquiao.
■u2007MAYWEATHER-ALVAREZ TICKETS — Tickets will go on sale at 10 a.m. Tuesday for the Sept. 14 megafight between Mayweather Jr. (44-0, 26 KOs) and Saul "Canelo" Alvarez (42-0-1, 30 KOs) at the MGM Grand Garden. Prices are $350, $600, $1,000, $1,500 and $2,000, with a two-ticket limit on $350 seats.
Tickets are available at Ticketmaster outlets, ticketmaster.com and mgmgrand.com.
■u2007JUNIOR OLYMPICS — Three local fighters are in Mobile, Ala., for the Junior Olympic National Championships, which begin Wednesday.
Las Vegas' Devin Haney and Dustin Somera will compete in the bantamweight division (119 pounds), and Henderson's Andres Cortes will fight in the lightweight division (132).
The tournament, featuring 202 athletes from 36 states, concludes Saturday.
■u2007SMITH-MOLINA TICKETS — Tickets, priced at $25, $50, $75, $100 and $125, are on sale for the July 19 IBF junior middleweight title fight between champion Ishe Smith (25-5, 11 KOs) of Las Vegas and Carlos Molina (21-5-2, six KOs) of Mexico at the Hard Rock Hotel. Tickets can be purchased at the Hard Rock box office, Ticketmaster and ticketmaster.com.
The fight, which will be televised by Showtime, will be Smith's first defense after winning the belt Feb. 23 against Cornelius Bundrage (32-5, 19 KOs).
Contact reporter Steve Carp at scarp@reviewjournal.com or 702-387-2913. Follow him on Twitter: @stevecarprj.