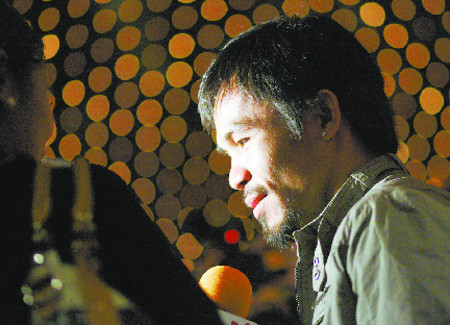 The fight is dead, but the war of words between Manny Pacquiao and Floyd Mayweather Jr. remained alive Thursday with each side blaming the other for scuttling what would have been boxing's biggest event in decades.
The fight, which was scheduled for March 13 at the MGM Grand Garden and was a potential blockbuster payday for each fighter, officially died Wednesday night when Mayweather refused to accept amended terms as it pertained to Pacquiao being blood tested for steroids and performance-enhancing drugs. Both sides had met with retired federal judge Daniel Weinstein for nine hours Tuesday in Santa Monica, Calif., in a last-ditch attempt to save the March date.
However, when Mayweather refused to accept conditions that would have had Pacquiao blood tested up to 24 days before entering the ring, the fight was off.
"Mayweather never wanted to fight Manny," Top Rank chairman Bob Arum said Thursday. "I don't care what (Mayweather) says. I was convinced from the get-go that it wasn't going to happen. But we had to play it out."
Leonard Ellerbe, Mayweather's co-manager and chief executive officer of Mayweather Promotions, said the blame lies with Pacquiao.
"That's a bunch of bull," Ellerbe said of Arum's claim. "The fight is not happening because Manny Pacquiao doesn't want to step up and take the random test — period.
"It's no secret (Arum) is angry because he can't promote Floyd and make millions off him. He has been continually outsmarted by Team Mayweather."
In a statement, Mayweather said: "Throughout this whole process, I have remained patient, but at this point, I'm thoroughly disgusted that Pacquiao and his representatives are trying to blame me. … The truth is he just doesn't want to take the tests. In my opinion, it is Manny Pacquiao and his team who are denying the people a chance to see the biggest fight ever."
Pacquiao is suing Mayweather and Golden Boy for defamation, a suit his Los Angeles-based attorney, Daniel Petrocelli, said could wind up costing the defendants tens of millions of dollars. Arum said the suit remains intact, with no plans by Pacquiao to withdraw it.
"Absolutely," Arum said. "They asked us to drop the lawsuit, and we said we'll drop it if Floyd publicly apologies to Manny for what he said about him, and they didn't want to do that.
"But the main reason, the only reason, there's no fight is when Manny offered to allow himself to be tested 24 days before the fight for blood, that wasn't good enough for them."
"We're letting our attorneys handle that," Ellerbe said, refusing to say who is representing Mayweather in the litigation.
When asked if the suit could be an obstacle to getting Pacquiao and Mayweather together in the ring in the future, Arum said: "It wouldn't matter because Floyd is scared to death of facing Manny. Otherwise, why bring up all the issues with the blood? Why?
"Our biggest mistake was trying to appease (Mayweather). We should never done that. If they call us to fight later in the year, our response will be, 'You want to fight, sucker? You'll do it under the protocol of the Nevada State Athletic Commission. Otherwise, don't waste our time.' "
Contact reporter Steve Carp at scarp@reviewjournal.com or 702-387-2913.