WBA champ Vargas hires Roy Jones Jr. as new trainer
October 18, 2014 - 4:31 pm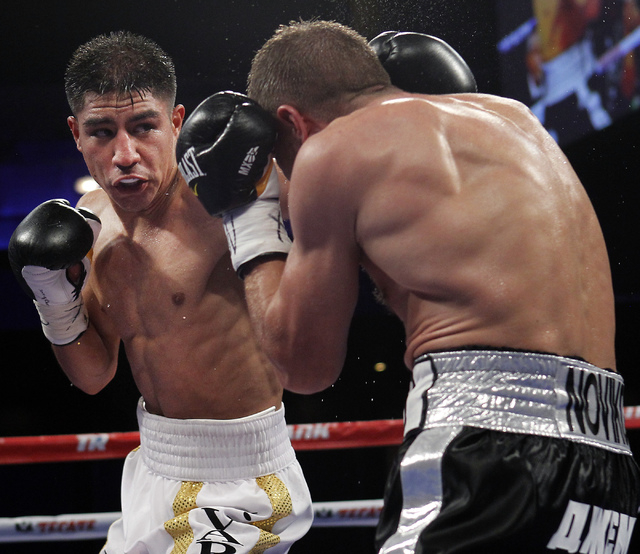 Jessie Vargas has changed trainers again.
The undefeated World Boxing Association junior welterweight champion from Las Vegas no longer has Ismael Salas in his corner after Salas left two weeks ago to work with fighters in England.
Vargas (25-0, nine knockouts) has hired Hall of Famer Roy Jones Jr. to replace Salas as he prepares for his Nov. 22 title defense against Antonio DeMarco in Macau. Jones opened a gym in Las Vegas this year.
"I was hoping he (Salas) wouldn't go," Vargas said. "He helped get me to the title, and he offered to have me join him in London. But I'm a Vegas guy, and I couldn't see myself going halfway across the world to train for a fight in China."
Vargas, 25, said he and Jones met a few weeks ago. When Jones learned of Salas' decision, he offered his services to Vargas.
"Roy showed me some things, and I was really impressed," Vargas said. "We're working really hard, and I think this is going to be my breakout fight."
Vargas, a Palo Verde High School graduate who turned pro in 2008, had been trained by Roger Mayweather, Robert Alcazar and Salas. He said the transition to Jones hasn't set him back in his preparation for DeMarco in a fight that will be his second title defense after he won the belt April 12.
The Vargas-DeMarco fight is on the undercard of the Manny Pacquiao-Chris Algieri main event.
■ RAHMANS SUE FLOYD — In the wake of Floyd Mayweather Jr.'s recent appearance before the Nevada Athletic Commission claiming the events that appeared on Showtime's "All Access" were staged to help promote his Sept. 13 rematch with Marcos Maidana, two of the participants on the show claim that's not true and are taking boxing's pound-for-pound king to court.
Hasim Rahman Jr. and his brother Sharif filed a lawsuit Thursday in Clark County District Court claiming they did participate in a lengthy sparring session that lasted 31 minutes between Rahman Jr. and Donovan Cameron after Cameron beat up Sharif Rahman earlier while sparring.
Also named in the lawsuit are Mayweather Promotions and Showtime. The suit claims the Rahmans were subject to false imprisonment, battery, tortious assault, along with negligent hiring, training and supervision.
The Sept. 6 episode shows Rahman Jr. and Cameron engaged in nonstop sparring for the 31 minutes. When Mayweather met Sept. 23 with the commission, he denied it happened, saying it was embellished for the cameras.
The commission did not bring any action against Mayweather.
Attorneys for both sides would not comment, and the commission also said it would not comment on pending litigation.
■ ISHE WANTS REMATCH — Ishe Smith doesn't have a fight to train for right now. But the 36-year-old former world champion from Las Vegas is eyeing one against a familiar opponent.
Cornelius Bundrage defeated Carlos Molina by unanimous decision last week in Mexico to win the International Boxing Federation junior middleweight title.
In February 2013, Bundrage lost that title to Smith in Bundrage's hometown of Detroit. Smith won a 12-round majority decision to become the first Las Vegas native to win a world title.
Smith lost the belt to Molina in a 12-round split decision in his first title defense in September 2013. Now that Bundrage (34-5, 19 knockouts) has the belt again, Smith wants another shot at the 41-year-old.
"To me, that's my title," said Smith (26-6, 12 KOs). "I know I lost it to Molina, but everyone knows the circumstances that night. My trainer (Eddie Mustafa Muhammad) wasn't with me, and my mind wasn't right. But now that K9 (Bundrage) has the belt back, we need to make that fight happen."
Smith last fought May 2, knocking out Ryan Davis in the second round at the Hard Rock Hotel.
"I just gotta stay patient," he said. "I know something's being worked on, what exactly, I'm not sure. I've just got to be ready when they tell me it's time to go to work."
Contact reporter Steve Carp at scarp@reviewjournal.com or 702-387-2913. Follow him on Twitter: @stevecarprj.