WBC chief: Boxing needs image makeover
December 15, 2014 - 6:20 pm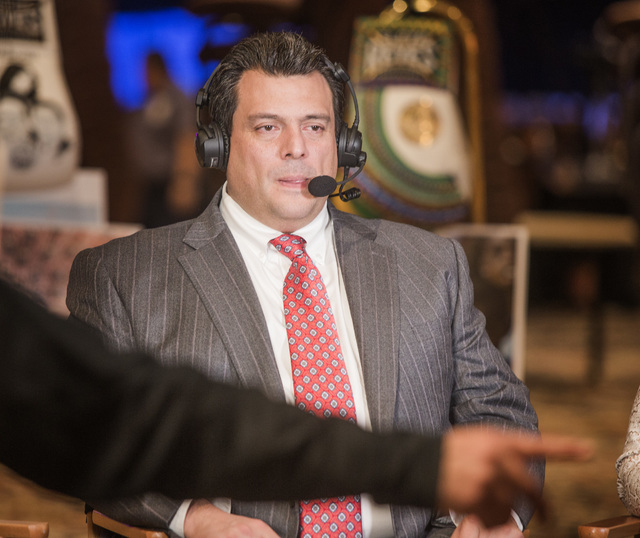 Mauricio Sulaiman knows boxing has a credibility problem.
The president of the World Boxing Council also knows his organization's image could use a serious makeover.
His father, Jose Sulaiman, died Jan. 16 after 38 years of ruling the WBC. The 44-year-old son took over the organization on Feb. 11.
Mauricio Sulaiman said he needs to be his own man and help grow the sport for future generations while restoring some of the trust that has waned among fight fans.
"We need to have transparency," Sulaiman said Monday at The Mirage as the WBC kicked off its 52nd annual convention. More than 1,800 attendees from every segment of the sport are meeting through Thursday. "We have to get the people's trust back in boxing. We have to have the best fighters face each other in the ring without the politics."
Sulaiman said actions, not words, will be what puts the WBC and the other sanctioning bodies in a more favorable light moving forward. He has met with representatives from the World Boxing Association and International Boxing Federation twice this year in an effort to get everyone to work together.
"It's a slow process," he said. "But at least we are talking, and that's a start."
Sulaiman said the biggest challenges for boxing are making more competitive fights, fighter safety, consistent officiating and judging, and combating performance-enhancing drugs in the sport.
"We have to make the best fights possible," he said. "My No. 1 goal for 2015 is to have Floyd Mayweather Jr. and Manny Pacquiao fight each other. This is obviously the fight fans want to see and I will do everything I can to help make that happen."
Mayweather is the WBC's welterweight and junior middleweight champion. Pacquiao has the World Boxing Organization welterweight belt. Sulaiman said he will not get directly involved in the negotiations but said the WBC will not put any additional obstacles in the way of making the fight.
For the rest of the fighters not named Mayweather or Pacquiao, Sulaiman said the WBC will implement a ratings system starting next month to gauge how competitive a possible matchup is.
"We need to have parameters in place to see where fighters stand so we can avoid mismatches," he said. "We've been working on this for the last two years and we're ready to use it."
The WBC will also work with the Voluntary Anti-Doping Agency to test fighters year-round and also test for human growth hormone and other performance-enhancing drugs.
"It's a major problem in all sports," Sulaiman said. "In boxing, it can mean the difference between life and death because you have two combatants whose goal is to hit and hurt each other. If one of them is on performance-enhancing drugs, he has a very unfair and dangerous advantage."
The WBC will continue to work with the Cleveland Clinic Lou Ruvo Center for Brain Health in Las Vegas and the UCLA Department of Neurosurgery by providing funding to help research in preventing brain injuries and deal with concussions. In addition, the WBC continues to fund a program to help former fighters who are in need of financial assistance. The program, which is overseen by the Nevada Community Foundation, began 19 months ago with well over $1 million to work with.
"For me, fighter safety is No. 1," Sulaiman said. "And when they're through boxing, our support from them doesn't end there. If they are in need of help, we need to be there for them."
But Sulaiman understands that the good deeds often get overshadowed by controversy. When the judges award a decision to someone who didn't deserve it and the backlash from fans and the media is overwhelming, as was the case last Saturday at The Cosmopolitan of Las Vegas when Timothy Bradley's welterweight fight with Diego Chaves was ruled a draw and Jose Benavidez was awarded a unanimous decision over WBA super lightweight champ Mauricio Herrera in a fight Herrera appeared to be superior in.
"It is a problem," Sulaiman said. "Anytime it happens in boxing, it's a black eye for the sport.
"We've got to find a way to make our judging more consistent. As a fan, it's frustrating when you get an unjust decision."
Sulaiman said having five judges instead of three for world title fights have been discussed as well as having open scoring in title fights where the scores of the judges would be made public after the fourth and eighth rounds as a way to improving judging.
Asked if it would help if the sport had fewer weight classes, fewer belts and just one champion per division, Sulaiman didn't disagree. But he said he can only control what the WBC does.
"A lot of traditional boxing fans are against change," Sulaiman said of looking to try something different. "I can see where fans are confused and they're frustrated.
"But I learned from my father that criticism is very important, especially when it is constructive. We need to listen and we should do everything we can to make boxing better."
Contact reporter Steve Carp at scarp@reviewjournal.com or 702-387-2913. Follow him on Twitter: @stevecarprj.