With Floyd Mayweather Jr. watching, Las Vegan Ishe Smith defeats Frank Galarza
September 16, 2016 - 11:21 pm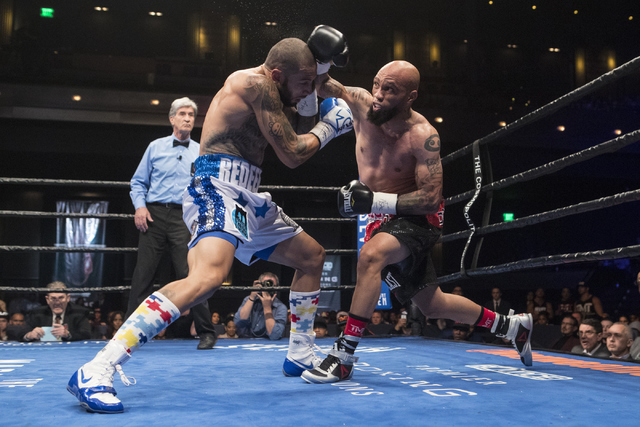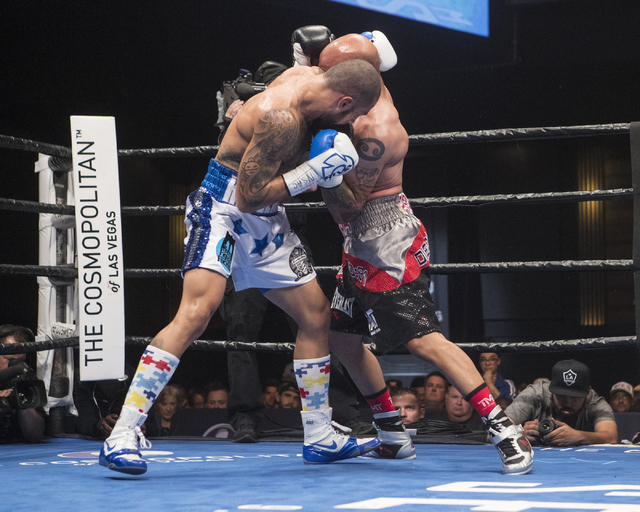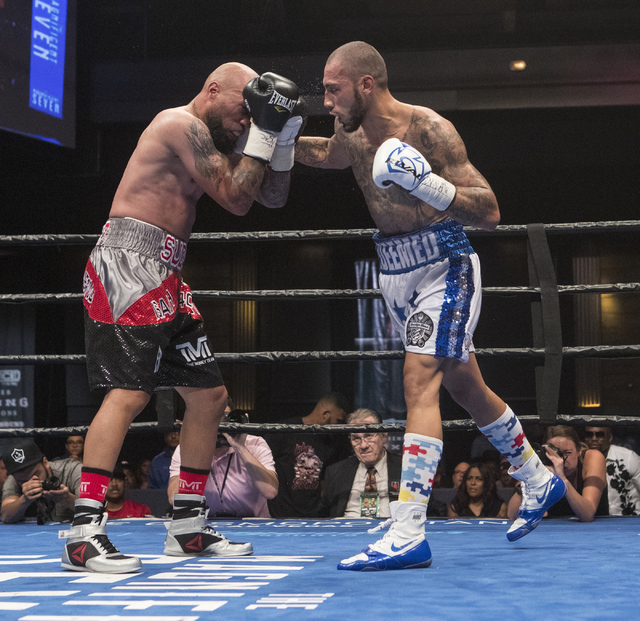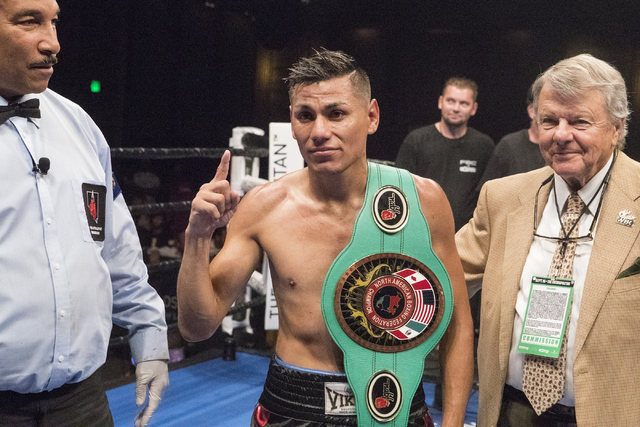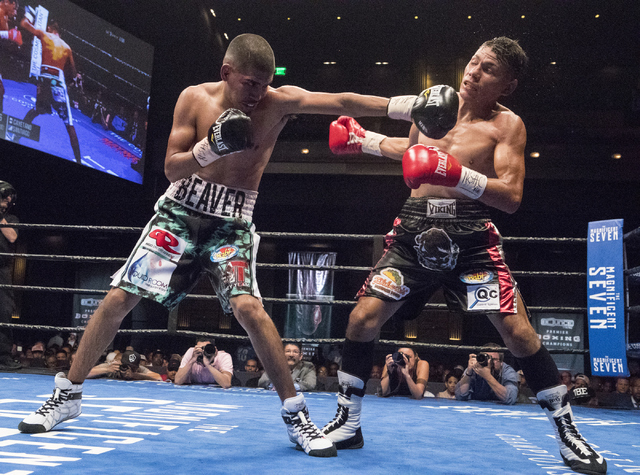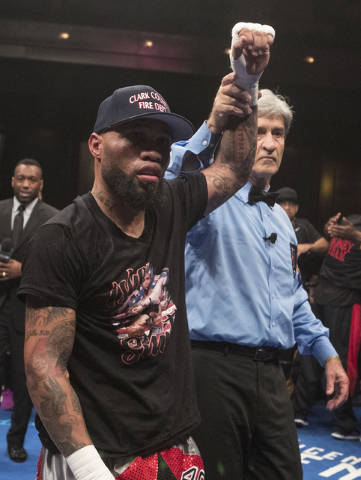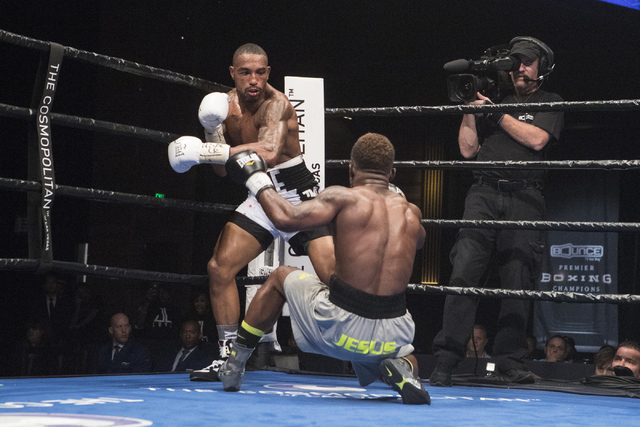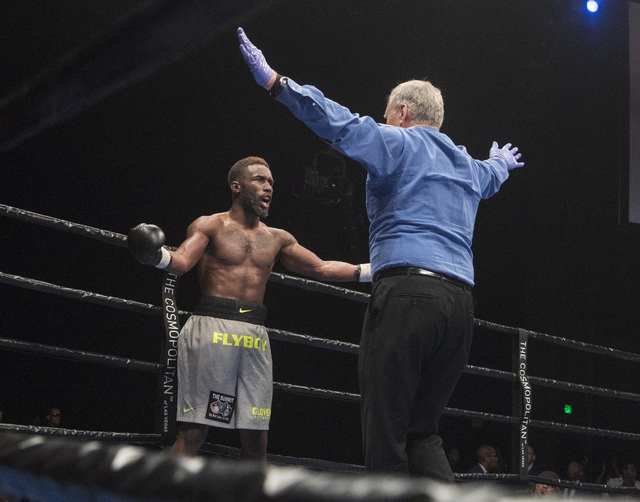 Ishe Smith has admitted he only has a few chapters left in his decorated boxing career, but the Las Vegan doesn't plan on having a bad ending.
Smith turned back the clock to defeat Frank Galarza by majority decision (95-95, 96-93, 95-94) in a junior middleweight bout Friday at The Chelsea inside The Cosmopolitan of Las Vegas.
Smith, a 38-year-old Durango High School graduate, displayed fast combinations in the early rounds and even had a hip dance move that probably impressed his six children in attendance.
Smith (29-8, 12 knockouts) taunted Galarza (17-2-2, 11 KOs) with his dance after dropping the 31-year-old New Yorker with a right hook in the second round. Smith and Galarza got into a jawing battle leading up to the fight.
"He was doing interviews calling me old," Smith said. "The old guy had to show him up. His trash talking made me think of a young me, but at the end of the day, you gotta get in the ring and perform."
"The old guy" Smith had support from his longtime friend Floyd Mayweather Jr., who was ringside shouting advice. Mayweather and Smith have known each other since they were teenagers sparring at local Las Vegas gyms.
"Training with the best like Floyd (Mayweather), Bernard Hopkins, it has allowed me to learn," Smith said. "I have learned so much from the greatest fighters in the world and pick up something from each of them. I am thankful I was able to pick up a lot along the way in my career."
Galarza bounced back after the knockdown to pressure Smith during the final rounds. Smith, who missed the maximum weight limit of 156 by 1 pound at the weigh-in, said he had to dig deep to stay with the younger Galarza toward the end.
"He caught me off balance, and it turned out to be a knockdown," Galarza said. "I think that made the difference in the whole fight, honestly."
In the co-main event, Justin DeLoach handed Domonique Dolton his first loss and a busted nose in a unanimous decision (99-91, 98-92, 96-94).
Jose Cayetano defeated Alexis Santiago by unanimous decision (97-93, 96-94, 96-94) in a fitting brawl on Mexican Independence Day.
Cayetano, from Tijuana, Mexico, stifled Santiago with flying hooks to the head and body. Santiago, who goes by the nickname "Beaver," was rocked a few times, but always answered back to go the full 10 rounds.
"Santiago started out strong, but as the rounds went on, he got less and less strong," Cayetano said. "The fifth round was when I knew I really had him, and it continued from there."
J'Leon Love had arguably the knockout of the night when he dropped Dashon Johnson with a right uppercut from the corner of the ring.
A wobbly Johnson was allowed to continue, but Love went in for the finish and the referee stopped the bout in the sixth round.
Las Vegan Sharif Bogere recorded an eighth-round technical knockout of Luis Florez in a super lightweight match.
Contact Gilbert Manzano at gmanzano@reviewjournal.com or 702-383-0492. Follow @gmanzano24 on Twitter.