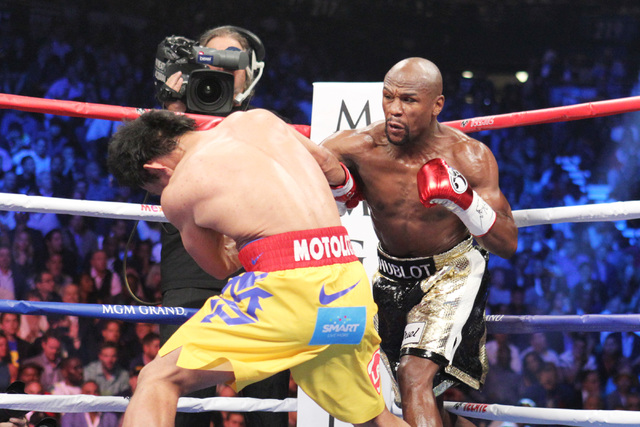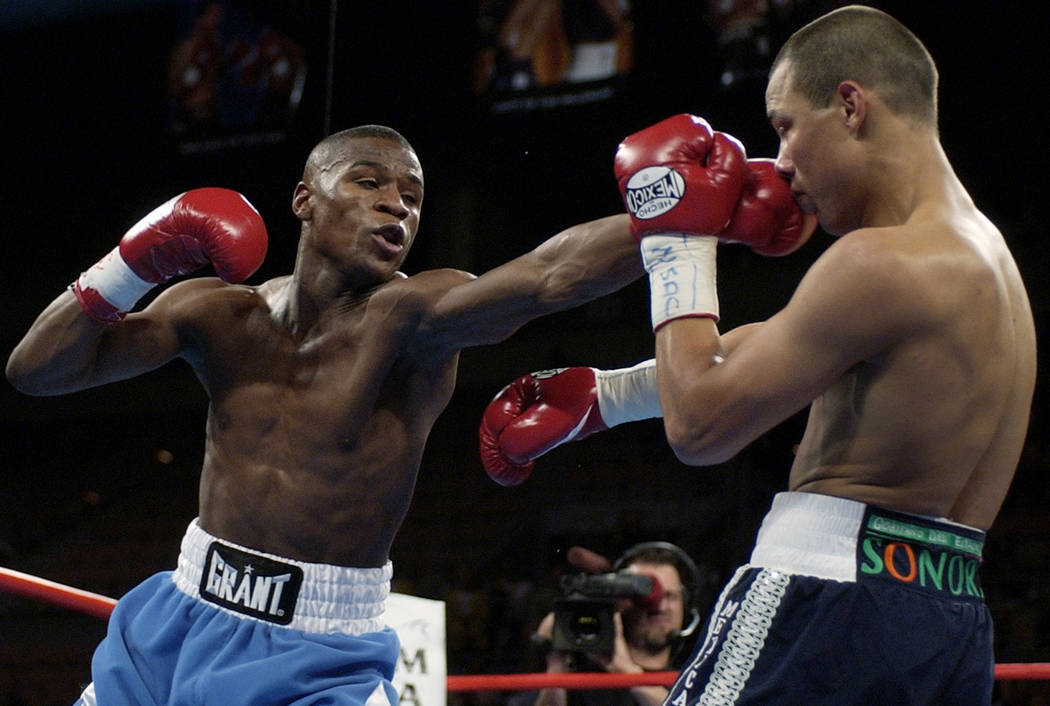 Floyd Mayweather doesn't seem concerned about fighting Conor McGregor on Saturday at T-Mobile Arena after being away from the ring for close to two years.
The undefeated boxing superstar spent most of last week in Los Angeles making appearances on late-night talk shows. For fight week, Mayweather plans on staying up late to greet fans at his Las Vegas gentlemen's club.
"That's right … I'm partying the entire week before my fight," Mayweather said on his social media accounts.
Should the 49-0 Mayweather be worried about fighting a boxing newcomer? Many are treating this cross-sport bout as a spectacle — and it appears so is Mayweather.
But many boxing purists have a problem with Mayweather making this fight against the UFC superstar as the one that breaks his tie with Rocky Marciano for the perfect 50-0 record. Marciano, who died in a plane crash on Aug. 31, 1969 at age 45, for decades had the best undefeated record for a retired fighter until Mayweather caught him after beating Andre Berto in 2015.
"My focus is to go out there and give the fans an exciting fight even though I know this is number 50, and we're constantly talking about Rocky Marciano," said Mayweather, 40, who plans on retiring after the McGregor bout.
"I just always like to let the fans and the people know Rocky Marciano is a legend. Rocky Marciano did it his way, and I would just like to try to do it the Mayweather way."
Not many agree with the Mayweather way, but regardless, the fight against the Irishman counts.
Here's a look back at some of Mayweather's best fights in his 21-year career:
'Pretty Boy' Floyd era
Mayweather became arguably the best defensive boxer of all time because of his textbook shoulder roll, relentless jabbing and cerebral counter shots.
But the former five-division champion wasn't always defense first. Mayweather was flashy and displayed fast-attacking hands when his uncle, Roger, took over as the head trainer in 2000 before the Diego Corrales fight at the MGM Grand Garden Arena.
Mayweather dropped Corrales five times en route to a dominant 10th-round knockout victory.
The offensive-minded Mayweather recorded signature wins against Arturo Gatti, Phillip Ndou and Zab Judah.
"You look at the Diego Corrales fight," said Mayweather when asked which fight was his best performance. "There was a lot of people talking about that one. And at 135, the fight against Phillip Ndou. People like to talk about that as one of their favorite fights."
Mayweather started out as a defensive fighter with his father, Floyd Sr., leading the training camps.
The 1996 U.S. Olympian broke out when he defeated Genaro Hernandez for his first world title in 1998. Mayweather showed off his technical brilliance, but that wasn't selling tickets. Roger Mayweather changed that with the offensive game plan.
Floyd Mayweather had nine knockouts in 20 fights under Roger Mayweather's guidance from 2000 to 2012. But Mayweather hasn't recorded a knockout since his 2011 victory against Victor Ortiz.
'Money' Mayweather era
Mayweather found another way to make more money. A whole lot of money.
The Las Vegas resident left his "Pretty Boy Floyd" persona and went back to his defensive roots and found a new moniker.
"Money" Mayweather became a master at promoting his fights with a villain-like approach, but he needed to defeat the kingpin before taking the throne.
Mayweather went to superstardom when he defeated Oscar De La Hoya in 2007 at the MGM Grand Garden. He angered Mexican fight fans by sporting green, white and red colors and wore a sombrero into the ring.
He made more enemies when he crushed Ricky Hatton later that year at the MGM Grand. Hatton was the heavy crowd favorite with many British fans making the trip to see their native son.
Mayweather went on to pick apart numerous champions such as Juan Manuel Marquez, Robert Guerrero, Saul "Canelo" Alvarez and Manny Pacquiao.
Close calls
Forty-nine men have tried to give Mayweather his first loss. They all failed. But there have been some close calls.
Many boxing pundits believe Jose Luis Castillo should have gotten the decision when he faced Mayweather in 2002 at the MGM Grand. Mayweather said he was dealing with an injury at the time and came back to dominate Castillo in the rematch with a unanimous decision.
It wasn't close on the scorecards, but Mayweather has said Miguel Cotto was his toughest opponent when they battled in 2012. Mayweather's face was so visibly marked up that he made his father his top trainer after the bout to shift his strategy to a safety-first defensive posture.
Mayweather has never tasted the canvas, but he's been rocked on multiple occasions. Shane Mosley broke through Mayweather's armor with a power right hand during the second round of their Las Vegas bout in 2010.
Mayweather was forced to hold onto Mosley to survive the round. Mayweather was never in trouble again during the match and earned a convincing unanimous decision.
The hard-hitting Marcos Maidana threw wild overhand rights to swarm Mayweather and give him his toughest bout in years. Mayweather escaped with a majority decision as the crowd at the MGM Grand in 2014 booed the decision.
Maidana gave Mayweather another scare in the rematch when he connected on a power right hand toward the end of the third round that staggered Mayweather back to his corner, but he was saved by the bell.
Will McGregor have moments like that on Saturday? We'll soon find out.
Contact Gilbert Manzano at gmanzano@reviewjournal.com. Follow @GManzano24 on Twitter.
Mayweather-McGregor fight week schedule
Tuesday: Grand Arrivals at Toshiba Plaza in front of T-Mobile Arena
Undercard fighters, 1 p.m.; Conor McGregor, 1:30; Floyd Mayweather, 2 p.m.
Friday: Weigh-in at T-Mobile Arena
Doors open at 11:30 a.m., peformances begin 1:30 p.m., fighters on scale 3 p.m.
Complimentary tickets available at ticketmaster.com on Tuesday
Saturday: Fight night at T-Mobile Arena
Prelims at 4 p.m., Mayweather-McGregor Showtime PPV 6 p.m.
Floyd Mayweather's best bouts
Date: Jan. 20, 2001
Opponent: Diego Corrales
Result: 10th-round TKO
Date: May 5, 2007
Opponent: Oscar De La Hoya
Result: Split decision
Date: Dec. 8, 2007
Opponent: Ricky Hatton
Result: 10th-round TKO
Date: May 1, 2010
Opponent: Shane Mosley
Result: Unanimous decision
Date: May 5, 2012
Opponent: Miguel Cotto
Result: Unanimous decision
Date: Sept. 14, 2013
Opponent: Saul "Canelo" Alvarez
Result: Majority decision
Related
Floyd Mayweather puts his legacy on the line against Conor McGregor
Conor McGregor wants to play guessing game with Floyd Mayweather
Long before Mayweather-McGregor, there was the Ali-Inoki farce
What they're saying about the Mayweather-McGregor fight