Yes, yes … 'Canelo' will fight Golovkin
November 23, 2015 - 12:13 am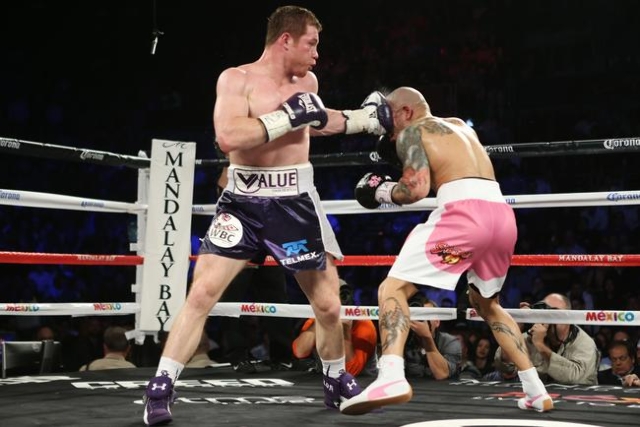 The championship belt was barely strapped around Saul "Canelo" Alvarez's waist when the world demanded to know if he was willing to fight Gennady Golovkin.
Alvarez had just finished dissecting a game Miguel Cotto over 12 rounds Saturday night at Mandalay Bay Events Center to win the World Boxing Council middleweight title. And as the question was asked in the ring, and soon after at the postfight news conference, Alvarez answered unequivocally, "Yes" and "Yes."
"I know Triple-G very well. He's a friend of mine," Alvarez said. "But I'm not afraid of anybody."
Golovkin was among the 11,274 spectators inside Mandalay Bay watching. Prior to Alvarez and Cotto entering the ring, he said he wants to fight the winner in 2016. His goal? Unify the belts in the middleweight division.
He may get that WBC strap of Alvarez's without throwing a punch. That organization said Alvarez must fight Golovkin or risk losing the belt, a belt Alvarez paid $300,000 for the right to win Saturday — something Cotto was unwilling to do.
Oscar De La Hoya, who promotes Alvarez and whose company, Golden Boy Promotions, also was a big winner Saturday, said his meal ticket will meet "GGG," though he wouldn't say when or where.
"Is he going to fight Triple-G? Of course," De La Hoya said. "Canelo is going to fight the best and the fans deserve the best fights."
De La Hoya also said he is in the process of securing the Cinco De Mayo and Mexican Independence Day weekend dates in May and September, respectively, in Las Vegas so Alvarez can fight on those dates, presumably at the new MGM-AEG arena and on HBO Pay Per View. Those dates had been the domain of Floyd Mayweather Jr. But with Mayweather retired, at least for now, De La Hoya didn't want to waste any time.
He was asked if an Alvarez-Mayweather rematch could be made should Mayweather decide to return to the ring and his response was, "We'd be open to it. Absolutely."
Mayweather handled Alvarez with ease when they fought in September 2013 though it was judged a majority decision for Mayweather.
But the focus on Alvarez's future clearly is about Golovkin, the World Boxing Association and International Boxing Federation middleweight champ as well as the WBC's interim champion. Alvarez, who normally fights at junior middleweight and weighed 155 pounds for his catch-weight fight with Cotto on Saturday, said that Golovkin would have to fight him on Alvarez's terms.
No one's quite sure if that means at 154, 160 or somewhere in between. But with May five-plus months off perhaps the WBC, which has a great relationship with Alvarez, will allow him to defend his newly won title in May against a different opponent and set up an Alvarez-Golovkin fight in September.
Meanwhile, a rematch with Cotto isn't likely. Alvarez, who improved to 46-1-1, won by large margins on the judges' scorecards — 119-109, 118-110 and 117-111 — though many in-house believed the fight was closer, including De La Hoya. But there's no question Alvarez was the rightful winner and he seemed ready to move on.
Cotto, now 40-5, didn't appear at the postfight news conference; he was being checked out by Nevada Athletic Commission doctors, who cleared him. That left his trainer, Hall of Famer Freddie Roach, to discuss the fighter's future.
"I don't know what he's going to do," Roach said of the 35-year-old Cotto, whose brilliant career will certainly land him in the International Boxing Hall of Fame someday. "I'm sure we'll sit down and talk about it.
"I don't think he's done. I thought he won the fight. I thought his defense was brilliant and we didn't lose the fight by that much. But that's life.
"If it's over, it's over. I guess we'll have to see. But I care about my fighters and I will do what's best for Miguel."
Roach was magnanimous in defeat toward Alvarez, saying, "He's become a better fighter. He's a young kid coming up in the game."
De La Hoya took it a step further.
"Canelo is the man in boxing right now," his promoter said.
So it will be up to De La Hoya to get a deal done with Golovkin, who is 34-0 with 31 knockouts and has knocked out 21 straight opponents.
Tom Loeffler, Golovkin's manager, believes the fight with Alvarez can be made as long as everyone is fair and reasonable. Abel Sanchez, who trains Golovkin, said it would be a great challenge for Golovkin to face Alvarez but he has no doubt his fighter would be ready should the opportunity present itself.
Even Roach hopes the fight gets made.
"That's a great fight," Roach said of Alvarez-Golovkin. "You've got two guys who can really punch. I'd like to see that fight."
Contact reporter Steve Carp at scarp@reviewjournal.com or 702-387-2913. Follow him on Twitter: @stevecarprj.