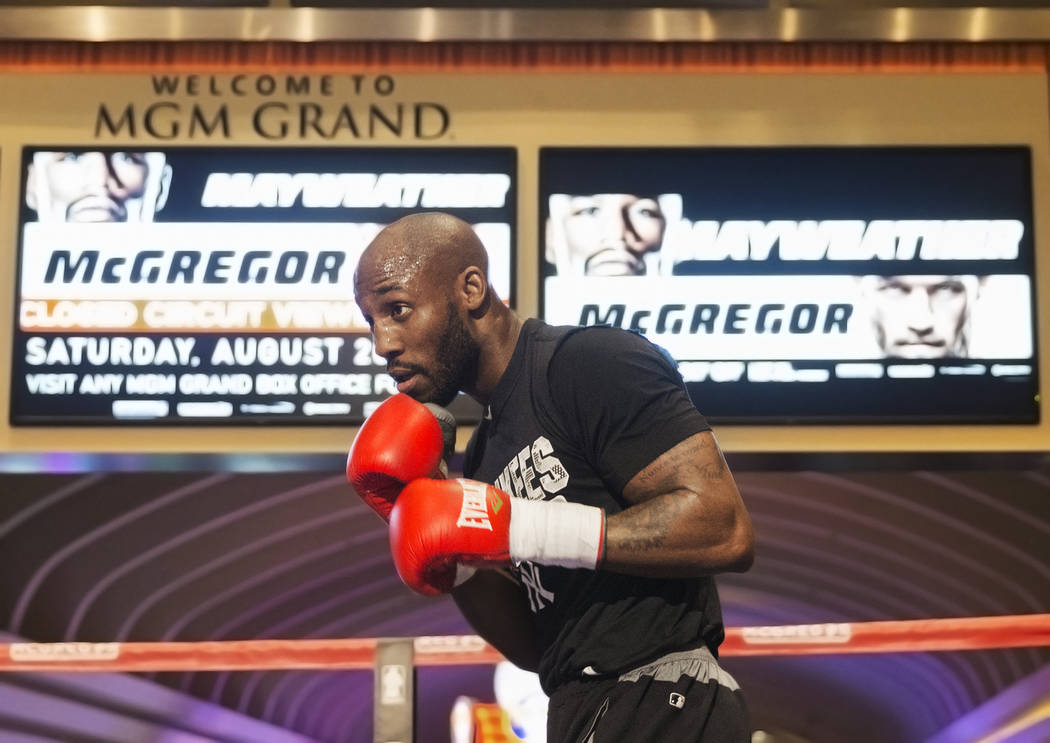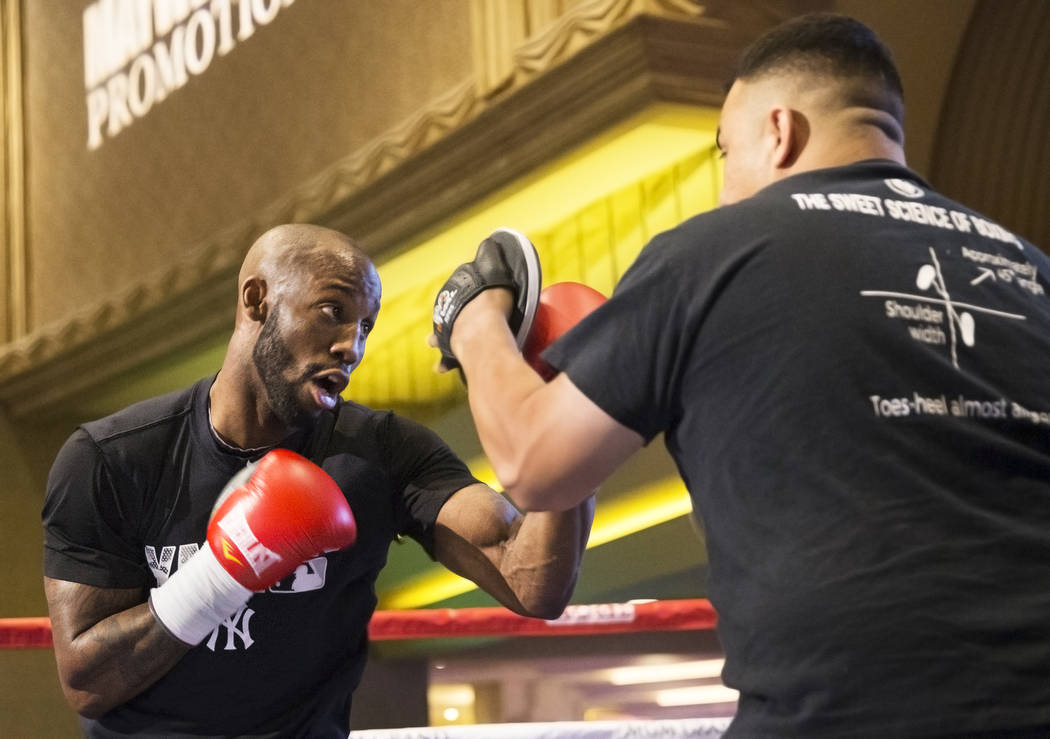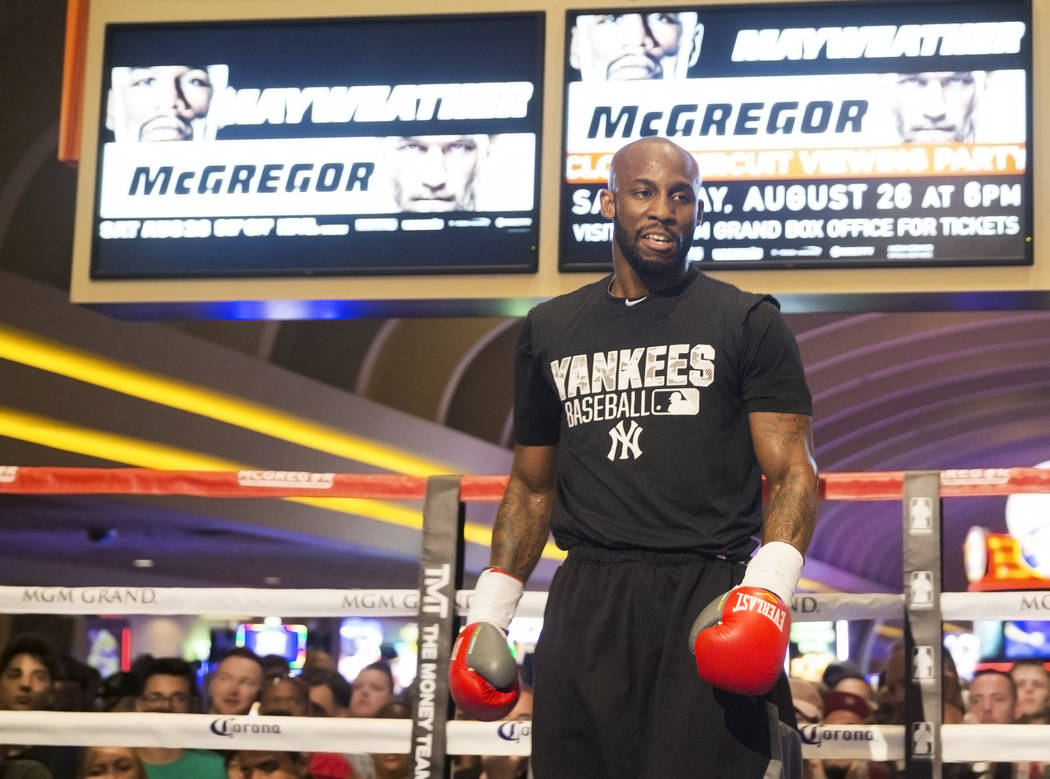 Yordenis Ugas wore a New York Yankees T-shirt during his public workout Wednesday at the MGM Grand, letting fans and media know where his loyalties lie.
With the Bronx Bombers.
And with fellow Cuban Aroldis Chapman.
Ugas (19-3, nine knockouts) is a close friend of the Yankees' flame-throwing left-hander — they grew up together and traveled the world through the Cuban Olympic program — and the two communicate daily.
"In Cuba, the Olympic teams are always together," Ugas' trainer, Joel Casamayor — a former world champion — said through an interpreter. "They would go to Mexico and Brazil together and became very close."
The two won gold medals at the Pan-American Games in 2007, and have ascended the professional ranks in the past decade.
Ugas, 31, was the lightweight bronze medalist at the 2008 Olympics and turned pro in 2010. Chapman made his major league debut in 2010 and won the World Series with the Chicago Cubs in 2016. Ugas was on a float alongside Chapman and the Cubs during their championship parade last fall, and said he follows baseball religiously.
"That was an unforgettable moment," Ugas said. "To experience that with his teammates. I'm glad I was there to support him. That's a big accomplishment for him and his team."
Chapman typically attends the welterweight's fights, but won't be there Saturday when Ugas meets Thomas Dulorme (24-2, 16 KOs) on the Floyd Mayweather-Conor McGregor undercard at T-Mobile Arena.
"If Chapman wasn't in season, he would be at my fight," Ugas said. "He tries to make it when he has time."
Ugas, who defected from Cuba via boat in 2010 and has lived in Las Vegas since 2016, was a last-second addition to the undercard after fellow Las Vegan Shawn Porter withdrew from his scheduled fight against Dulorme for personal reasons.
He has fought four times in the past year, and said he was in shape when Mayweather Promotions inquired about his services.
"I was excited (to be on this card). I was working hard in the gym for an opportunity like this, to get a call like this. I just felt blessed and happy about it," Ugas said. "I was already training. I wasn't out of shape. My team and I were training … He's a great fighter, my opponent. Top quality. It will be an explosive fight."
Cleverly unfazed by "underdog" label
Nathan Cleverly (30-3, 16 KOs) is an established light heavyweight.
He's the WBA light heavyweight world champion.
And he's the underdog for his fight against Badou Jack, a longtime super middleweight and a debutante in the heavier weight class.
But Cleverly isn't worried about what the oddsmakers think. He has different plans for Saturday.
"I'm coming into the lion's backyard. Yeah, I'm the underdog," Cleverly said. "It's a nice position because they expect Badou to win, and I'm going to upset the odds."
Cleverly said he's been trying to fight Jack for a long time and that it's an added bonus the bout is part of the undercard.
"We're finally here. We stayed patient," Cleverly said. "It took a long to get over the finish line … Here we are."
The Wales native hasn't fought in Las Vegas since 2008, but said he's comfortable in the United States and prepared to fight Jack despite the underdog label.
"He may feel fresh. He may feel like he's got more energy. Stronger," Cleverly said. "But he's coming up against an established light heavyweight. Someone who's been here and done it in many fights in this division. I think he'll feel the difference at some point during the fight."
Davis misses weight
Gervonta Davis was stripped of his IBF junior lightweight title after missing weight Friday.
Davis, a Mayweather protege, weighed in at 132 pounds, 2 pounds over the limit. The co-main event featuring Davis and Francisco Fonseca will still go on. The title will remain vacant if Davis wins.
More boxing: Follow all of our boxing coverage online at reviewjournal.com/boxing and @RJ_Sports on Twitter.
Contact Sam Gordon at sgordon@reviewjournal. Follow @BySamGordon on Twitter.