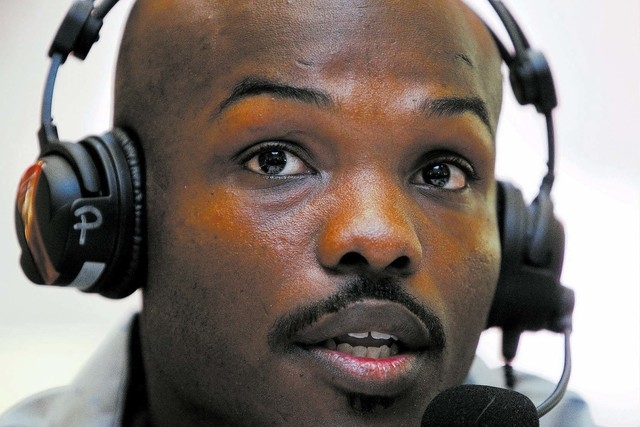 Only five boxers can talk about what it's like to defeat Manny Pacquiao. Timothy Bradley is one of them.
Bradley won a controversial 12-round split decision over Pacquiao on June 9, 2012, at the MGM Grand Garden. The WBO welterweight champion was at Palazzo on Thursday to help Top Rank promote Pacquiao's fight Saturday against Brandon Rios in Macau.
Bradley said the 27-year-old Rios (31-1-1, 23 knockouts) has a better-than-average chance to win the fight, which will be televised on HBO Pay Per View.
"If Rios is going to have a chance to beat Pacquiao, he has to fight a smart fight," Bradley said. "He's going to have to close the distance, get in close, stay close and punch. You can't give Pacquiao room to operate because he's too good a boxer."
Bradley said he thinks the 34-year-old Pacquiao (54-5-2, 38 KOs) has something to prove despite his Hall of Fame credentials. He has lost two straight fights, the last one by knockout against Juan Manuel Marquez on Dec. 8.
"Pacquiao has a lot of pressure on him," Bradley said. "His back is against the wall. He knows he can't afford to lose three straight at this stage of his career.
"All that being said, I think he's going to come out fired up. He's still a great fighter, and Pacquiao is a very smart fighter. He uses his angles really well. He comes in, he comes out, and he's very difficult to hit because he's angling out to the right and to the left. When I fought him, Pacquiao dropped a lot of feints on me, and it kept me off-balance as far as landing clean shots.
"Pacquiao also has a great uppercut that he likes to throw, so Rios has to be aware of that. It can't be all offense for Rios. He needs to be able to elude some of Pacquiao's shots if he wants to win."
Bradley said he thought the confrontation between trainers Freddie Roach and Robert Garcia on Wednesday was premeditated by Roach, who trains Pacquiao.
"Freddie's really good with head games," Bradley said. "He's trying to get under their skin and make them change their game plan.
"Freddie knew exactly what he was doing. Rios needed five more minutes (in the gym). You mean to tell me Freddie Roach couldn't wait five minutes? Of course he could. But by doing what he did, he shifted the attention of Pacquiao to this. That's all everyone's been talking and writing about the last couple of days, right? Robert Garcia has to be smart and not let his emotions get in the way of keeping Rios focused on the game plan."
Bradley said he came out of his Oct. 12 split-decision win over Marquez in great shape. He's waiting to see what happens Saturday before plotting his return to the ring in 2014.
"I'm fantastic," he said. "I did roadwork the Monday after I beat Marquez. Everything's great.
"I learned from the Marquez fight that I belong with the best fighters in the world, and as long as I fight my fight, I can beat anyone in the world."
His prediction for Saturday?
"Both guys can win," he said. "I just want to see an exciting fight, just like the fans do."
Contact reporter Steve Carp at scarp@reviewjournal.com or 702-387-2913. Follow him on Twitter: @stevecarprj.