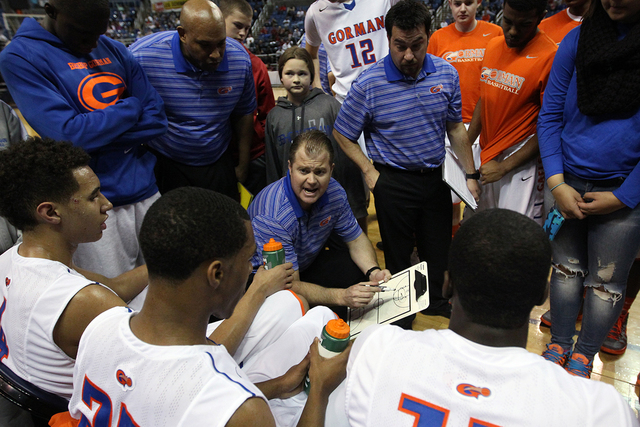 One of the most popular cries from Bishop Gorman's detractors has been for the Gaels to pick on someone their own size.
This is the week they get their wish.
Gorman, the three-time defending state champion, renews its friendly rivalry with Findlay Prep on Saturday when the boys basketball powers meet in the Big City Showdown at 2 p.m. at South Point Arena.
The Gaels knocked off the Pilots, who are not eligible to compete for the state title, 76-72 in overtime last season in a game that had several local celebrities in attendance. It was their first victory in the series in seven tries.
"There's some bragging rights for both sides," Gorman coach Grant Rice said Tuesday. "We know Findlay has some key returners, but then also some really good new players, so they're going to be ready. It will be fun for everyone involved, I think."
Rice said the Gaels (14-5) are catching Findlay Prep at a dangerous time. The Pilots (17-1) are coming off a 76-68 loss to Wayne (Ohio) on Monday at the Flyin' To The Hoop Classic in Dayton, Ohio, a setback that likely will cost them the No. 1 ranking when the USA Today Super 25 poll is released next week.
"Not only are they going to have revenge from last year — they're going to use that as motivation — but then obviously losing a game," Rice said. "I root for Findlay Prep because they're from Las Vegas and they're great guys, but I also was rooting for them to win the game (Monday) because now they definitely have some extra motivation."
The event at South Point includes three other games — Bishop Gorman vs. Liberty (girls) at 10 a.m., and boys games between Centennial and Maranatha (Calif.) at noon and Las Vegas and Santa Monica (Calif.) at 4 p.m. — making for a full day of action.
Maranatha is led by 6-foot-4-inch combo guard Tyler Dorsey, a UNLV recruiting target who is averaging 31.1 points, 11.1 rebounds and 4.7 assists. Santa Monica features one of the West Coast's best backcourts with Auburn signee New Williams and standout junior Jonah Mathews.
BRAXTON HONORED — Centennial senior Dajour Braxton was named the Gatorade Nevada Boys Cross Country Runner of the Year, becoming the second runner from the school to win the award in the past five seasons.
Braxton, who has orally committed to Louisiana State, won the Division I state title in November, breaking his course record at Sunset Park by 10 seconds. He joins former Centennial standout Nick Hartle (2010 and 2011) as a recipient of the Gatorade Nevada award and is eligible for the national award, which will be announced this month.
"Dajour is a very humble young man who works extremely hard and has many great accomplishments to his credit," Centennial coach Mike McGuire said in a news release. "He's one of the top student-athletes in Centennial athletic history."
RECENT COMMITMENTS — Arbor View senior Ben Cutting, Green Valley seniors Blake Inouye and Jarrett Perns, Liberty senior Trevor Mullaney and Rancho senior Andrew Wieger to College of Southern Nevada for baseball. … Liberty senior Kealy Brown to Dartmouth for women's basketball. … Bishop Gorman senior Danny Hong to Columbia for football. … Foothill seniors Christina Beaver and Olivia Stet, Sierra Vista senior Bailey Bergquist and Las Vegas senior Samantha Remer to CSN for women's volleyball.
Contact reporter David Schoen at dschoen@reviewjournal.com or 702-387-5203. Follow him on Twitter: @DavidSchoenLVRJ.