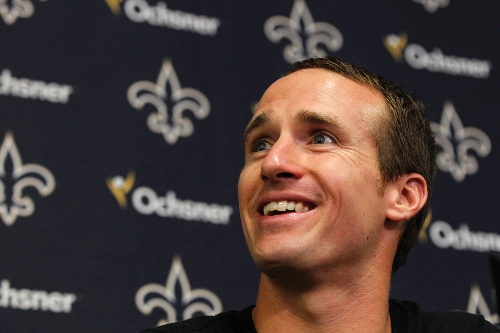 METAIRIE, La. – Drew Brees walked into Saints headquarters wearing a black T-shirt with "Guantanamo Bay" on it.
Such attire is an appropriate choice for the locker room leader in New Orleans, given how the Saints might have to adopt a bunker mentality to overcome the fallout from the bounty scandal that has overshadowed their offseason.
The star quarterback once visited the U.S. military installation in Cuba, and spoke back then of how he admired the teamwork and discipline it took to maintain such an outpost on hostile territory. On Tuesday, as the Saints reported for training camp, Brees discussed his expectation that his team would rise to meet its own unusual set of challenges, which include being without suspended coach Sean Payton for the entire season.
"I'm excited about the unknown," Brees said. "I know the type of guys we have. I know the coaches we have. I'm excited to watch it all come together."
Brees said the Saints have the foundation in place "to weather any storm," and that he is "all about doing things that have never been done before."
The Saints are the first NFL team to have a head coach suspended at all, never mind a whole season, which was the punishment commissioner Roger Goodell handed down to Payton for his failure to put a stop to what the league has described as a program that paid cash bonuses for tackles that injured opponents.
Two current New Orleans players also were suspended: linebacker Jonathan Vilma for the entire season and defensive end Will Smith for four games.
Now the Saints will try to become the first team to play a Super Bowl on its home field when the Superdome hosts the NFL's championship game in February.
"I know what we're made of. I know where we've been. I know where we want to go," Brees said. "There's no greater opportunity than what we have right now in front of us."
Brees acknowledged the difficulty of not being able to talk to Payton this season but added that the suspended coach, who led the Saints to their only Super Bowl title, in 2009-10, has groomed players and coaches who remain.
"You see how he was able to influence others," Brees said. "A lot of times they say that about a CEO. When he leaves the company, how does the company do? If they continue to succeed, in a lot of cases, you can say it was because he helped mold and develop and mentor those that would take over after him, and I believe that's what Sean Payton has done."
After playing six years under Payton, Brees said, he knows what his suspended coach would say to him about his mechanics when a throw misses its target: to get his elbow up, rotate his hips and get his front shoulder down.
"His voice is going to be in my head whether it's actually coming out of his mouth or not," Brees said. "He's present, even though he's not present."
The Saints have conditioning tests today and their first practice Thursday.
Assistant head coach Joe Vitt has been in charge since Payton's suspension began in April, shortly before the draft. Vitt will continue to handle most head coaching duties until serving a six-game suspension to start the regular season, another challenge to continuity on the coaching staff. The Saints have not announced who will take over Vitt's role as the staff's figurehead at that time.
In any event, Brees and Vitt said they are confident in the Saints' ability to handle this most unusual of seasons because of a shared responsibility that should leave no coach or player trying to take on more than he can handle.
"We've got a veteran staff here. We've got a lot of veteran players here," said Vitt, who was part of Payton's first staff in 2006. "Sean would be proud of the body of work that we've done to this point, but now we're on the clock. It's for real now."
While the start of training camp represents a return to some normalcy, the distractions related to the bounty scandal are not going away any time soon.
"It's not like we're walking into this with a bunch of rookies," Brees said. "We've been down some interesting roads before. Now, this is uncharted territory for us, but I know we're equipped to handle whatever comes our way."