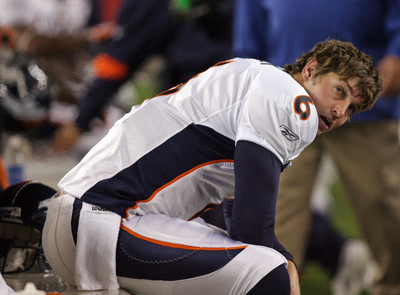 One thing Denver Broncos quarterback Jay Cutler likes to do is brag about the power of his right arm. Another thing he does often is show it off.
Cutler, who recently boasted that he has a stronger arm than John Elway during his career, has led the Broncos to the top of the AFC West at 4-3. But the offense has short-circuited lately, and the Denver defense is weak.
The Broncos are 3-point home favorites over the Miami Dolphins today. The line has moved to 31/2 at some sports books, reflecting a show of support for the home favorite.
Pete Korner, owner of The Sports Club, a major odds service in Las Vegas, said, "At 3, Denver is the play," and his top recommended NFL wager this week.
Korner opened The Sports Club in September 2005, and he said his consulting company provides its odds service to about two-thirds of the sports book market in Nevada. His four-person staff includes oddsmakers Keith Glantz, Cesar Robaina and Tom Vanderhoof.
The Sports Club's suggested opening line for the Dolphins-Broncos game was higher than the current number. Korner and his oddsmakers each form their own numbers and settle on a send-out line.
"We had a low of 41/2 and a high of 7. We sent out 6," Korner said. "The Broncos could use this game. I don't want to be rooting for Miami at 3.
"Denver has one of the better home-field advantages. The Dolphins are a big home team. On the road, we really haven't seen it. We thought the Dolphins were going to have some difficulty."
Broncos coach Mike Shanahan has covered five games in a row after a bye week. Shanahan also is 6-1-1 against the spread in his past eight following a double-digit loss.
Cutler injured the index finger on his throwing hand during a 41-7 loss at New England on Oct. 20. But this past week he said the finger is fine.
Korner, who worked as an oddsmaker and operations manager at Las Vegas Sports Consultants from 1986 to 2003, said understanding the betting public is a significant part of making NFL lines.
"We have a different philosophy. We want to overextend the favorites. We're daring the bettors, especially in NFL, to take the underdogs this week because we're going to bump up those favorites," Korner said. "We've got stung a couple times. More or less, we don't want those 'Black Sundays' where every favorite comes in and it's devastating.
"Make the bettors … they don't want to take the underdogs. Our philosophy is keep the favorites up and get right to the high number."
Korner analyzes the lines for the rest of today's Week 9 lineup:
• Houston at Minnesota (-41/2): We had a range between 4 and 7, and after we looked at it, we felt the lower number of 41/2 was better just because of the way the Texans can score. We feel they can keep up with anybody, especially Minnesota. It's a fast track and it's indoors, and we thought Houston could keep up.
• Jacksonville (-71/2) at Cincinnati: There's no reason to bet the Bengals, and that's why we want to keep this high. We had a range of 7 to 8, and we definitely wanted it higher than the key number of 7.
• Tampa Bay (-81/2) at Kansas City: We sent out the Buccaneers at 8. There's just no reason to bet Kansas City. Among the four of us, whoever had the high number, that's what we were going with here. Chiefs quarterback Tyler Thigpen can't do anything. Let the bettors take the high number, and we'll hope Kansas City comes in there.
• Baltimore at Cleveland (-11/2): These are real inconsistent teams. This is going to be a low-scoring game. We had 1 to 21/2 and decided on the Browns at 2. It will be a tight game, and it can go either way.
• New York Jets at Buffalo (-5): We had a distinct difference, a low of 3 and a high of 7, and we sent out 5. It's kind of a dead number. I think it's a must-win for the Bills, who have lost two of the past three. I went high (7) because I was anticipating some Buffalo money. The Jets struggled with a weak Kansas City team last week.
When the Jets got Brett Favre as their quarterback, there was a little overreaction to that. We didn't change the odds all that much.
• Arizona (-3) at St. Louis: This was the toughest game for us. We think as Rams running back Steven Jackson goes, this game goes. We actually put out St. Louis minus-1. Jackson was listed as questionable with a thigh injury, and we thought he would be probable. The Rams are a different team now since they switched to Jim Haslett as coach.
The Cardinals are good, but we think there will be a lot of money on St. Louis. We really think that if Jackson plays and he's healthy, the Rams can take this. Jackson said Saturday he will play.
• Detroit at Chicago (-121/2): It was just a matter of how high to make this, and we had a range of 12 to 131/2. We sent out 13. Detroit is in disarray, and Chicago needs the game. The Bears' Kyle Orton has turned out to be a pretty good quarterback. The double-digit number is warranted. Chicago should dominate this game.
• Green Bay at Tennessee (-41/2): We had 5 to 6, and we put out 51/2. The Packers are capable, but they just look shaky. The Titans look great right now. I see this going up before it goes down, but I don't think it will get to 7 by any means. It's right in that dead zone at about 5. If Aaron Rodgers comes up with a big game, the Packers can win this, there's no doubt. Sooner or later, the Titans are going to be tested, and this could be a surprise game for them.
• Atlanta (-3) at Oakland: The Falcons are turning out to be quite good wherever they play. They are jelling quicker, especially with their rookie quarterback, Matt Ryan. We sent out Atlanta at 2. The Falcons can take Oakland. They're going to want to win more than Oakland. I don't think the Raiders get up for this game at all, and I think the Falcons are a solid play, especially if they can get ahead early.
Oakland's JaMarcus Russell can be a good quarterback, but he's just not putting it together at this stage. Ryan gets it, and he has great receivers in Roddy White and Michael Jenkins.
• Dallas at New York Giants (-81/2): We had it from 6 to 9, and we sent out 71/2. I wanted to be above 7. I thought Cowboys quarterback Brad Johnson would fare better, and he's looked bad. The Giants aren't playing with energy. They have had some good wins, but sometimes it takes them awhile to get out of the box. We're going to be rooting for Dallas. It's all Giants money early, and it's going to be all Giants money late. Every casual bettor is going to come in and bet the favorite.
• Philadelphia (-61/2) at Seattle: We had a bad line. We had between 3 and 41/2. We thought Seahawks quarterback Matt Hasselbeck would be playing. The offshore books put out 7, and that's obviously a better number. Philadelphia should take care of business. This is a trouble game. Everybody is going to be on the Eagles.
When kickoff goes, we're going to say we need Seattle, we need Oakland and we need Dallas. This week's late games have red flags all over. These late games are very important that we get it right.
• New England at Indianapolis (-6): We were between 6 and 71/2, and we put out 7. The offshores put out 5. Indianapolis is a big disappointment, but this is a big game for the Colts. Running back Joseph Addai, wide receiver Reggie Wayne and safety Bob Sanders are listed as questionable for Indianapolis.
Compiled by Review-Journal sportswriter Matt Youmans.
REVIEW-JOURNAL NFL CHALLENGE
Joseph
D'Amico
Allamerican
sports.info
Last week: 2-2-1
Season: 20-19-1
Picks:
Jaguars -7
Bills -5
Falcons -2
Eagles -6
Steelers +2
Allen
Leiker
Review-Journal
Assistant sports editor
Last week: 2-2-1
Season: 22-16-2
Picks:
Texans +4
Bills -5
Cardinals -3
Eagles -6
Steelers +2
Mark
Franco
VegasInsider.com
handicapper
Last week: 2-3
Season: 25-15
Picks:
Vikings -4
Browns -1
Bills -5
Giants -8
Redskins -2
Lisa
Perry
Review-Journal
handicapper
Last week: 4-1
Season: 17-22-1
Picks:
Vikings -4
Ravens +1
Cardinals -3
Titans -5
Broncos -3
Ed
Graney
Review-Journal
Sports columnist
Last week: 3-2
Season: 23-16-1
Picks:
Vikings -4
Bills -5
Cardinals -3
Packers +5
Broncos -3
Lee
Sterling
Paramount
sports.com
Last week: 4-1
Season: 25-15
Picks:
Buccaneers -8
Packers +5
Broncos -3
Giants -8
Eagles -6
Joe
Hawk
Review-Journal
Sports editor
Last week: 1-3-1
Season: 18-20-2
Picks:
Jets +5
Bears -13
Broncos -3
Eagles -6
Patriots +5
Dave
Tuley
Viewfrom
vegas.com
Last week: 3-2
Season: 23-16-1
Picks:
Texans +4
Lions +13
Dolphins +3
Cowboys +8
Steelers +2
Jay
Kornegay
Las Vegas Hilton
sports book director
Last week: 3-2
Season: 25-15
Picks:
Vikings -4
Chiefs +8
Packers +5
Raiders +2
Colts -5
Matt
Youmans
Review-Journal
Sports staff
Last week: 3-1-1
Season: 21-17-2
Picks:
Bills -5
Packers +5
Falcons -2
Cowboys +8
Steelers +2