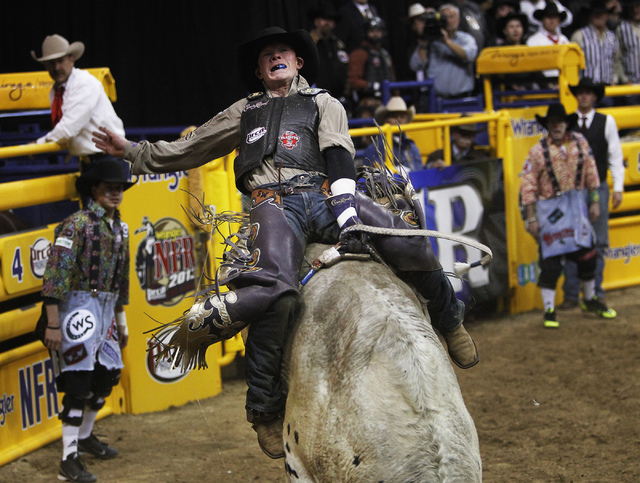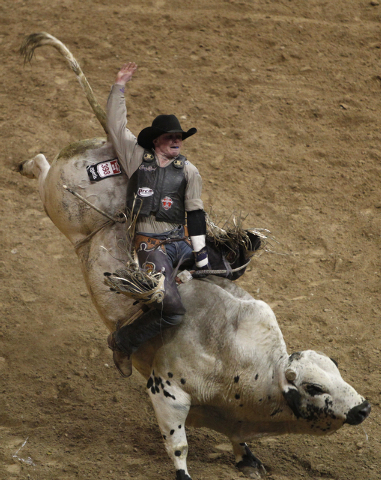 Bull rider Steve Woolsey knows all too well what it's like to be injured and unable to compete in his chosen profession.
The Utah native has suffered several major injuries in his career and at times has received assistance from the Justin Cowboy Crisis Fund — a nonprofit organization that lends a helping hand to injured rodeo athletes and their families.
"I've been busted up a few times, and they've helped me out," Woolsey said of the JCCF, which since 1989 has awarded almost $6 million in financial assistance to more than 850 cowboys.
"It's an awesome organization," he said. "If a cowboy gets injured at a rodeo, JCCF will come in and fund the bills they have until they get back on their feet."
Woolsey hopes to help raise funds for the JCCF at the National Finals Rodeo — which opened its annual 10-day run at the Thomas &Mack Center on Thursday night — through his sponsor, Crown Royal, which will donate $1,000 to the charity for each of his qualified rides here.
Woolsey stayed on board his bull, The Grinch, for eight seconds in the first round to earn 86.5 points — good for third place — and $1,000 for injured cowboys.
"It makes me feel good knowing I'm helping a good cause," Woolsey said. "It could be me getting hurt."
Woolsey, who lives in Payson, Utah, exploded onto the Professional Rodeo Cowboys Association scene in 2005, when he placed second in the bull riding average race at his first NFR and finished second in the world standings.
He also set a rookie record for most money won, earning $202,128 in bull riding and saddle bronc riding en route to being named the PRCA overall and bull riding rookie of the year.
However, Woolsey's momentum came to an abrupt halt the following season, when he was bucked off a bull in San Antonio and his head rammed into a corner post, leaving him with swelling on his brain.
It took him two years to recover.
"It messed my equilibrium up. Mentally, it messed me up pretty bad," he said. "I was dizzy every time I'd get on a bull. Basically what I had to do was take time off to let my brain and equilibrium go back to normal.
"I started getting on bulls a lot sooner than I should have. I kind of rode through it. It took me probably two years before I felt like I was normal again."
The scary injury made Woolsey question his future in the sport.
"I kind of stepped back and thought, 'Is this what I really want to do? Is this how I want to make my living?' " he said. "That was as long as I thought about it."
The answer to both questions was a resounding yes for the 27-year-old Woolsey — a seven-time NFR qualifier who started riding sheep at age 3, steers at age 7 and made his first NFR appearance at 18.
Woolsey, whose mother was a jockey and whose father was a rodeo athlete, has said he'd rather die doing what he loves than sitting at a desk all day.
That philosophy has been put to the test several times by Woolsey, who was stomped on by a bull in 2010 after a successful ride in the final round of the NFR.
"He hooked me and flung me underneath him, and he stepped on my head as he was coming down and knocked me out," said Woolsey, who despite wearing only a cowboy hat escaped with a minor concussion.
"He stepped on me pretty good, but he kind of glanced off my head," he said. "He kind of slid off my hat."
A bull also stepped on Woolsey early last year, tearing his groin muscles off the left side of his pelvis.
"I only had one good leg all year," he said, explaining why he finished 66th in the world.
Despite his bouts with injuries, the 5-foot-6-inch, 155-pound Woolsey remains passionate about bull riding.
"We really shouldn't be able to beat a 2,000-pound bull," he said. "We shouldn't be able to ride something that big, that has that much of a weight advantage.
"To be able to stay with an animal that big and make people happy that are watching is awesome."
This year, Woolsey earned the 15th and final qualifying spot for the NFR, ascending to 12th place after Thursday's ride.
"I feel as good as I ever have physically and mentally," he said. "I'm looking forward to making a lot of money for JCCF."
Hopefully he won't need to use any of it.
Contact reporter Todd Dewey at tdewey@reviewjournal.com or 702-383-0354. Follow him on Twitter: @tdewey33.