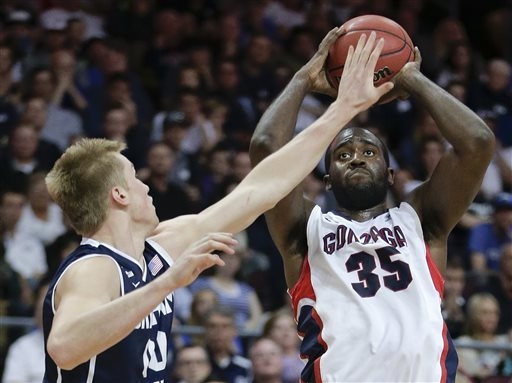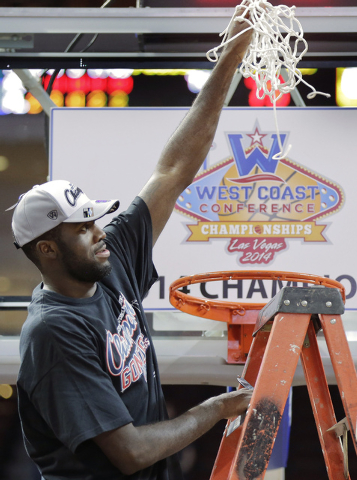 There were questions nationally entering the West Coast Conference basketball tournament about whether Gonzaga deserved a bid to the NCAA Tournament should it fall short of securing an automatic berth at Orleans Arena.
The Bulldogs erased all doubts Tuesday night by earning an automatic berth.
Top-seeded Gonzaga also proved it probably belonged in the field regardless with a 75-64 win over second-seeded Brigham Young, a second consecutive dominant performance over another of the league's power programs after a one-sided win over Saint Mary's on Monday.
"I think we came in here with the mindset of winning and controlling us being in the tournament, but we try not to really think about that," senior guard David Stockton said. "We just try to win the next game and hope that will get us in the tournament."
Senior Sam Dower made sure there was never a question about Gonzaga reaching the tournament for the 16th straight season. The forward had 20 points and 13 rebounds, including 14 and seven in the first half.
Gonzaga (28-6) raced to a 25-9 lead. Dower had eight points during the run, and center Przemek Karnowski scored six. Drew Barham came off the bench to connect on both of his 3-point attempts.
BYU (23-11) got within eight points in the second half on two free throws by Tyler Haws with 2:55 to play, but a deficit that reached 21 in the first half and stood at 44-27 at the break proved to be too much.
"We just came out flying around," Dower said. "We were confident and knew our defense would set up our offense, and the confidence was contagious. Guys were just knocking down shots. That momentum just kept building up.
"It was definitely some of the most fun basketball I've played all year."
Gonzaga coach Mark Few was clearly thrilled with the quick start.
"From a coaching standpoint, that's how you want your guys this time of year," he said. "It's the biggest stage so far, and we were in attack mode, playing great defense, making plays, rebounding, making the extra pass on offense and guys were making shots. We wanted to play fast, not crazy. I wish we would have played all 40 like that, but it's probably not realistic."
It was the 17th straight conference tournament championship game for Gonzaga, which won its 12th title in that span.
The result leaves Gonzaga more than a week to prepare for yet another trip to the NCAA Tournament and BYU five excruciating days to sweat out the selection process.
Haws, who led the Cougars with 24 points, stated his team's case for inclusion.
"I think we should find ourselves in the tournament," he said. "It's been a challenging season, but I feel like our guys have really come together. We should get in."
BYU coach Dave Rose said two factors should work in the Bulldogs' favor: They are peaking after a slow start and had several close losses in a tough nonconference schedule.
Few said he thinks BYU should be included in the field of 68.
"Without a doubt," he said. "It's how hard they play, how skilled they are, nobody attacks offensively the way BYU does. You've got to look at the schedule they played. I thought they played probably the toughest (nonconference) schedule in the country when you take into account where they played those games. There's not a question in my mind they're an NCAA Tournament team.
"They're a very good team, and I expect their name to pop up on Selection Sunday."
ESPN's Joe Lunardi has the Cougars in the field as a No. 12 seed. So much can change between now and the end of the week, though.
If BYU is in the tournament, it might be without Kyle Collinsworth. The sophomore guard had been a dominant force in the first two rounds of the tournament, averaging 20.5 points and 14.0 rebounds. But he went down with a right leg injury midway through the second half Monday, managing 13 points and six rebounds before being escorted to the locker room.
Rose said more should be known today about the extent of the damage.
Contact reporter Adam Hill at ahill@reviewjournal.com or 702-224-5509. Follow him on Twitter: @adamhilllvrj.