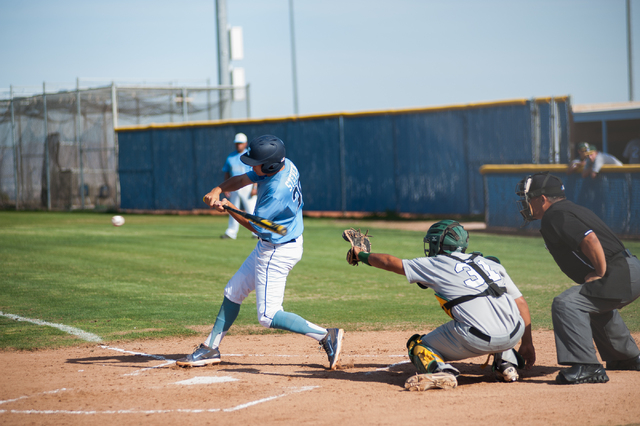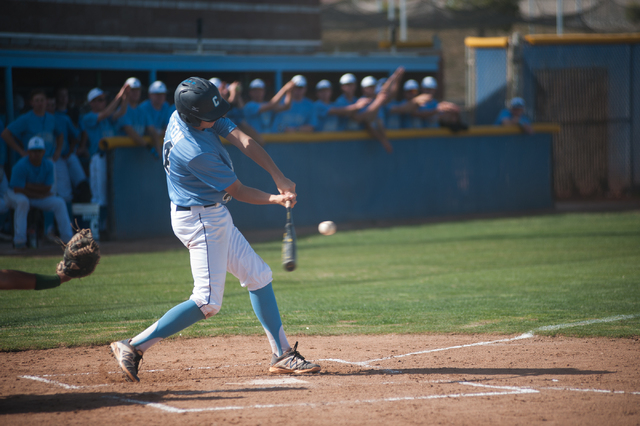 Centennial's baseball team might not have scored in the second inning on Friday, but the Bulldogs got good at-bats, saw plenty of pitches and laid the groundwork for good things.
And they didn't have to wait long for their patient approach to pay off. Centennial scored eight runs in the third inning and held on for an 11-7 home win over third-ranked Rancho.
"Working the pitch count and getting the guys to do stuff really helped us out," Centennial coach Charlie Cerrone said.
"(Patience) is always the key and we try and preach it."
The Bulldogs forced Rancho starter Richie Coughlin to throw 32 pitches in the second inning, then chased him after three walks and a single in the third. Reliever Anthony Becerra didn't have much more luck, retiring just two batters, and leaving after a two-run double by Josh McKibbin gave Centennial a 5-4 lead.
Jacob Horton followed that with a two-run single through the left side, and Tanner Wright added an RBI single to make it 8-4.
Centennial starter James Harbour, who had allowed four runs in the first three innings, settled in a bit once he had the lead. The 6-foot-4-inch, 155-pound right-hander didn't allow another earned run, and battled to keep his team in the lead.
"I told him last night, he needed to get it done today," Cerrone said. "They beat him last year as a junior, and he wanted to get after it this year. He held on even though he gave up some big hits. He pitched around some errors.
"He weighs 120 pounds and he's 6-4, but he battled for us."
Harbour allowed four earned runs on seven hits in 5 2/3 innings. He struck out nine and walked three.
The Bulldogs got production from all over the lineup. McKibbin, the team's No. 8 hitter, was 2-for-3 with three RBIs, and No. 9 hitter Horton had two runs and two RBIs. Every starter had a least one hit.
"We don't really have a guy," Cerrone said. "Our team batting average is pretty solid, and we've got to rely on different guys every day. And I really kind of like that. That's the best way. If you have to rely on one guy and he goes in the tank, it's no good."
Wright and Ricky Koplow each added two hits, and Travis Stevens drove in two runs for Centennial, which improved to 6-6.
"It's not the best-looking record, but it was against all quality teams," Cerrone said. "And I think they're learning to fight a little better."
Jose Verdugo was 2-for-3 with a double and a two-run homer to lead Rancho, and Kavion Keahola added a double, a triple and an RBI for the Rams (10-3).
Contact prep sports editor Damon Seiters at dseiters@reviewjournal.com or 702-380-4587. Follow him on Twitter: @DamonSeiters.