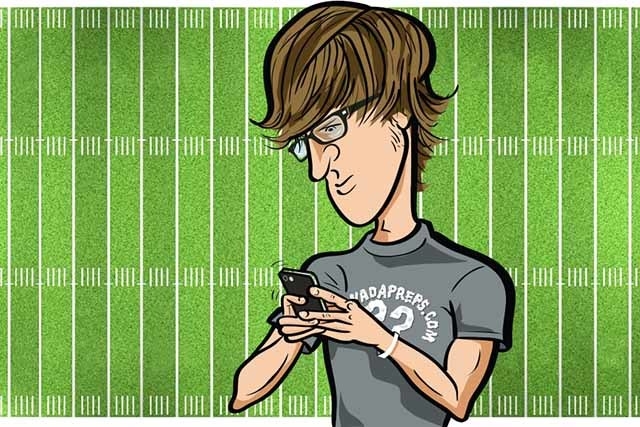 I'm pretty sensitive when it comes to the topic of bullying. Having an older brother who is the size of John Candy and likes to give wet willies at the dinner table will do that to a fella.
Still, I couldn't help but shake my head when I read that a parent in Texas filed an official bullying complaint with the school district after a football game ended 91-0.
Without turning this into a debate about whether we've become a society full of namby-pambies, I'd just like to point out that it's pretty easy to tell if a football team is running up the score. Here's a brief checklist:
■ It runs a trick play/fake punt in the fourth quarter of a blowout with the starters still in the game.
■ It calls timeout with less than three minutes left and an 18-point lead to set up a deep pass, as one local team did this season.
■ It is coached by Steve Spurrier.
Hopefully there won't be any incidents when the action kicks off tonight due to Nevada Day. I've caught a lot of flak recently for my struggles picking games — be careful or I'll file a bullying complaint, too — but I decided to throw in an extra one since this is a big week. Be sure to visit Nevadapreps.com for a few more picks.
■ Green Valley at Canyon Springs — The moose out front should have told you, but first place in the Northeast League is on the line in this clash of styles. The defending league champion Gators own a potent offense and haven't scored fewer than 39 points during their four-game win streak. The unbeaten Pioneers, meanwhile, rely on a defense that allows a mere 9.3 points per game.
Green Valley has an advantage in the kicking game, but I don't think that will come in to play. There's a reason "Defense wins championships" is a cliche. Because it's true. … Canyon Springs by 3.
■ Centennial at Cimarron-Memorial — Big ups to coach Leon Evans, who has the Bulldogs on the verge of a fourth straight playoff berth after opening 1-3. This is the start of a brutal finishing stretch for Centennial with games against Bishop Gorman and Legacy still to come, putting added importance on this one.
The question surrounding the Spartans is whether they're suffering a hangover after Gorman handed them their first loss of the season. Only one way to get over that. Three Orange Whips! … Cimarron by 4.
■ Desert Pines at Moapa Valley — "This is … for the whole ball of wax, for the whole kit and caboodle, for the whole enchilada, for the whole shooting match. This is for all the marbles." (That's my last Candy reference. I promise.)
I'm guessing the Jaguars were looking ahead when they escaped with a one-point win over Chaparral last week. Regardless, the Pirates' big-game experience and home-field advantage will prove to be too much in this battle for the outright Division I-A Sunrise League title. … Moapa Valley by 7.
■ Boulder City at Chaparral — Granted, this game doesn't have the glamour of the one taking place out in Overton, but the I-A Sunrise League's No. 4 seed is on the line, and neither team wants to see its season end before Halloween, which is Candy's birthday. (OK, I lied.)The Cowboys haven't made the postseason since I was in elementary school (2007). I don't see the streak ending. … Boulder City by 1.
■ Cheyenne at Clark — I tried to figure out all the different playoff scenarios in the Division I-A Sunset League and got a wicked migraine. Here's what I know for sure: If Clark wins and Mojave beats Pahrump Valley, we'd have three teams with a 2-3 league mark, and it would come down to point differential to settle the tie. So, technically, the Chargers could beat the Desert Shields and still miss the playoffs. Let the chaos ensue! … Clark by 2.
Last week: 5-3, 5-3 (with points)
Season: 50-14, 43-21 (with points)
Contact Fielder at Fielder@nevadapreps. com. Follow him on Twitter: @FielderNVP.