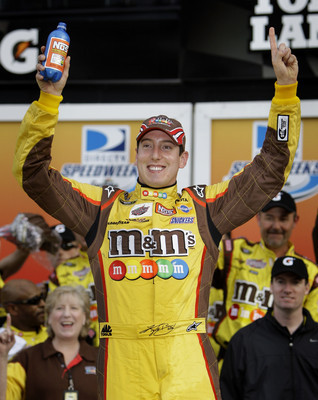 Joy bubbled over for Kyle Busch on Sunday after he won the NASCAR Sprint Cup race on his home track, first in Victory Lane and later at a Las Vegas nightclub.
NASCAR's annual visit to Las Vegas Motor Speedway came at a perfect time for the sagging economy and dreary run the past few months on the Strip.
Hotels that hosted drivers and crews received an added bonus when heavy snowfall Sunday around Charlotte, N.C. — where nearly every NASCAR team is based — forced postponement of their departures to Monday.
They all were eager to get home but thankful their extended stay didn't happen after a race in Fontana, Calif., or Talladega, Ala.
The extra night left more revenue in local coffers.
Busch helped the local economy by spending about $5,000 of what he won in the Shelby 427 at Body English in the Hard Rock for 10 bottles of top-shelf champagne.
Busch, 23, drank some, shared some and sprayed a lot from a Body English stage.
That raised the ire of RaceReportRadio.com blogger Sam Atwell.
"The guy deserves to celebrate. … The problem, for me, comes from the photographs that were published" on the TMZ.com Web site, Atwell writes of photos showing Busch spraying the crowd and high-fiving someone with an open champagne bottle in the other hand.
"For me, this is where the bad judgment comes into play," Atwell adds. "Once again, he deserves to celebrate, but, in my opinion, do it behind closed doors.
"I'm just saying this doesn't portray a good image. It is possibly an image that a sponsor might not like, it is possibly an image that an owner might not like, and it might not be liked by hundreds of fans that have their children adorned with the driver's apparel."
It's not like Busch sprayed a crowd of kids. Give him a break. It would have proven a greater risk to those in the crowd had Busch thrown some of his sponsor's M&Ms into the throng, whether plain or peanut.
• FIELD OF ICE — The University of Michigan has a plan to ensure its fans in the newly renovated Michigan Stadium an added chance to see victory in 2010.
Instead of relying on the success of its Wolverines football team that finished last season with a 3-9 record, the Michigan ice hockey team could play a game in the expanded 108,000-seat venue in December 2010.
The proposal is for Wisconsin and Michigan to play a home-and-home series on their respective football fields.
• INSECURITY — Organizers of the 2010 Commonwealth Games in New Delhi on Wednesday assured "foolproof" security for the event following the terrorist attack on Sri Lanka's cricket team in neighboring Pakistan.
The violence in Lahore on Tuesday left six police officers dead and seven members of the Sri Lanka team injured.
Security, however, is enough of a concern that a junior tennis tournament this month in Karachi, Pakistan, has been canceled.
"It was more the general atmosphere in the country, the general security in the country," said Luca Santilli of the International Tennis Federation.
COMPILED BY JEFF WOLF LAS VEGAS REVIEW-JOURNAL