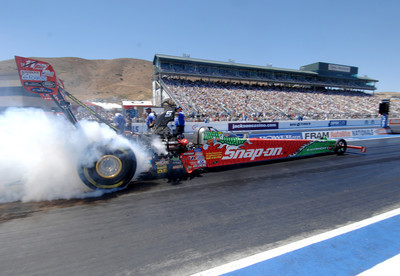 The 54th season for NHRA professional drag racing opened Thursday with the Winternationals, which runs through Sunday in Pomona, Calif.
Six weeks ago I predicted this would be a tumultuous season for the NHRA, and sadly it's starting that way.
The NHRA has been hit hard after making positive changes regarding safety, qualifying format and how its professional champions will be determined.
Two weeks ago, while popular Top Fuel driver and team owner Doug Herbert was testing his dragster near Phoenix, his sons were killed in a car crash near their Cornelius, N.C., home. Herbert is dedicating the season to Jon, 17, and James, 12, calling this season the "For My Boys" tour.
As badly as we feel for Herbert and his family, we have to get back on track as he is.
On Jan. 31, HD stockholders rejected the proposed sale of the NHRA's professional racing assets and race tracks to HD Partners Acquisition Corp. The vote was 99,000 for the purchase and 16.6 million against.
In a prepared statement reacting to the overwhelming rejection, NHRA president Tom Compton said, "NHRA is in the best financial position in its history, and prospects for future growth are at an all-time high."
So why consider selling the pro assets? The smell emanating from that comment is reminiscent of walking near stalls at a bull-riding event.
Professional drag racing needs tweaks, a few changes or additions to its executive lineup and a commitment from NHRA brass to include team owners on major decision making.
It might have started to do that the past couple of months.
After getting input from owners, last year's inaugural Countdown championship points system was greatly improved. This year's first 18 NHRA events will determine the top 10 teams in each of four pro categories that will contend for championships in the last six races. That beats the initial "playoff" system that had the top four drivers in the last two events determine championships.
Safety enhancements are being made in Top Fuel and Funny Car chassis based on research by John Force Racing into the crash that killed Funny Car driver Eric Medlen last year and Force's crash in another chassis failure.
Because Goodyear tires have failed and might have been contributing factors to those crashes and another that killed Darrell Russell in 2004, Goodyear had a few teams test a newly designed rear racing slick last week.
That is major progress.
But the attempted sale to a bunch of fat cats was a mistake, and many "acquisition" groups exist to buy and sell.
Bruton Smith said he wanted to buy the NHRA before the HD group materialized and probably remains interested if he can get it cheap. He is the majority stockholder of Speedway Motorsports, which owns Las Vegas Motor Speedway and six other major facilities.
He broke ground this week for a dragstrip at SMI's Lowe's Motor Speedway that will give him four national event dragstrips with five major events, including two at Las Vegas.
Smith was tight-lipped about any ongoing discussion to buy NHRA. He did say he has no interest in starting his own drag racing series.
Contrary to my previous belief that Smith cared little about anything below professional drag racing categories, he insists he will have a four-lane dragstrip at the North Carolina track that will benefit grass roots and Sportsman racing.
"I'll never put fuelers on four lanes because I know that wouldn't be safe," said Smith, adding the configuration would not be part of an NHRA Powerade Drag Racing Series.
He sees four-wide racing in nonprofessional categories as a way to allow cars to make more runs in less time and provide more excitement. Time will tell if that concept works.
Any future plan by the NHRA to sell any or all of its assets should be required to ensure the longevity of Sportsman and grass-roots racing and continuation of its programs related to providing safe alternatives to illegal street racing and track safety.
NHRA drag racing should be held accountable only to its team owners, racers and about 80,000 members instead of a corporation's accountant and stockholders.
It's a sport, not just a business.
Jeff Wolf's motor sports column is published Friday. He can be reached at 383-0247 or jwolf@reviewjournal.com.