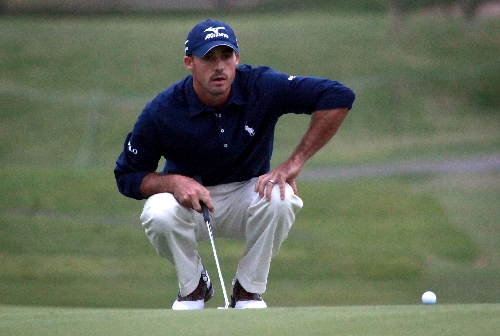 Jonathan Byrd never saw the shot. But he could hear the roar of the crowd around the 17th green at TPC Summerlin, and he knew something special had just happened.
Locked in sudden death with Martin Laird and Cameron Percy, Byrd hit his tee shot on the 204-yard, par-3 hole, the fourth of the three-man playoff. The ball landed on the green about 9 feet from the hole and began rolling toward the flag stick. It didn't stop until it dropped into the cup for a hole-in-one, making Byrd a most improbable winner in the Justin Timberlake Shriners Hospitals for Children Open.
PGA Tour officials said it was the first time a tournament was decided by a hole-in-one on the final hole.
"I thought I hit it too good," said Byrd, a South Carolina native. "I thought I hit it too far, and I couldn't see anything. But to hear the reaction as it went in, I was just in shock.
"You're not really sure until you go down there and look in the bottom of the hole. But when everybody was yelling and screaming, then I knew."
Byrd's ace almost didn't happen. With darkness descending and the trio still deadlocked after three extra holes, PGA Tour rules official John Mutch asked them if they wanted to continue playing or finish today.
Byrd left the decision to Laird and Percy, and when they chose to play on, Byrd was first up on the No. 17 tee. He pulled out a 6-iron and let fly. Seconds later, after waiting for Laird and Percy to tee off — just in case — the drama was over, and Byrd was soon holding the Waterford crystal championship trophy alongside Timberlake.
"For it to go in is just luck," Byrd said of his second Tour hole-in-one. "It's kinda absurd, actually."
Byrd also was fortunate to be alive in the playoff at that point. On the third extra hole — the par-4 18th that the group was playing for the second time — Byrd's approach shot veered left, and the ball rolled off the green and toward the water. But it stopped just short and settled into the rough. Byrd was able to save par after he chipped to within 9 feet and one-putted.
"I thought it was in (the water)," Byrd said. "I thought I was done. But then I heard people cheering, and people don't usually cheer for a ball that goes in the water, unless they had too much to drink, so I figured maybe I was OK."
On the same hole, Laird had a 16-foot birdie putt that would have made him a repeat Las Vegas champion. But the Scotsman's attempt rolled past the cup, and Byrd had a reprieve.
For Laird, who won last year's Shriners Open on the third playoff hole, it must have felt like deja vu. At least until his putt failed to break and slithered past the hole.
"Yeah, that was frustrating," said Laird, who also missed a birdie putt when the trio played No. 17 for the first time on the second extra hole. "To let a couple of opportunities to win slip away like that is disappointing,
"I knew it was going to take something spectacular to win. But a shot like that? Amazing."
Byrd's closing 3-under 68 and four-day total of 21-under 263 earned him his first victory of 2010 and a check for $774,000.
Percy also managed a victory of sorts. The Tour rookie's tie for second was worth $378,400, his biggest payday by far, and he climbed 41 spots to 144th in 2010 earnings with one event remaining — the Childrens Miracle Network Classic in Florida, starting Nov. 11. He needs to finish in the top 125 in earnings to retain full playing privileges in 2011.
"It was hard not to think about 125," Percy said. "I had my chances, but I didn't capitalize on them.
"It's a nice payday, but I won't keep my job."
If Percy felt bad, Webb Simpson felt even worse. He was leading at 22 under with two holes to play. But his tee shot on No. 17 went into the water and he took double bogey. Then he was unable to make birdie on 18 and missed the playoff, as his wife, Dowd, watched in tears.
"I was right there," said Simpson, who tied for fourth with Spencer Levin at 20-under 264. "I just had one bad swing. But I'll get over it quickly. Golf's my job, not my life."
Simpson's miscue opened the door for Byrd to play his way into the mix. Three straight birdies from Nos. 15 to 17 got him to 21 under and allowed him to join Laird and Percy in the playoff.
"Obviously if (Simpson) wouldn't have done that, I would have had to birdie the last hole to get into the playoff," Byrd said. "So I'm sad for him because he played so well this week."
Contact reporter Steve Carp at scarp@reviewjournal.com or 702-387-2913.
Justin Timberlake Shriners Hospitals for Children Open Final Round