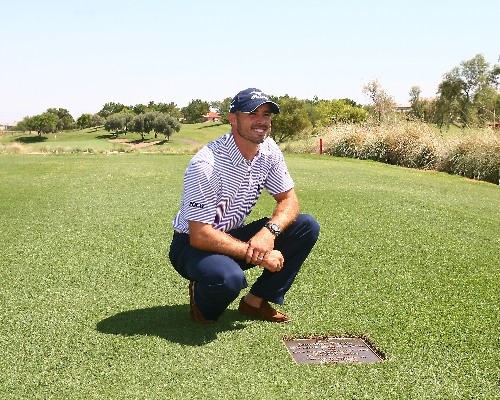 As soon as the ball made its way into the hole at the par-3, 204-yard No. 17 at TPC Summerlin, Jonathan Byrd knew his life would never be the same.
At the least, he would be part of golf history, winning a three-way playoff with a hole-in-one to capture the Justin Timberlake Shriners Hospitals for Children Open on Oct. 24. At best, it would be the takeoff point for even greater success.
"I look back on it, and I can say without question that it turned my career around," Byrd, 33, said Tuesday at TPC Summerlin. "The biggest thing was it helped my confidence."
Byrd, who will be back to defend his title this month, took advantage of the success from October. The 12-year veteran from Clemson has had his best year on the PGA Tour, having already banked $2.74 million in 2011, heading into next week's BMW Championship near Chicago, the third event of the four-tournament FedEx Cup playoffs. Byrd has five top-10 finishes this year, including a win at the Tournament of Champions in Hawaii in January.
"It's a very different position to be in than last year," Byrd said. "I'm looser. I feel like I'm playing with more freedom. That wasn't the case a year ago. Back then, I was trying to keep my (Tour) card, and even though I was playing well, the results weren't there. But when I won in Vegas, it was like it validated all the hard work I put in and that my game was good."
Byrd said he could sense things were looking up coming into last year's Shriners Open. So much so that he wasn't going to let the pressure to perform get to him.
"I had a forced four-week vacation because I didn't make the (FedEx Cup) playoffs," he said. "I had some great family time and reflected on what I needed to do. And I came to the realization that I would be OK with the fact I might not make it. I could live with it."
Lost in the excitement of Byrd's miraculous finish was the fact he putted well, especially over the final holes on Sunday just to get into the playoff with Cameron Percy and Martin Laird. Even though Byrd hadn't won a tournament since 2007, his overall game had perked up, and he eventually was rewarded with the ace on the fourth playoff hole with the course shrouded in darkness.
"I'd hit that shot at least twice on the range before the round started," Byrd said. "And having played it a couple times already during the final round, I knew what to expect, though I didn't expect it to go in."
The club and the ball now reside in the World Golf Hall of Fame. When Byrd returns to Las Vegas on Sept. 29, he'll try to become the first player since Jim Furyk in 1999 to successfully defend his title here.
"I'm feeling great physically, and I've still got my notes from last year," he said. "I don't know how much different the course will play with the tournament having been moved up almost a month. But if the wind's not blowing too hard, it should be about the same. To play well here, you have to drive it well, so I'll focus on that."
And while Byrd has enjoyed his best year on the Tour since turning pro in 2000, he has encountered a few bumps this season. He's missed the cut nine times in the 22 events he has played. Four of those nine came at the majors, where Byrd failed to break par in any round at the Masters, U.S. Open, British Open and PGA Championship.
"I may have been trying too hard," he said. "My ball-striking kind of left me, and my putting was inconsistent. The funny thing was I felt my game was good going into three of the four majors, and I played extremely bad. I didn't think I was playing well going into the (British) Open, and I missed the cut there."
Byrd's focus is on finishing well in the FedEx Cup playoffs and bringing positive momentum to Las Vegas.
"It's totally different this time," he said. "But I'm hoping for the same result."
Contact reporter Steve Carp at scarp@reviewjournal.com or 702-387-2913. Follow him on Twitter: @stevecarprj.