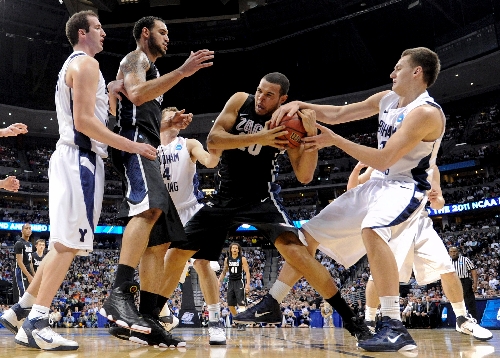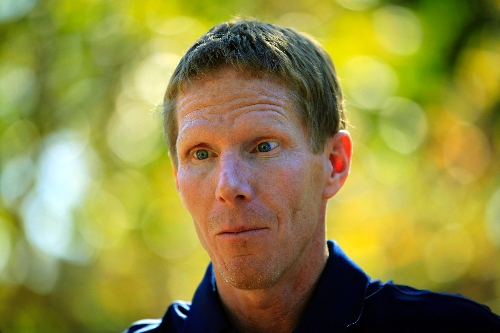 SAN BRUNO, Calif. — Coach Mark Few never counts on anything coming easily in the West Coast Conference despite Gonzaga's decade-long run of dominance and all the NCAA bids along the way.
Now, add Brigham Young to the mix twice a season and it becomes that much tougher to preserve a streak of 11 straight regular-season conference titles. Few, Saint Mary's coach Randy Bennett, Santa Clara's Kerry Keating and the rest of the bunch consider these new games on the schedule as automatic Top 25 matchups considering the Cougars' track record in the Mountain West Conference and NCAA Tournament.
"You just added a monster. You're throwing fireworks in the freakin' fire," San Francisco coach Rex Walters said.
The perennial favorite Zags are picked by the WCC coaches to win a 12th consecutive crown, receiving seven of eight possible first-place votes in the poll announced Thursday. Coaches cannot vote for their own program to win.
"It certainly makes the task of winning another conference title that much more difficult," Few said. "I consider them a national program. On one end, it's good to have another national program in the conference. On the other hand, it makes it that much tougher to keep our streak of conference titles going."
The WCC expanded in July for the first time in 32 years with the addition of BYU, which eliminated 11th-seeded Gonzaga with an 89-67 victory in the NCAA round of 32 last spring.
"Nationally, I think people will look at this conference and say, 'It could merit three teams, legitimately, '" Few said of NCAA conversations.
The Cougars were picked third in the WCC preseason poll, behind second-place Saint Mary's after the Gaels earned a share of the conference title last season but didn't receive an NCAA berth. Both schools received one first-place vote.
The addition of BYU brings instant credibility to a conference that already has made big strides in men's basketball, though commissioner Jamie Zaninovich insists the Cougars are helping raise the level of other minor sports, too.
"We took the Mountain West's best team and put them in the WCC," Bennett said. "It has moved us up in the strength of conference in the West. We were probably behind the Mountain West before that, but I think this probably gets us closer to the Pac-12."
In 2008, the Zags, Saint Mary's and San Diego reached the NCAA Tournament in a remarkable first for the conference. That created a national buzz that Zaninovich hopes to build on this season.
The WCC will have 17 conference games on ESPN networks. Also, 75 percent of league games will be shown on regional or national television.
Saint Mary's reached the regional semifinals in 2010, then was stunned by Kent State 71-70 in the first round of last season's National Invitation Tournament. San Francisco, picked to place fourth, is coming off its best WCC season since 1982 and returns all five starters. Six of the nine WCC schools are back after postseason appearances, including Santa Clara's championship in the CollegeInsider.com Tournament.
The WCC teams lose two preseason games from their schedules to make room for BYU. One big change for all of the schools will be the difference playing in the Cougars' 22,000-seat Marriott Center compared to the intimate WCC venues such as USF's Memorial Gym or sold-out, 3,500-seat McKeon Pavilion at Saint Mary's.
"When Gonzaga and BYU come to town, people come out," Walters said.
"We lead the country in rushed courts — and we might lead in 'Overrated' chants," Few said with a smile.
His Zags face another daunting preseason schedule, with home games against Butler, Notre Dame and Michigan State.
The BYU game already is a hot ticket around the league. Cougars coach Dave Rose knows the feeling. It has been that way for a few years now.
BYU made its deepest NCAA run since 1981 before losing in overtime to Florida in the regional semifinals. The Cougars must find a way to replace all-time leading scorer Jimmer Fredette.
"What's really exciting for us is to come into this league at a time when it's probably at its best," Rose said. "Saint Mary's made the Sweet Sixteen a few years ago, Gonzaga's made their run a couple times and you have so many returning all-conference players. It will be interesting to see how we fit, how we compete in a league that's a lot different. It's a lot different than the Mountain West Conference, but the challenge is still the same."