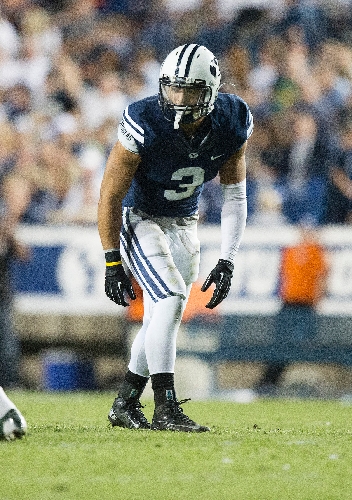 In a matchup of two of the nation's top-ranked defenses, something will have to give tonight when Brigham Young (3-2) plays rival Utah State (4-1) at Provo, Utah.
The game airs at 7:15 p.m. on ESPN (Cox 30).
The Cougars' defensive credentials are the best in program history. BYU is No. 1 in the nation in red-zone defense, No. 2 in rushing defense, No. 4 in scoring defense and No. 5 in total defense. The Cougars' defense has not allowed a point in its last nine quarters.
Junior linebacker Kyle Van Noy of Reno is tied for second nationally with three forced fumbles. He is ranked third with 6½ sacks and seventh with 9½ tackles for loss.
"He flies around the football. He's on the edge of the defense," Utah State coach Gary Andersen said. "He's in position to be able to make those plays."
The Aggies are 11th in the nation in total defense, No. 18 in scoring defense and No. 22 in run defense.
"They (Utah State) play really hard, and they are coached really well," BYU offensive coordinator Brandon Doman said. "That combination poses a lot of threats."
Despite the defensive success, both teams are coming off big offensive performances. BYU rushed for 396 yards in a 47-0 shutout of Hawaii, and Utah State compiled 564 yards of offense in a 35-13 win over UNLV.
■ QB SITUATION – Coach Bronco Mendenhall said he will decide at game time whether to start senior Riley Nelson or freshman Taysom Hill at quarterback.
Nelson has a lower back injury and did not play last week. Hill made his first start and rushed for 143 yards and a touchdown and passed for 112 yards and two touchdowns.
"We are all competitors, and we love to play football," Hill said. "The more you get it, the more you want it, and I'm looking forward to Utah State."
■ WILLIAMS PROMOTED – Freshman running back Jamaal Williams, who is 17 years old, is slated to get his first start tonight in place of injured Michael Alisa.
Williams rushed for 155 yards and two touchdowns against Hawaii after Alisa broke his right arm in the first quarter. Alisa, a junior, will be out six to eight weeks.
Less than 12 months ago, Williams was running the ball for Summit High School in Fontana, Calif.
"I was bigger than all my linemen in high school," Williams said. "I'm happy with just my line being bigger than me."
Williams is the youngest Cougar in the modern era to start a football game. He was 11 years old when teammates Nelson and James Lark began their college careers in 2006.
■ SWEET SIXTEEN – BYU has beaten Utah State 16 consecutive times in Provo. The last time the Aggies won was in 1978, which is also the last time Utah State started a season 4-1.
The Aggies did their part to revive the rivalry by stunning the Cougars 31-16 in 2010 and nearly winning last year in Provo. Utah State led 24-20 before Nelson engineered a 96-yard drive in the final minutes, capped by a tipped 13-yard TD pass to Marcus Mathews with 11 seconds left for a 27-24 victory that prompted Cougars fans to storm the field.
Nelson was a prep star in Logan and played his freshman season at Utah State in 2006.
"I grew up with an Aggie perspective," he said. "Then I came down to BYU, where they didn't pay much attention to it. The funny thing is the Aggies have caused us Cougars to perk up and pay attention. If we don't play our best game, we are going to get beat."
Tonight's game marks the 88th meeting in a rivalry that began in 1922. BYU will visit Logan next year, with the Aggies returning to Provo in 2014 and 2015.
Dave McCann is a news anchor for KSL television in Salt Lake City and the play-by-play voice for BYU sports on BYUtv. He is also the host of True Blue, which airs Mondays at 5:30 p.m. on BYUtv. He can be reached at dmccann@ksl.com or twitter @DaveMcCannKSL.