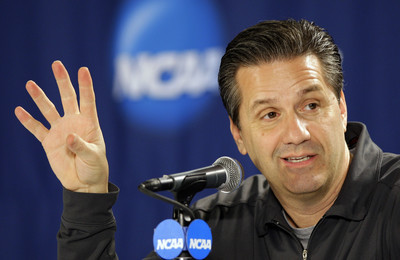 The University of Memphis gave Kentucky permission Monday to speak to John Calipari about the Wildcats' head coaching position, then made a final push to try to keep the coach.
Some of Memphis' key boosters met with Calipari on Monday. But one booster expects Calipari to go to Kentucky, though the person, speaking on condition of anonymity because of the ongoing negotiations, acknowledged the coach was torn between the two great opportunities.
The Wildcats had a short meeting at their practice gym Monday afternoon. Asked afterward if they had a new coach, senior Jared Carter said, "I think so." Asked if it was Calipari, Carter shrugged his shoulders and said, "I don't know."
Several other Kentucky players, including stars Jodie Meeks and Patrick Patterson, were escorted by university staffers and did not comment after leaving the Joe Craft Center.
Calipari met with Memphis players Monday morning.
"He told us he's going to keep us posted," Memphis freshman forward Wesley Witherspoon told WHBQ-TV in Memphis, Tenn., after Calipari met with the team Monday morning.
Kentucky fired Billy Gillispie on Friday, ready to move on after two frustrating seasons. It went right to work Monday, with two university staffers carrying large cardboard photos of Gillispie out of the practice center while media crews watched.
Kentucky spokesman DeWayne Peevy would not confirm or deny an ESPN report that Wildcats officials had met with Calipari and were prepared to offer him the job. Citing unidentified sources, ESPN.com reported the offer was believed to be for eight years and around $35 million.
Calipari did not immediately return text messages from The Associated Press, and several Memphis players did not respond to e-mail messages left by the AP. Kentucky athletic director Mitch Barnhart also did not respond to AP requests for comment.
In its coaching search, Kentucky quickly targeted Calipari, who just finished his ninth season at Memphis and has a 137-14 record over the past four season. He guided Memphis to a national runner-up finish last season, and the Tigers (33-4) were ousted in the NCAA Tournament's West Regional semifinal Thursday night.
Calipari has the top-rated recruiting class in the country, according to Rivals.com and Scout.com. However, his latest recruit, 6-foot-10-inch DeMarcus Cousins, committed orally within the past month and could follow Calipari to Kentucky if the coach leaves.
Landing Calipari won't be cheap. He has four years left on his contract paying him $2.35 million annually. He also has an annuity averaging $1 million over the deal through 2013.
Throw in whatever settlement Kentucky negotiates with Gillispie, the Wildcats could have nearly $10 million invested in the head coach of the basketball program next year.
That doesn't matter to one of college basketball's most ardent fan bases, which seemed electrified by the possibility of getting Calipari. A Facebook group called "Bring John Calipari to UK" had swelled to more than 11,000 members as of Monday evening while a popular Kentucky message board had more than 18,000 people on it during the dinner hour.
Barnhart stressed the need for finding a coach who can embrace all the things that come with leading college basketball's winningest program. Gillispie went just 40-27 in two seasons and seemed uncomfortable with the celebrity that came with the job.
Calipari, never one to shy away from a camera, would seem to have the charisma to match Louisville coach Rick Pitino, who guided the Wildcats from 1989 to 1997, winning a national title in 1996.