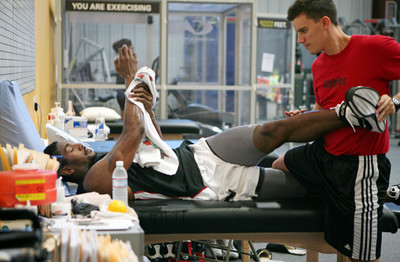 Take a summer basketball camp and replace the usual wannabes with about 50 actual NBA players, sprinkling in a handful of stars.
Add some high-tech exercise equipment and innovative training techniques tailored to each athlete.
Arm the coaching staff with certified trainers and physical therapists, and have nutritionists on hand to create customized workout recovery shakes and meals for each player.
Turn the intensity level and music on high, and the finished product is Abunassar Impact Basketball.
Former NBA Most Valuable Player Kevin Garnett and former NBA Finals MVP Chauncey Billups led a parade of 47 players who worked out up to six hours per day, six days per week during the offseason at AIB, located near Palace Station.
Other players who participated included Ron Artest, Al Harrington, Antoine Walker, Cuttino Mobley and Tayshaun Prince.
Previous camp alumni include Andrei Kirilenko, Vince Carter, Baron Davis, Chris Bosh and Paul Pierce.
Joe Abunassar, a former student assistant at Indiana under Bobby Knight and assistant coach at Wyoming, founded AIB, which costs $25,000 per year for NBA players.
The program is apparently well worth it, because Detroit Pistons guard Billups and others say Abunassar has played a key role in making them better players.
"Coming into the league, my skills were good, but they needed a lot of honing," Billups said last month. "(Abunassar) took me from jumping around the league the first couple years to climbing that mountain to being where I got to today."
Abunassar trained five of this year's top 11 NBA Draft picks — including No. 7 choice Corey Brewer, No. 9 Joakim Noah and No. 11 Acie Law — and 20 of the 60 overall picks.
"We can change their body composition and we can change their game in six weeks," said Abunassar, who has built an impressive clientele mostly through word of mouth. "(The NBA) is such a big difference from college basketball."
Prince of the Pistons said the camp provides the perfect situation for players trying to make the transition from college to the NBA.
"You get good individual instruction on and off the court, and you're going against guys at your position who are just as good or even more talented than you are," he said. "It gives you the opportunity to get better and, at the same time, to stay healthy."
A typical daily regimen at the camp consists of 90 minutes of performance training, or strength training and conditioning, and 90 minutes of on-court skills drills in the morning.
A specialized lunch precedes afternoon 5-on-5 scrimmages that are arguably the best pickup basketball games in the world.
"We compete at a very high level, whether it's one-on-one drills, individual work or 5-on-5," Billups said. "We're here mostly all day, and when we go home we're pretty tired and burnt out."
Abunassar has created basketball-specific drills to mirror each player's movements in an actual game.
In a dribbling drill, for example, Billups is connected to a Bungee cord with resistance behind him, forcing him to stay low and in control as he brings the ball up the court.
In another exercise designed for big men, Garnett wears a belt tied to a Bungee cord and tries to maintain his post position and keep the ball under control. All the while, one coach pulls the cord in different directions to try to knock him off balance and another tries to steal the ball.
Players also can experience high altitude training in a glass-enclosed chamber simulating conditions at 9,000 feet.