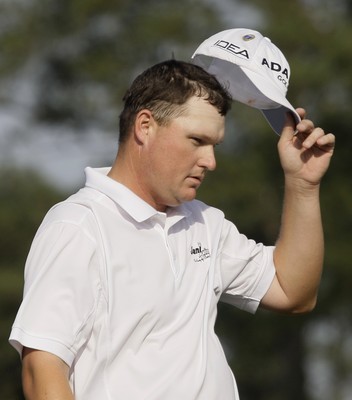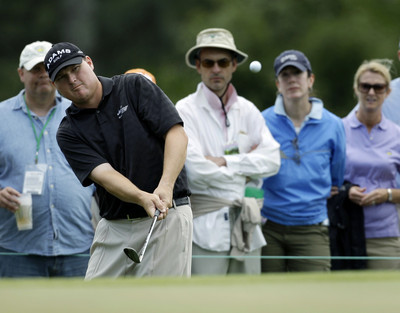 UNLV has sent many golfers on to the PGA Tour, but none has won a major tournament.
Chad Campbell nearly changed that Sunday, when he had a golden opportunity to win the Masters. But Campbell couldn't survive a three-way playoff with Angel Cabrera and Kenny Perry and finished tied for second.
It was the closest a UNLV player has come to winning the green jacket.
"Right now, I'm obviously disappointed," Campbell said Monday from his home in Colleyville, Texas. "But when I look back on it, I played well, and I hope to come back next year and finish better."
Campbell, who played for UNLV from 1994 to 1996, shot 12-under-par 276 over the four days at Augusta National. He said the key was staying relaxed and not letting anything disrupt his focus.
"There's a lot of pressure with every shot," Campbell said. "But I felt like I was hitting the ball pretty well from the start, and I always felt relaxed."
Even when Campbell was in the playoff and put his second shot in a greenside bunker at the par-4 No. 18, he wasn't sweating.
"I hit a great shot out of the sand," he said. "I just missed the putt."
Campbell pushed his 6-foot par putt to the right, falling out of the competition on the first playoff hole. Cabrera won the tournament on the next hole.
UNLV coach Dwaine Knight said even though Campbell fell short, it was a great weekend for the program.
"We got exceptional exposure," Knight said Monday. "You can't put a dollar figure on it. But it really helps our recruiting. CBS mentioned UNLV a lot, and Chad has a UNLV head cover in his bag, and every time they showed it on TV, it was publicity for the program."
Knight said he received a text message from Campbell after Saturday's third round, which he finished two shots behind Perry and Cabrera.
"He seemed excited about where he was, and he was enjoying it," Knight said. "I thought he handled the pressure well, especially Sunday, when Tiger (Woods) and Phil (Mickelson) made their runs. He held it together."
Campbell said he often hears from Knight.
"Coach told me he liked the way I was swinging and told me to stay with it," Campbell said. "He's always coaching, and I appreciate that about him."
Campbell said he was glad to be able to give his alma mater some positive publicity.
"I think it's great," he said. "That's why I have the head cover. I'm proud to have played at UNLV. Any exposure I can bring to the program, I'm glad to do it."
Campbell said while it was painful to come so close and fall short at the Masters, the chance Monday to get reacquainted with his 7-month-old son, Dax, helped take some of the sting out of his second-place finish. So did the runner-up check of $660,000.
"It was great to be home and spend some time with him," Campbell said. "I've been gone for five weeks, so it's been awhile. I was able to forget about everything when I was with him. But we'll take a week off and get back at it."
Campbell isn't sure if he'll come to Las Vegas in October for the Justin Timberlake Shriners Hospitals for Children Open. Campbell finished tied for third at TPC Summerlin last year.
"I hope to be back," he said. "Right now, I'm not looking that far down the road. But if I can make it back, certainly, I'll be there."
Contact reporter Steve Carp at scarp@ reviewjournal.com or 702-387-2913.
TOP FIVE UNLV FINISHES AT MAJORS
Chad Campbell, tie for second, 2009 Masters
Chad Campbell, second, 2003 PGA Championship
Chris Riley, third, 2002 PGA Championship
Chad Campbell, tie for third, 2006 Masters
Adam Scott, tie for third, 2006 PGA Championship