Can California Chrome save horse racing?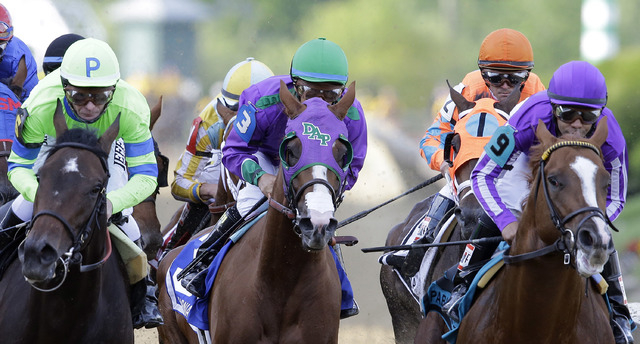 ELMONT, N.Y. — It was May 16, the day before the Preakness, a gloomy, overcast Friday with heavy rains threatening on the horizon.
At Belmont Park, a nine-race card was completed before the rains hit at the huge facility on Long Island. The attendance? Only 1,723 showed up, and they bet less than $1 million — $943,097, to be exact.
It will be a much different scene today at Belmont. Upward of 100,000 will pack the place, and wagering will exceed more than $14 million. Within that $14 million will be a lot of $2 win bets on a horse with four white feet and a white blaze on his nose, tickets that won't be cashed but — history willing — will end up as souvenirs.
That is the hope of horse racing fans as well as an industry that for the better part of four decades has been shooting itself in the hoof, unable to cultivate a younger audience while watching its older supporters die off year by year.
Such is the weight California Chrome will carry to the starting gate — along with the 126 pounds of jockey Victor Espinoza — in an attempt to win the 1½-mile Belmont Stakes. A 3-year-old colt attempting to become the sport's first Triple Crown winner since 1978 has a heavy burden placed on his withers.
Since Affirmed won the Triple Crown that year, 11 horses have tried to sweep the Kentucky Derby, Preakness and Belmont but have failed. Affirmed was the third horse in six years to do it, following Secretariat in 1973 and Seattle Slew in 1977.
But the drought has spanned almost two generations, and interest has declined drastically in a sport that at one time claimed to be No. 1 in the United States, ahead of baseball and football.
So, it begs a couple of questions: Can California Chrome save horse racing? And is it fair to place such a burden on him?
Henderson resident Bob Cannon owns six thoroughbreds and races them in California. He would love to see California Chrome, co-owned by fellow Nevadan Steve Coburn, in the winner's circle. But as far as being racing's savior?
"I don't see it," said Cannon, shaking his head. "At least not long term. There are so many problems with the sport.
"You have horses that are being over-medicated by greedy trainers, and owners who'll do anything to win. You have fewer horses, period. You have racetracks closing because there's so much more gambling available. The takeout at a lot of the tracks is so high, it's hard to make money, so why play the horses when you have other forms of gambling available to you? Where's the incentive?
"And the toughest thing is finding the next generation of owners. Who's going to invest in horse racing? It costs about $3,000 a month to maintain a horse. That's $36,000 a year, whether you race or sit in the barn. And that's the minimum. A lot of people have no idea how much it costs. And if they don't find new people to invest as owners, I think the sport's going to be in serious trouble, worse than it is now."
The numbers support Cannon. According to figures supplied by The Jockey Club, which oversees the registration of thoroughbreds, there were 31,510 foals registered in the U.S. in 1978, the year Affirmed won the Triple Crown. In 2013, there were 21,275 registered foals, a drop-off of almost a third.
Owners have fewer options to run their horses. According to The Jockey Club, 69,499 races were run in 1978. In 2013, 43,139 were run. Since 1978, 14 thoroughbred tracks have gone out of business, including Bay Meadows near San Francisco and Hollywood Park in Los Angeles.
The decline on horse racing wagering is being felt throughout Nevada's race books, too. According to the Las Vegas Dissemination Company, $565.3 million was wagered in the 83 race books throughout the state in 2006. In 2013, that number had dropped to $318.9 million. There has been a decline in handle in the state for the past seven years.
"There's a few reasons for that," said John Avello, the director of race and sports at Wynn Las Vegas. "You've got rebate players going offshore. In Nevada, we can't offer rebates. You've got computer betting where people can play from home rather than come here (to Las Vegas). Right now, we don't offer computer betting at home for racing.
"But the biggest problem is there's not enough new blood. Sure, we're going to be packed for the Belmont. We'll have a lot of people watching the race who wouldn't normally watch horse racing. It's a story that transcends racing, and if he wins, it will definitely give racing a positive boost for a week, maybe two. But I'm not sure if it benefits racing long term if California Chrome wins.
"Are you going to convert millions of people to horse racing and get them to come out to the track? I don't think so."
Those who get converted might decide to go to Del Mar or Saratoga come July. The two summertime tracks have managed to swim against the negative tide because of their locales. Del Mar sits off the beach near San Diego, and Saratoga is tucked away in the Adirondack Mountains of upstate New York, providing a vacation-like atmosphere along with a quality product.
"Racing in general has been a victim of the economy and a victim of ourselves," said Joe Harper, president and general manager of the Del Mar Thoroughbred Club. "There's a lack of creative marketing throughout our sport. You have to go outside the circle of the hard-core fan, and that's not happening.
"People don't come out to see the regular horses. They'll come out to see a Cigar, a Zenyatta or a California Chrome. But whenever there's a superstar horse, racing doesn't seem to take full advantage of the opportunity to cultivate new fans. Instead, racing seems to shoot itself in the foot. Racetracks need to build their own brand. It has to be more than just 'look at all the pretty horses.'"
Going to the races is not cheap. After parking, admission, a reserved seat, a program and a racing form, a bettor could be out $20 to $25 before making his first wager, depending on the track. Del Mar and Saratoga do well. So do Keeneland in Lexington, Ky., and Oaklawn Park in Hot Springs, Ark. But for most other tracks, it's a challenge to attract regular customers.
If racing can generate and promote more stars, perhaps fans would come out. Harper would love to see California Chrome win today, partially for selfish reasons.
The Pacific Classic, Del Mar's signature race to its summer meet, is scheduled for Aug. 24 and has a $1 million purse. If Harper can convince California Chrome's connections to stay in California — the horse is based at Los Alamitos, about 90 minutes from Del Mar — rather than run in the Travers at Saratoga or the Haskell at New Jersey's Monmouth Park earlier that month, it could result in a record crowd.
"It would be great to have California Chrome run at Del Mar," Harper said. "This is a terrific story, a screenwriter's dream. I hope he can pull it off. But long term, one horse can't save racing."
Avello said: "If he wins, it's great. But the week after, we're right back where we were."
Contact reporter Steve Carp at scarp@reviewjournal.com or 702-387-2913. Follow him on Twitter: @stevecarprj.