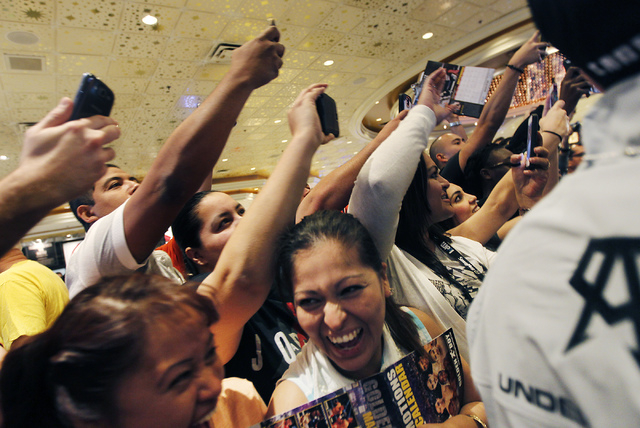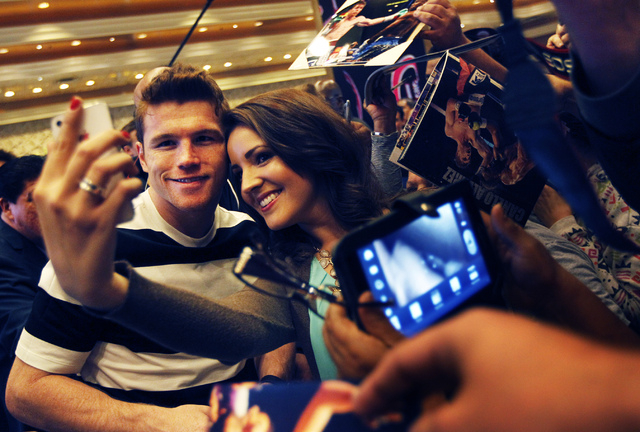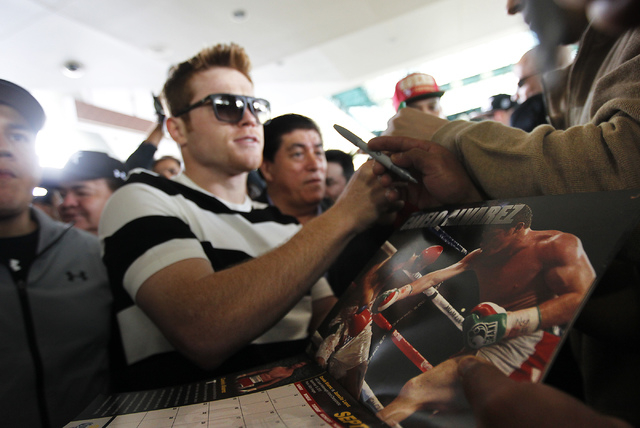 For almost three years, Canelo Alvarez proudly wore the WBC junior middleweight belt.
That belt now belongs to Floyd Mayweather Jr. But Alvarez doesn't feel naked without a title, and that he's not fighting for a belt Saturday at the MGM Grand Garden may be proof that titles are overrated.
"It's not strange at all," Alvarez (42-1-1, 30 knockouts) said Tuesday upon his arrival at the MGM for Saturday's non-title, 12-round fight with veteran Alfredo Angulo. "You don't need a title when there's a good fight, and this is a good fight."
Angulo agrees. He's not worried that there's nothing at stake Saturday. If he beats Alvarez, he'll get a chance to fight for a title.
"This is a very, very big opportunity for me," said Angulo (22-3, 18 KOs). "It's up to me to take advantage of it."
For Alvarez, it's about putting his Sept. 14, 2013 loss to Mayweather behind him and moving forward. He knows it would not be healthy for his career to take another backward step and he has no intention of doing so. He moved his training camp from Mexico to San Diego to reduce the distractions and he looked very fit and confident Tuesday.
"The most important thing for me with this training camp was I was very relaxed," Alvarez said. "I was excited to be back in the ring working. I'm happiest when I'm fighting.
"We know what Angulo brings and it's a different fight than Mayweather. We know he brings a lot of pressure and we're ready for that."
Angulo also trained in a different locale — the Bay Area — instead of in Southern California. Working with Virgil Hunter, he had the benefit of sparring with Andre Ward and Amir Khan, both Hunter trainees.
"He has a great group of fighters and everyone helps each other out," Angulo said. "We see each other as friends, not rivals. We're all from different cultures but we all get along and we all work well together."
While everyone knows about Alvarez's total domination by Mayweather, Angulo is coming off his own tough defeat June 8 when he was beating Erislandy Lara at the Home Depot Center in Carson, Calif., before suffering a contusion to his left eye and the fight was stopped in the 10th round. He had knocked Lara down in the fourth round and again in the ninth. But the injury offset all the good he had done.
Both Angulo and Hunter claimed the injury was caused by a thumb from Lara's glove. Still, it's a loss and like Alvarez, Angulo is looking to bounce back.
"Everything's fine," Angulo said of his eye. "I'm as prepared as I can be and I believe people will be very surprised in what they see on Saturday."
■ NOTE — Both fighters will hold free public workouts today in the MGM Grand Garden concourse entrance. Angulo will go at noon, followed by Alvarez at 1 p.m.
Contact reporter Steve Carp at 702-387-2913 or scarp@reviewjournal.com. Follow him on twitter @stevecarprj.