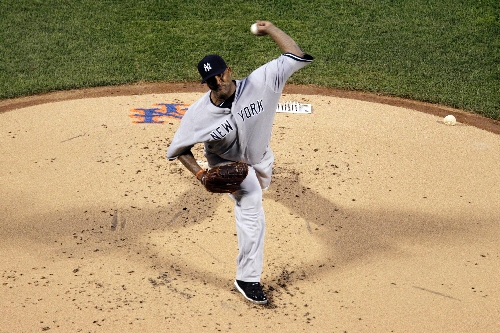 NEW YORK – Not even R.A. Dickey's darting knuckleball could prevent another power show by the New York Yankees.
Robinson Cano hit a tiebreaking homer in the eighth inning, and the Yankees touched up Dickey for five runs in a 6-5 victory over the New York Mets on Sunday night.
Nick Swisher hit an early three-run shot against Dickey, who was coming off consecutive one-hitters – making him the first major league pitcher in 24 years to accomplish that feat. But in a much-anticipated matchup at sold-out Citi Field, both he and Yankees ace CC Sabathia were missing their best stuff.
"We feel like we can beat everybody. We never go into a game saying, 'We'll probably lose this one because this guy's hot,' " Yankees slugger Mark Teixeira said. "When people say, 'You can't beat him,' we go, 'OK, we'll prove you wrong.' It's kind of fun."
Leading off the eighth, Cano drove a 2-0 delivery by Miguel Batista (1-2) over the home run apple in straightaway center for his 16th homer and fifth in seven games. Taking advantage of a shaky Mets bullpen again, the Yankees won the final two games of the weekend series by one run to finish 5-1 against their crosstown rivals this season.
"Not too bad for a bunch of chickens," said Swisher, eager to take a shot at Mets closer Frank Francisco, who called the Yankees "chickens" before the series.
Including a sweep at home earlier this month, the Yankees have won five consecutive series against the Mets since May 2010.
The Bronx Bombers hit 15 home runs against the Mets this season – seven at reconfigured Citi Field – to account for 24 of their 32 runs. They lead the majors with 112 homers in 71 games, including 34 in the last 19 games.
"They hit balls out of the ballpark like there's nothing to it," said Mets manager Terry Collins, who acknowledged he should have brought in left-hander Tim Byrdak to face Cano.
Dickey was riding an unprecedented roll of dominance, but the knuckleballer had an uncharacteristic bout of wildness against the Yankees and lasted only six innings. He walked three, hit a batter and threw his first wild pitch of the season.
"I didn't have a great knuckleball. It was just coming out wobbly a little bit. I kept searching for it," Dickey said.
Boone Logan (2-0) gave the Yankees another splendid performance out of the bullpen, and David Robertson retired Ruben Tejada with a runner on third to end the eighth. Rafael Soriano worked a scoreless ninth in the rain for his 15th save in 16 chances.
The Yankees have won 14 of their last 18 road games.
Sabathia, also coming off a complete game with 10 strikeouts, gave up nine hits in 5 2/3 innings. He was betrayed by his defense while yielding five runs – one earned.
"It's up to me to be able to pick these guys up," Sabathia said. "I didn't make good enough pitches with two strikes."
Dickey received a big ovation during pregame introductions and sent a smiling Alex Rodriguez sprawling to the dirt with a high-and-tight pitch in the first – perhaps the first time A-Rod has been buzzed by a knuckleball.
Dickey used his bat and legs to help the scrappy Mets get started on their comeback from a four-run deficit. He singled off Sabathia in the fifth and hustled home from second on David Wright's two-out RBI single.
The 37-year-old pitcher slid into Chris Stewart at the plate, getting a face full of catcher's mitt as his helmet was knocked off and the ball squirted away.
Trailing 5-2 in the sixth, the Mets capitalized on Cano's error at second base to score three unearned runs with two outs. Vinny Rottino, pinch hitting for Dickey, drew a four-pitch walk from Sabathia and screened Teixeira when Andres Torres grounded a two-run single just past the Gold Glove first baseman.
Tejada tied it with a single off Cory Wade, who struck out pinch hitter Kirk Nieuwenhuis with the bases loaded to end the inning.
Dickey wriggled out of a bases-loaded, one-out jam in the second but couldn't escape in the third. Two walks sandwiched around Rodriguez's dribbler for an infield single loaded the bases for Teixeira.
Teixeira made solid contact on a sacrifice fly, ending Dickey's streak without allowing an earned run at 44 2/3 innings – second-best in team history behind Dwight Gooden's stretch of 49 innings in 1985.
Swisher then sent a 2-1 knuckler well beyond the 390-foot sign in right-center for his 11th homer and a 4-0 cushion.
N.Y. YANKEES 6
N.Y. METS 5
■ KEY: The Yankees' Robinson Cano homered against Miguel Batista leading off the eighth inning to break a 5-all tie.