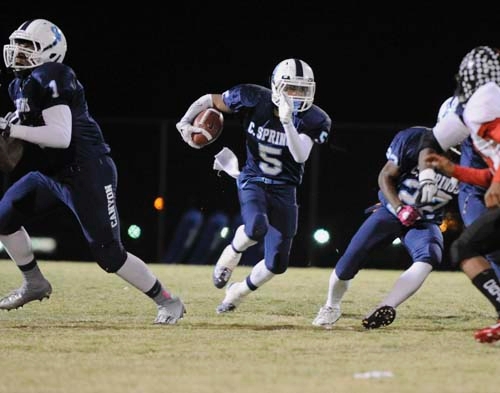 Canyon Springs' Donnel Pumphrey didn't get nervous when his coach called his number on a 2-point conversion in overtime on Thursday night.
Instead the junior running back went to work.
Pumphrey's 2-point plunge over the left side lifted the Pioneers to a 22-21 overtime win over visiting Las Vegas to give Canyon Springs the Northeast League title.
"It made me super excited because I knew we were going to get it," Pumphrey said. "I knew my line was going to open up the hole."
Canyon Springs coach Hunkie Cooper didn't hesitate to go for two after Pumphrey scored on a 1-yard run on fourth-and-goal to cut the Las Vegas lead to 21-20.
"There was no decision," an emotional Cooper said. "I did this against Liberty a couple years ago and we lost, and I walked away and cried these same tears. They were tears of sorrow that time. This time they're tears of joy."
It was the first league title since 2007 for the Pioneers, and it ended Las Vegas High's streak of three straight titles. The Wildcats had won nine of the past 10 Northeast championships.
"This game develops character that you can't get anywhere in this world," Cooper said. "To see them rise up with their backs against the wall like it is every day and become division champs is huge for me.
"This is where we start. This is a starting point, not an ending point."
The Pioneers (7-2, 7-0 Northeast) host Basic at 7 p.m. Nov. 4 in the first round of the Sunrise Region playoffs. Las Vegas (8-1, 6-1) hosts Green Valley in its opening-round game.
Canyon Springs had the momentum late in the fourth quarter but failed to convert a fourth-and-3, giving the Wildcats the ball at their 35 with 1:48 remaining.
Las Vegas, which hadn't scored since the first quarter, drove the field, capped by a 15-yard touchdown pass from Hasaan Henderson to Joshua Mayfield with 53 seconds to play. Jay Mattox added the extra point to tie the game at 14 and force overtime.
Pumphrey admitted he questioned his team's chances after Las Vegas tied the game.
"I doubted us a little bit," Pumphrey said. "I got on my team's side, and I knew we were going to win the game."
Las Vegas took the ball first in overtime, and Henderson ran the ball twice, scoring on a 4-yard run. Mattox hit the point after to make it 21-14.
Pumphrey carried the ball 41 times for 204 yards. He also had a 29-yard TD run in the second quarter for Canyon Springs, which overcame three turnovers. The Pioneers didn't complete a pass.
"We turned the football over, but we kept coming, and we stayed in our game plan," Cooper said. "Keep their offense off the field."
The Pioneers did an outstanding job on defense after allowing a 40-yard touchdown pass from Henderson to Farrell Victor on Las Vegas' second possession. Canyon Springs limited Victor to 36 yards on 16 carries, and Las Vegas had 49 yards rushing for the game.
"They've got a great running back, Farrell Victor, and Hasaan," Pumphrey said. "And we contained them both."
Cooper hopes beating Las Vegas can be a springboard to postseason success.
"Las Vegas has been an obstacle," Cooper said. "And we've overcome an obstacle. They're a great football team, and they're a classy program.
"We're still climbing, and we're still young, but we're working toward excellence."
Contact prep sports editor Damon Seiters at dseiters@reviewjournal.com or 702-380-4587.
In-depth high school sports coverage
Class 4A Scores
• Coronado 36, Virgin Valley 16
• Basic 29, Del Sol 25
• Bishop Gorman 56, Bonanza 0
• Centennial 21, Cheyenne 20
• Cimarron-Memorial 54, Sierra Vista 26
• Desert Oasis 51, Clark 8
• Eldorado 35, Rancho 22
• Arbor View 66, Faith Lutheran 6
• Silverado 27, Green Valley 20
• Canyon Springs 22, Las Vegas 21, OT
• Liberty 49, Foothill 41
• Spring Valley 16, Pahrump Valley 6
• Palo Verde 56, Legacy 7
• Mojave 24, Shadow Ridge 9
• Valley 42, Sunrise Mountain 13
• Desert Pines 48, Chaparral 8