Captain Courier critical of Davis Cup format
November 18, 2012 - 2:00 am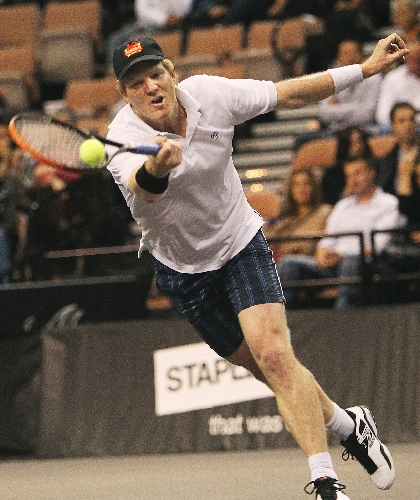 With the 2012 Davis Cup tennis final set to wrap up today, Jim Courier has started planning for 2013.
Courier, the United States' captain, is looking to bring home America's first Davis Cup title since 2007. The quest begins Feb. 1 in Jacksonville, Fla., as the U.S. faces Brazil. The challenge for Courier is finding a way to get past Spain, which made it to the final this year without Rafael Nadal, and other powerful countries such as the Czech Republic, which is looking to clinch the Cup with a win in singles today.
Courier guided the U.S. to the semifinals with Andy Roddick, Mardy Fish, John Isner and Mike and Bob Bryan.
"It's been a great experience so far," Courier said. "The challenge is the format itself. Winning won't change interest in the Davis Cup in this country. The system is broken, and the ITF (International Tennis Federation) needs to think about changing it.
"There's too many matches. You're playing every year. The best players can't fit it into their schedules and there's nothing special about it. How's that for starters?"
A 2005 inductee into the International Tennis Hall of Fame with four Grand Slam titles and lifetime earnings of just over $14 million, Courier, 42, wears several hats these days. In addition to his Davis Cup duties, Courier oversees the 30-and-older PowerShares Series.
On Saturday at Mandalay Bay, Courier, who leads the series, defeated former Henderson resident Michael Chang 7-5 in a semifinal at the Cancer Treatment Centers of America Championships.
In the eight-game pro-set final, Courier lost to Las Vegan Andre Agassi, 8-3. Agassi defeated John McEnroe 7-5 in the other semifinal.
While Saturday's PowerShares event drew only 3,300 to Mandalay Bay, Courier would love to see the Davis Cup back in Las Vegas at some point. The 1995 semifinal match between the U.S. and Sweden at Caesars Palace was well received and Courier said it's up to the United States Tennis Association.
"It comes down to money for the USTA," Courier said. "They call the shots."
As for getting players to commit to Davis Cup, Courier hasn't had to beg or twist anyone's arm.
"The response has been tremendous," he said. "Andy was fantastic. He was like the alpha dog for the other guys. Isner's committed to playing. Sam Querrey is on board. You've got Mardy and the Bryan brothers and Ryan Harrison is with us. I think overall we're in good shape."
Agassi said Courier is a good choice to lead the USA.
"No question, Jim is the right guy," Agassi said. "I think he has a good relationship with the guys who are playing. His challenge is finding people who can handle the matchups and the different surfaces they have to play when they're on the road."
McEnroe, who embodies the U.S. Davis Cup spirit with his five previous appearances and was also a captain, loves the idea of Courier as captain.
"He's played (Davis Cup) and he's paid his dues," McEnroe said of Courier. "He knows a lot of the guys and he's aware of all the issues surrounding Davis Cup.
"They refuse to change the format and because of that, Davis Cup is on life support."
Courier said he understands the situation and the challenges. He wants to win and he hopes 2013 brings with it an end to America's Davis Cup drought.
"With the guys we have and their willingness to go out and represent their country, we have a puncher's chance," he said.
Contact reporter Steve Carp at scarp@reviewjournal.com or 702-387-2913. Follow him on Twitter: @stevecarprj.