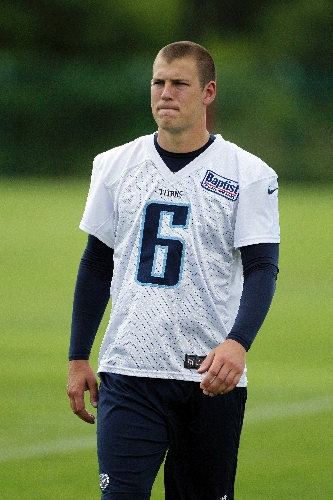 It's not a Vette – Chevette, that is, not Corvette – but Washington Redskins rookie running back Alfred Morris' 1991 Mazda 626 sedan is still a pretty sweet ride. It's worth at least $1,000.
During a week in which it was revealed former NFL quarterback Vince Young is broke six years after signing a guaranteed $26 million rookie contract with the Tennessee Titans, it's refreshing to learn about a professional athlete such as Morris, who still drives the only car he ever has owned.
"It has some sentimental value to it now," Morris told the Redskins Blog. "It just keeps me grounded, where I came from and all the hard work for me to get to this point. So that's what helps me."
Morris, who signed a $2.23 million, four-year deal in May, has rushed for 185 yards and two touchdowns in his first two NFL games.
The 23-year-old bought the car – which he calls "Bentley" – during his junior year at Florida Atlantic.
"My friends, when I first got it – it was kind of an eyesore," said Morris, who then added that "beauty is in the eye of the beholder.
"But my friends just teased me like, 'Man, what are you doing in that piece of crap?' and I'd say, 'Oh, you talkin' 'bout that Bentley right there?'
"The name just stuck, and eventually all my friends would be like, 'Hey let me get a ride in the Bentley!' "
While Morris said he'll probably buy a new car someday, he plans on keeping "Bentley" in the family.
"One day, my kids are going to drive that car," he said with a laugh. "If it breaks down, I'm gettin' it fixed. That's just how I am."
■ YOU'RE MY BOY, BLUE – Thankfully, it wasn't on par with the prank from "Animal House," in which Bluto, D-Day and Flounder stole Neidermeyer's horse and put it in Dean Wormer's office to disastrous results, but it was a solid stunt nonetheless.
In advance of today's Michigan-Notre Dame game, a group of eight Michigan students traveled to South Bend, Ind., and hung a large block "M" banner outside Notre Dame Stadium that read "Beat the Irish."
The group of students – who surely will be placed on double-secret probation if the Wolverines lose today – sent photos of the banner to several media outlets and also told MLive.com via email that it ran a Michigan flag up a flag pole on one of Notre Dame's campus quads.
It's good to see the Michigan-Notre Dame rivalry is far from over.
"Over? Did you say 'over'? Nothing is over until we decide it is!" one of the students reportedly said. "Was it over when the Germans bombed Pearl Harbor? Hell, no. And it ain't over now!"
■ PUNTER PROTECTION PROGRAM – Brett Kern is in his fifth season as a punter for the Tennessee Titans, but like Rodney Dangerfield – the late comedian/diver who patented the death-defying "Triple Lindy" – he gets no respect.
"Well 3rd time this yr I have been mistaken for an equipment manager (top notch) by another teammate," Kern tweeted this week.
Titans running back Chris Johnson can relate. Nobody recognizes him this season.
COMPILED BY TODD DEWEY
LAS VEGAS REVIEW-JOURNAL