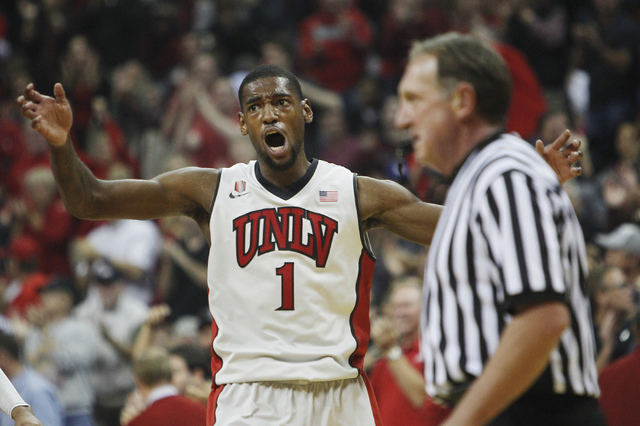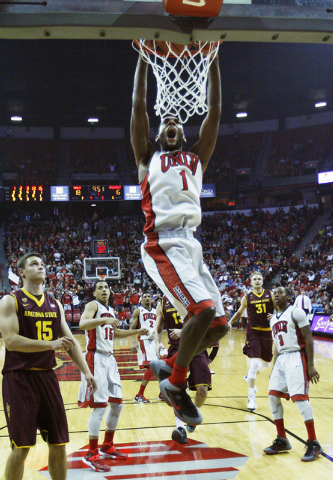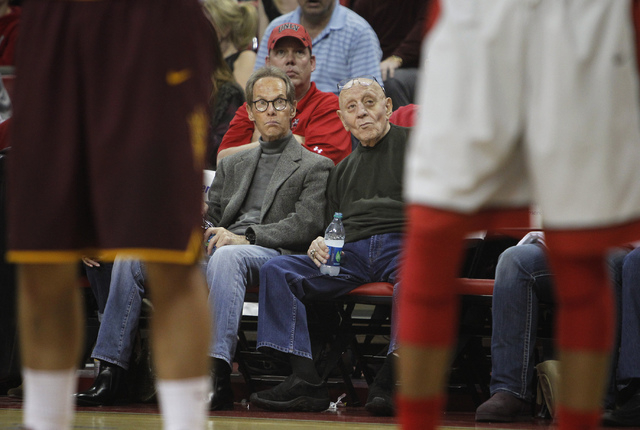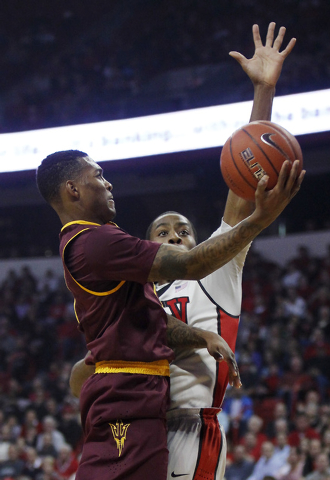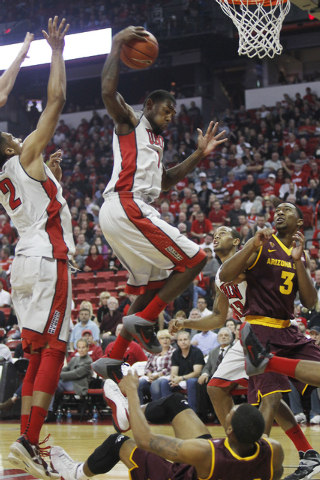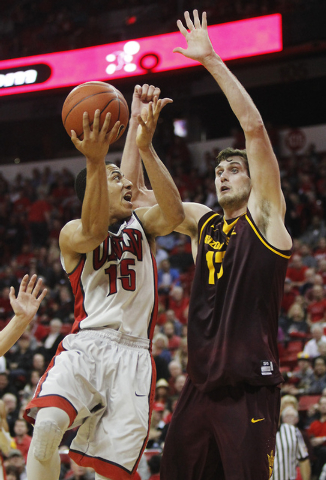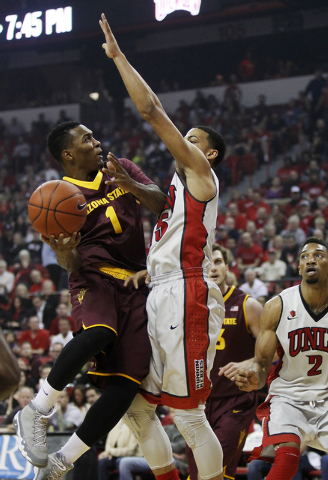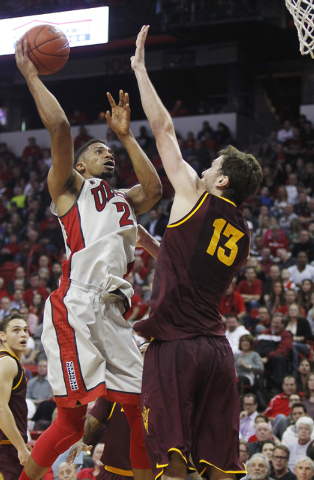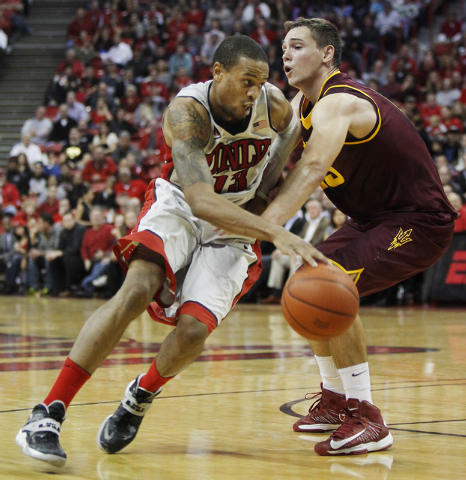 As early as pregame warmups, Jahii Carson sensed he was about to put on a show. The Arizona State point guard welcomed the hostile crowd and was eager to entertain it.
"I like the energy that Sin City brings," he said. "That's one of the most packed arenas we've seen. It was a big game, we saw a huge crowd, and you're in the moment."
Carson put on his own fireworks display at the Thomas &Mack Center, lighting up the scoreboard for a career-high 40 points and rallying the Sun Devils to an 86-80 comeback victory over UNLV before 12,915 on Tuesday night.
The 5-foot-10-inch sophomore was especially electrifying in the second half, when he scored 26 as Arizona State (4-0) wiped out a seven-point deficit.
"I was in the rhythm and feeling it," said Carson, who shot 16 of 25 from the field and 6 of 9 on free throws. "I knew it was one of those games where I had to come out and attack early."
The Rebels (2-2) stuck to man defense almost the entire game, and Carson used his speed to dissect it with drives to the basket. Even after UNLV big men Khem Birch and Roscoe Smith deterred him at the rim, Carson continued his relentless charge.
"Jahii definitely was in full control of the game," Smith said. "There were a few defensive schemes we kind of messed up."
The 6-8 Smith was a strong low-post presence, putting up 18 points and pulling down 21 rebounds in 40 minutes. The 6-9 Birch totaled 11 points, 14 rebounds and eight blocked shots. But they were unable to clean up all of the Rebels' defensive lapses.
"We're getting great production out of those two guys," UNLV coach Dave Rice said. "Roscoe is such a warrior. He's as good a rebounder as there is in the country."
Still, Carson was more dominant from the point. He had seven assists and got support from 7-2 center Jordan Bachynski (17 points, 15 rebounds) and guard Jermaine Marshall (20 points). Bachynski swept around Birch to score on left-handed hooks, and Marshall made three 3-pointers.
The Rebels led 38-34 at the half and went up 56-49 on Kevin Olekaibe's 3-pointer with 13:32 remaining, but the lead disappeared as suddenly as a rabbit in a magic act.
Carson played the role of magician, hitting two 3-pointers before splitting two defenders for a fast-break layup that gave the Sun Devils a 63-61 edge with 9:07 to go. He followed that run with an acrobatic layup on another fast break.
"You've got to keep your poise, keep ice in your veins and keep making plays," Carson said. "When you play man to man, it's easier for me to get to the paint because I'm quicker than most guys. I can't choose the defense teams play, but I prefer man to man. I don't think one man can contain me."
Marshall's 3-pointer put Arizona State ahead 73-68 with 6:14 left. Marshall blocked Olekaibe's 3-point attempt and raced in for a layup to put UNLV in an 81-74 hole with 3:17 to go.
Olekaibe made 3 of 10 3s and finished with 14 points, and Bryce Dejean-Jones and Kendall Smith scored 13 apiece. The Rebels shot 41.3 percent (31 of 75) but made only 3 of 15 3-pointers and 15 of 29 free throws.
"We're not the worst free-throw team in the country," Roscoe Smith said. "We're getting better."
Topping 50 percent at the foul line was an improvement for UNLV, which entered the game 35 of 70 and tied for 347th in the nation out of 351 Division I teams.
The Sun Devils shot poorly for a majority of the game — 5-for-20 from 3-point range and 11-for-20 on free throws — but Carson carried them until Marshall got hot late.
"We're not going to play against a better point guard," Rice said. "We don't need a guy going for those kind of numbers against us."
Rice used only three reserves, and Birch said the Rebels wore down.
"I feel we got tired," Birch said. "When a guy is going off for that many points, it's hard to guard him the whole time. I tried to intimidate him by blocking a few of his shots. But he killed us."
Carson smiled and acknowledged the obvious.
"I had to keep going to the basket," he said. "It's pretty tough to just contain us, period."
Contact reporter Matt Youmans at myoumans@reviewjournal.com or 702-387-2907. Follow him on Twitter: @mattyoumans247.