Centennial 3-point barrage takes out Arbor View
February 20, 2014 - 11:44 pm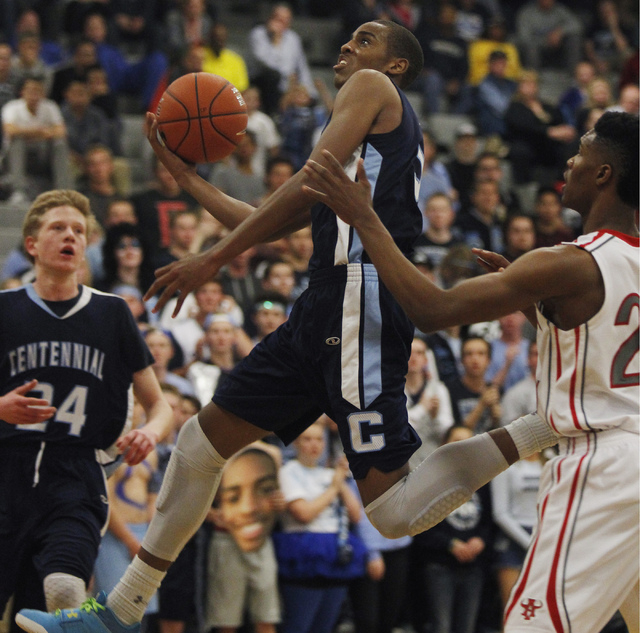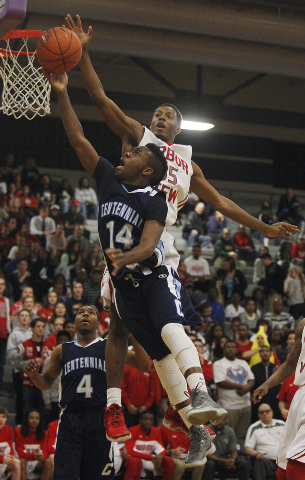 Eddie Davis shot Centennial's boys basketball team into an early lead Thursday, hitting his first three 3-pointers.
And his last proved to be a dagger for Arbor View.
Davis finished with six 3-pointers and 22 points to help Centennial to a 74-60 win over Arbor View in the Sunset Region semifinals at Durango.
"He's been hitting those all year long," Centennial coach Todd Allen said. "And when he's on, he's deadly. He really gave us a spark."
Davis hit three 3-pointers in the first 4:07 to get Centennial (25-3) going. But his biggest shot may have been his final 3-point attempt.
Arbor View's Terrell Butler had hit two free throws to cut the Centennial lead to 60-53 with 3:03 to play. But the Bulldogs broke the Aggies' press and found Davis wide open on the right wing for a transition 3-pointer that pushed the lead back to double digits.
Centennial also got a boost from 6-foot-6-inch junior Garrett Scheer, who finished with 14 points and 14 rebounds.
"Last time we played, Garrett got in foul trouble and didn't even score," Allen said. "So we told him he's got to be a big factor today, and he stepped up for us."
Khalil Thompson had 21 points and was 5-for-6 from the free-throw line in the fourth quarter for the Bulldogs. Freshman Troy Brown added 11 points and 10 rebounds.
The win pushed Centennial into the championship game at 7 p.m. today against Bishop Gorman.
Butler led Arbor View (23-3) with 19 points.
■ Bishop Gorman 74, Durango 46 — The Gaels used a strong second-half burst to put away the Trailblazers.
Gorman limited Durango to six points in the third quarter on 3-for-17 shooting to push a nine-point halftime lead to 57-31 after three quarters.
"We talked at halftime about being more physical and just playing through stuff," Gorman coach Grant Rice said.
Nick Blair had eight of his game-high 18 points in the third quarter for Gorman. Much of that came in transition and was facilitated by point guard Noah Robotham, who had five of his seven assists in the quarter.
Chase Jeter and Robotham each had 14 points for Gorman. Jeter had 12 rebounds.
Victor Ross paced Durango with 13 points, 10 rebounds and five steals. Vee Price and Alex Arias each scored 10 for the Trailblazers.
SUNRISE REGION
Re'Kwon Smith was quiet for much of the second half. But the standout junior forward showed up when Las Vegas needed him the most.
Smith hit a turnaround jumper with 1:13 remaining to give the Wildcats the lead for good and finished with 30 points as Las Vegas knocked off Foothill 81-76 in the Sunrise Region semifinals at Green Valley.
The 6-foot-7-inch Smith was limited to three field-goal attempts in the second half before he hit three straight shots in the final 2:55 to help the Wildcats (22-6) advance to the region final for the first time since 2002. Smith added 12 rebounds and finished 11-for-15 from the floor. Las Vegas will face Canyon Springs (23-4) at 7 p.m. today at Green Valley.
Austin Starr had 17 points for Foothill (20-7), which went 9-for-31 from 3-point range. Matt Rapp scored 14, including a 3-pointer that cut the Wildcats' lead to 77-76 with 41.4 seconds left.
Devon Colley's layup put Las Vegas ahead 79-76, and Patrick Savoy clinched the win for the Wildcats when he was fouled after one of his three steals and drained two free throws with 20.2 seconds to go.
Savoy had 16 points and 10 rebounds, and Colley added 15 points and six assists. Tyler Bey supplied 14 rebounds, seven rebounds and six blocked shots for Las Vegas.
Jalen Shepard scored 13 points for Foothill.
■ Canyon Springs 99, Valley 82 — At Green Valley, Jordan Davis just missed a triple-double with 23 points, 10 assists and eight rebounds, and the Pioneers raced past the Vikings in a rematch of last season's region final.
Shaquile Carr added 26 points, six rebounds and six assists, and Chris Nelson scored 17 for Canyon Springs, which led 47-39 at halftime and pulled away in the second half for its third win over the Vikings this season.
Gerad Davis (12 points, 10 rebounds) had a twisting, alley-oop finish early in the fourth quarter to put Canyon Springs ahead 75-61.
Spencer Mathis paced Valley (22-7) with 21 points and 10 rebounds.