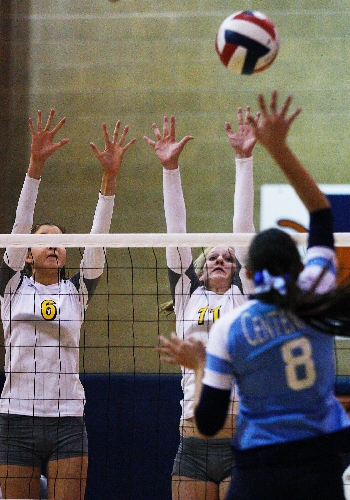 Lacy Miyahira knew Centennial's girls volleyball team couldn't let any ball hit the floor after giving up a two-set lead on Bonanza.
Personifying this philosophy, Miyahira dived to the right sideline, stretched out to dig a free ball over the net and landed it within inches of the inbound line for the Bulldogs' 14th point of the decisive fifth set Thursday, lifting Centennial to a 25-22, 25-20, 23-25, 19-25, 15-13 win over Bonanza in a Sunset Region semifinal at Legacy.
The Bulldogs will play Bishop Gorman in today's region final at 5 p.m. at Legacy.
"I saw it coming over, and I knew that no one else was going to get it, and my teammates were depending on me," Miyahira said. "We were up two and had the advantage, and getting that dig killed their momentum. My mindset was just to get the ball up and don't let it drop.
"Right before that play, I said 'nothing drops, nothing hits the floor.' That could've been my last game."
Miyahira had 10 digs, 22 assists, eight kills and three blocks for Centennial (28-5), and Kaitlin Kelly added 15 kills and 14 digs for the Bulldogs.
Centennial jumped to an 8-4 lead in the fifth set, led by back-to-back points off an ace and a block by Miyahira, but the Bengals (25-9) came back on a string of kills by Bree Hammel, Jessica Wilcox and Sammie Spelman.
"The two sets that we lost, we were focused on playing with heart and not laying down without a fight," Miyahira said. "They won those sets, but I felt we gave them a game.
"Volleyball's a momentum sport, and once you lose momentum, you can't bring it back. In the fifth set, the momentum needs to be the most clutch."
Alex Johnson posted a kill to set up Miyahira's diving dig, and Kelly pounded out the winning kill on a blistering shot to the middle of the court.
"It was my senior year, and I knew if I didn't give it my all, it would be one of my biggest regrets," Kelly said. "I put every ball down that I could. I knew that I didn't want to leave crying tonight."
Kelly powered Centennial to a 2-0 lead, and the Bulldogs led 23-19 in the third set before Bonanza's Ellyn Hirabayashi stepped to the line and served six straight points, punctuated by an ace that tied the score at 23.
Kristi Farley dished out 19 assists for Centennial, and Johnson supplied eight kills and four blocks.
"We knew that we couldn't make any mistakes, and we knew what we wanted," Kelly said. "We just had to push through, forget about the other two sets and focus on the 15 points (in the fifth set).
"I was freaking out, to be honest. But I knew if my setter set me, I had to put it down."
Centennial also led 15-8 in the fourth set, but the Bengals got a balanced effort to rattle off an 8-1 run to force the decisive set.
Alicia Karst came off the bench to contribute seven kills for the Bulldogs.
Hammel led Bonanza with 18 kills, 13 digs and two blocks, and Wilcox added 13 kills and eight digs.
Lauren Karst dished out 40 assists, and Vasati Fiatoa supplied nine kills and six blocks for Bonanza.
■ Bishop Gorman 3, Faith Lutheran 0 — Shelby Devlin had 13 kills and four blocks, and Gianna Ruggeroli added 12 kills as the Gaels swept the Crusaders, 25-18, 25-18, 25-19.
Kylee Chun dished out 18 assists for Gorman (27-10), which got 15 digs from Breanna Rubalcaba and three kills and three aces from Emma Kirst.
Kelsey McCourt paced Faith Lutheran (22-10) with 14 assists, and Sam Leonard spiked seven kills.
Gianni Perryman had 12 digs for the Crusaders, who got three kills and two blocks from Taylor Hammer.
SUNRISE REGION
Las Vegas High is well aware that it takes three sets to win a match.
After edging Basic 3-2 in the Sunrise Region quarterfinals, the Wildcats found out the same thing in Thursday's semifinal.
Desirae Lair had 12 kills and six aces to help Las Vegas top Coronado 25-23, 27-25, 14-25, 25-20 to reach the Wildcats' first region final in five years.
Tiffany Jackson had 32 assists and eight kills for Las Vegas (21-5), which got 17 digs apiece from Katie Mathews and Nina White.
Mattie Ventling had seven kills, and Marissa Lair added seven kills and five blocks for the Wildcats.
The Cougars came roaring back in the third set behind Brooke Garlick, who finished with 12 kills and two blocks.
But the Wildcats rebounded, jumping to a 6-2 lead in the fourth en route to the victory.
Ku'ulei Piena had eight kills and 14 digs for Coronado (21-14), and Berkeley Oblad supplied eight kills and two digs.
The Cougars' Hailey Schulz distributed 23 assists.
■ Green Valley 3, Silverado 0 — Nikki Drost had 19 kills, 15 digs and four aces to help the Gators blitz the Skyhawks 25-17, 25-9, 25-20 and advance to face Las Vegas in today's region final at 7 p.m. at Legacy.
Sommer King had seven kills for Green Valley (28-6), and Julie Dramise added five kills, four blocks and two aces.
Alexa Drost supplied 10 digs, and Jenna Swaffer dished out 32 assists for the Gators.
Kayla Agae paced Silverado (16-9) with nine kills, 16 digs and two blocks, and Morgan Little contributed 11 assists.
Ku'uipo Brown had 19 digs for the Skyhawks.
Contact reporter Sean Walker at swalker@reviewjournal.com or 702-383-0430.
In-depth high school sports coverage