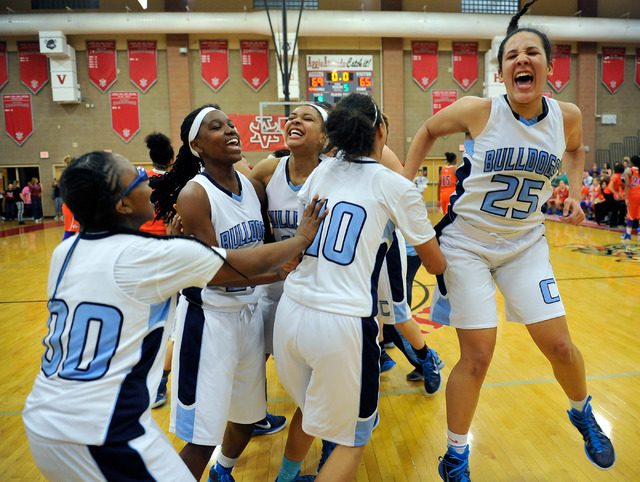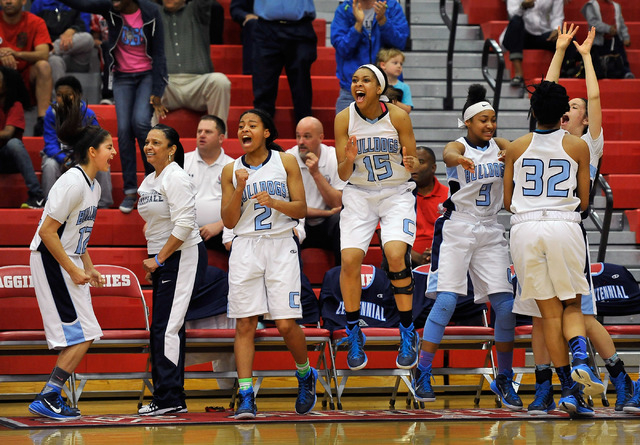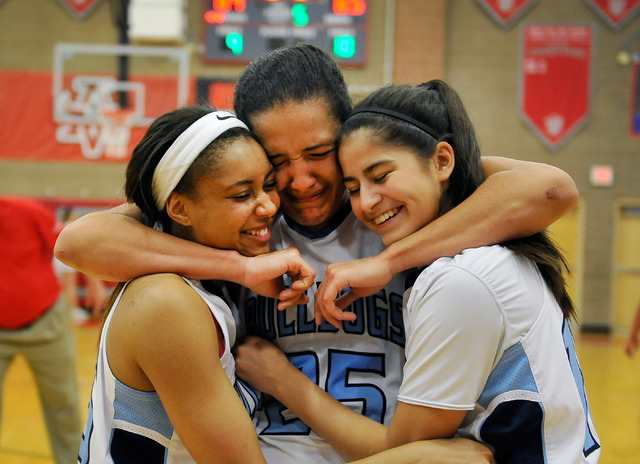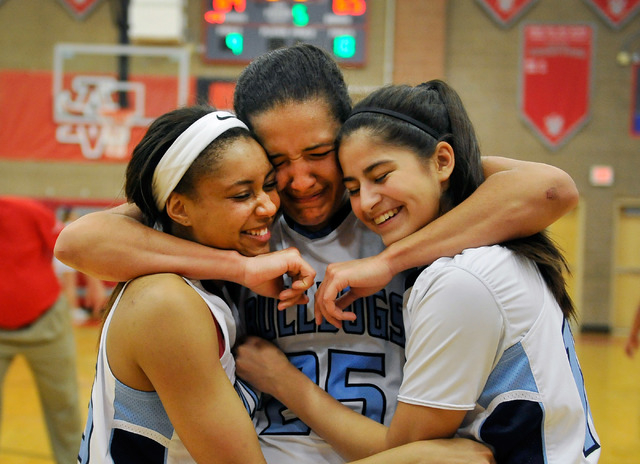 Centennial's girls basketball team had a handful of chances to put away arch-rival Bishop Gorman in the Sunset Region championship Friday.
But time after time, the Gaels battled back from near the brink of disaster.
That is, until overtime.
Centennial used a 6-2 game-closing run — all from the free-throw line — to defeat the Gaels 69-65 in front of a raucous crowd at Arbor View. The Bulldogs (29-2) won their fifth straight region crown and advance to the Division I state tournament, which begins Thursday at Orleans Arena.
"To win five in a row is something else," said Centennial coach Karen Weitz, whose team met Gorman for the 13th straight time in the region final. "For a long time, it just seemed like we went back and forth with them. They came ready, and they elevated their game."
Centennial had chances to take a double-figure lead in the first and second quarters, but Gorman battled back both times and led 32-30 at halftime.
The Bulldogs appeared to be firmly in control, leading 52-44 with less than five minutes remaining, but the Gaels used an 8-0 run to tie the score.
Still, Centennial, which has one senior and two juniors, had a chance to win in regulation. After forcing a five-second call with 11.9 seconds to go and having the Gaels give three fouls in the next nine seconds, Centennial set up Tanjanae Wells for a 16-footer that hit the rim as the buzzer sounded.
"A lot of our kids had never played in this game and some of them have never played against Gorman," Weitz said. "Some of these kids have been hearing about it since middle school."
The Bulldogs never trailed during overtime, going ahead for good at 64-63 when Pam Wilmore made 1 of 2 free throws with 1:56 to play.
"We just had to keep playing," said Centennial sophomore Jayden Eggleston, who came off the bench to lead all scorers with 16 points, including 10 after the third quarter. "We had to show what we had worked this whole year for."
Justice Ethridge hit two free throws with 32.8 to play before Gorman's Megan Jacobs drove the lane to pull the Gaels within 66-65 with 27.9 to go.
Wilmore missed the front end of a 1-and-1 with 24.3 to go, and the Gaels rebounded but were called for a charging foul six seconds later. Wells made two free throws with 16.5 to go, and after a miss in the paint by Gorman, Wilmore hit 1 of 2 free throws with 3.3 seconds to go to seal the victory.
Ethridge added 13 points for Centennial, and Wells had 12, Karina Brandon 11 and Wilmore 10.
"We didn't play well, but you have to give the kids credit. They won," Weitz said.
Madison Washington had 14 points and 11 rebounds to lead Gorman (22-5), which will face Foothill in a state play-in game at 5 p.m. Monday at Chaparral. Raychel Stanley also had 14 points, Jacobs scored 13 and Alaysia Robinson 12.
SUNRISE REGION
For Liberty's girls basketball team, no game is over until senior center Paris Strawther says it's over.
The Patriots led Foothill by 19 points at halftime Friday, but Strawther wasn't about to allow her team to let up.
Though already dominant in the first half, Strawther turned her game up a notch in the second to help host Liberty claim its third consecutive regional title with an 85-50 victory over the Falcons in the Sunrise Region championship.
The victory clinched a spot for the Patriots in next week's Division I state tournament at Orleans Arena.
Strawther, who finished with 24 points, 18 rebounds and five steals, said she was not satisfied with her team's halftime lead, considering the Patriots (25-3) blew a 20-point advantage during a preseason scrimmage loss to the Falcons (21-8).
"So when we were up by (19) at halftime tonight, I knew it wasn't over," Strawther said. "There was still another half to play."
Though the Falcons hung tough in the opening minutes, it was apparent that they were struggling to control Liberty's height and speed.
Kealy Brown nailed a 13-foot buzzer-beater to give the Patriots a 20-14 lead at the end of the first quarter, and the Falcons soon were no match for the Patriots. A free throw by Aubre Fortner began a 17-0 second-quarter run that pushed Liberty's lead to 37-14.
Patriots coach Chad Kapanui said he had a good feeling when Strawther started showing signs of a big night.
"When you have a player like Paris who can go inside and outside, she's hard to stop," Kapanui said.
Any doubt was erased when the Patriots reeled off 12 straight points early in the third quarter, capped by Kaily Kaimikaua's 3-pointer from the left corner to make it 55-27.
"We were more focused on our defense than anything else," Kapanui said. "And they swarmed all over the floor."
That defense helped the Patriots compile big rebounding and forced-turnover advantages to send the Falcons into early desperation mode that yielded few results.
Taylor Turney attempted to rally Foothill, scoring 12 of her game-high 27 points in the third quarter, but trying to contain Strawther was futile, and four other Patriots finished with double-figure scoring.
Brown had 14 points and eight rebounds for Liberty. Nancy Caballero also scored 15, Fortner had 13 and Celine Quintino added 11.
Contact reporter Bartt Davis at bdavis@reviewjournal.com or 702-387-5230.