Centennial girls, Bishop Gorman boys capture state track crowns
Updated May 19, 2018 - 7:00 pm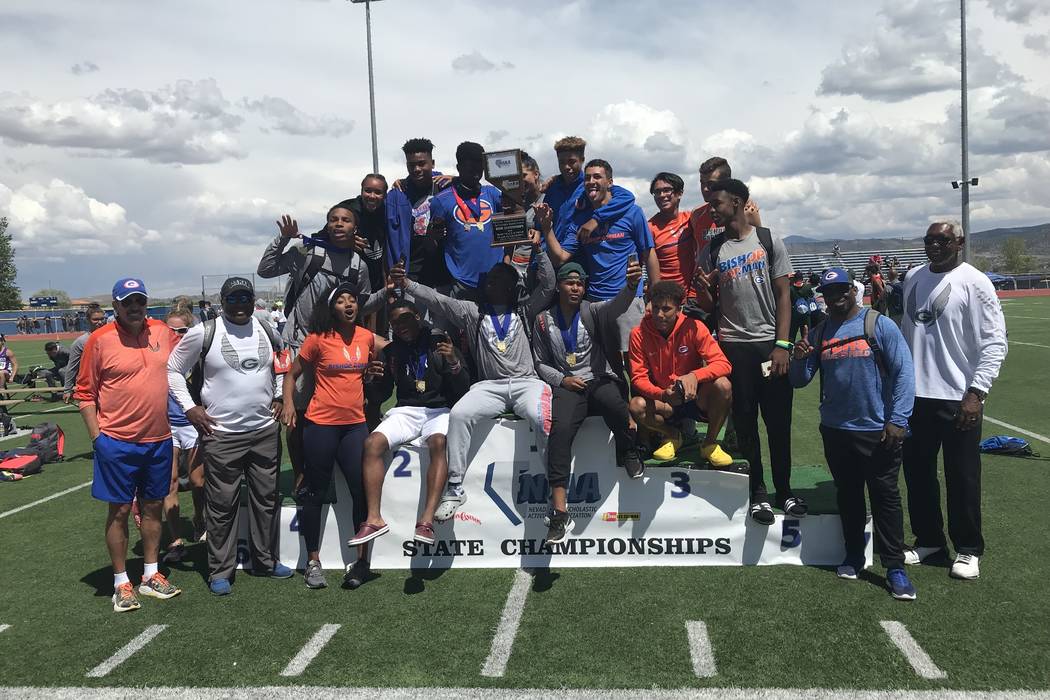 CARSON CITY — Winning doesn't get old for Centennial girls track and field coach Roy Session.
Not after eight straight state championships.
The Bulldogs scored 103 points to run away with the Class 4A state championship Saturday at Carson High School.
Sophomore Quincy Bonds won the 300-meter hurdles in 43.5 seconds for Centennial, and Ashley Moore won the triple jump with a distance of 38 feet, 11¾ inches.
The program's depth did the rest, registering points in 10 other events to beat second-place Rancho by 35 points.
"It really helps us stay focused on the future," Session said of the Bulldogs' depth. "We fight for the team after we're done with regions."
Alexis Gourrier, who ran the 800, 1,600 and 3,200 and on the 1,600 relay, said athletes on the team understand what's expected of them.
"It's really special, because it's a different group every year," she said. "It's amazing to see how everyone coming in, the younger kids coming in, we're still able to compete for the same thing."
Bishop Gorman wins first title
Amid the school's dozens of state championships, Bishop Gorman never had won one in boys track and field. Until Saturday.
The Gaels scored 113 points in the Class 4A meet to claim the school's first title in its 54-year history.
"This program has gotten better and better each year," Gorman coach Scott Cooley said. "We continue to close the gap to the No. 1 team year after year."
Cooley took over the track program in 2011 and gradually developed yet another champion.
Senior sprinter Jalen Nailor helped buoy the Gaels with four state championships — two individual and two with the 400 and 800 relay teams. Junior sprinter/jumper Kyu Kelly also ran the relays and won the long jump in 22-9. Sophomore Cam Hunterton won the triple jump Friday.
"We're making history, man," Kelly said. "It feels good. All this work, we started in January … it pays off."
More preps: Follow Nevada Preps coverage at nevadapreps.com and @NevadaPreps on Twitter.
Contact reporter Sam Gordon at sgordon@reviewjournal.com. Follow @BySamGordon on Twitter.
State track champions
Class 4A
Boys: Bishop Gorman
Girls: Centennial
Class 3A
Boys: Mojave
Girls: Lowry
Class 2A
Boys: White Pine
Girls: White Pine
Class 1A
Boys: Spring Mountain
Girls: Wells