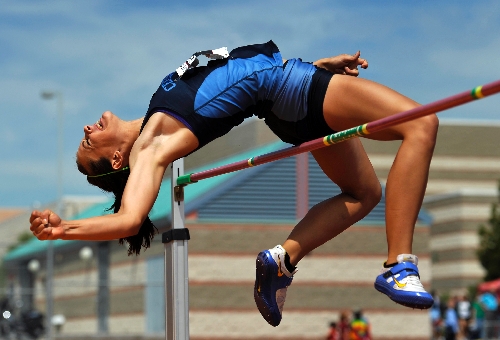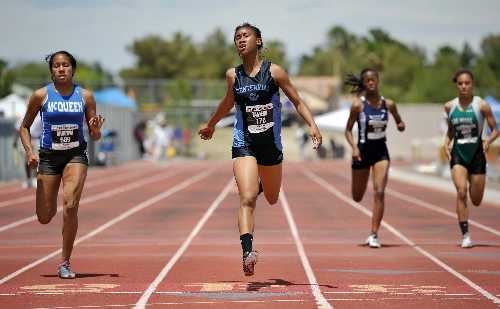 Centennial's Karli Johonnot didn't win any events at the Class 4A girls state track meet.
But the multitalented senior had as much as anyone to do with the Bulldogs winning their first team state championship since 2002.
Johonnot capped her prolific high school career by placing second in the high jump, third in the 100-meter hurdles and fifth in the 200 on Saturday at Del Sol. This after she took second in the 300 hurdles Friday, personally accounting for 26 of Centennial's 106 points.
"This is amazing. I'm so proud of my girls," Johonnot said. "We've had a bunch of freshmen step up this year, and it's been a fun experience."
Johonnot matched Reed freshman Gabby Williams at 5 feet, 6 inches in the high jump, but Williams won because she cleared the bar on her first attempt whereas Johonnot missed.
But Johonnot was pleased with the finish after shortening her approach from eight steps to five, resulting in a season-best effort that eclipsed her state title mark of 5-4 from last season.
"It felt great to clear 5-6," she said. "I've been struggling a little bit with my high jump because my steps were off, but I've got it back now."
Johonnot, who has signed with Duke as a heptathlete, was third in the 100 hurdles in 14.73 seconds and fifth in the 200 in 25.47.
Centennial got a boost from Tamera Williams, who won Saturday's 200 in 25.1 after taking Friday's 100 in 12.38. The sophomore also ran on the Bulldogs' 800 relay team, which won in 1:42.64.
"It's awesome. I worked hard for this throughout the season, and hard work pays off," Williams said. "I'm just proud of my team; they pushed me the whole season."
Centennial freshman Sydney Badger took second in Saturday's 1,600 in 5:16.62 after finishing second in Friday's 3,200 in 11:16.2.
"I think we're a lot deeper than people give us credit for," Centennial coach Jessica Scobell said. "When you have three girls who combine to put together three quarters of your points, we're pretty fortunate."
Centennial won with ease, topping second-place McQueen by 34 points.
An emotional Scobell called Johonnot the "catalyst" behind the program building toward a state title.
"What she's done in terms of making our team dedicated and getting them on the right page as a team and not individuals has been huge," Scobell said.
Legacy's Candice McFarland won the 4A girls 100 hurdles in 14.35 seconds to complete a sweep of the hurdles. The senior took Friday's 300 hurdles in a state meet-record time of 42.67.
McFarland was forced to sit out last season after transferring from Arbor View to Shadow Ridge to Legacy, but she ended her high school career with three state medals after running on the winning 400 relay team Friday.
"It's an awesome feeling. I do not like to lose," McFarland said. "When I came out this year, I wanted to just drive and make my name known again."
Legacy junior Avione Allgood repeated as the girls discus champion with a heave of 146-8 to go with Friday's shot put title at 47-11¾.
Northern Nevada teams swept the small-school girls meets. Elko won the 3A state title with 148 points, Incline the 2A with 121 points and Wells the 1A with 95 points.
The Meadows junior Lauren Henry won 2A state championships in the 100 (12.84), 200 (26.42) and 400 (1:00.46). Trinity senior Andrea Martinez took 1A titles in the 200 (26.94) and 400 (1:01.13).
Contact reporter Tristan Aird at taird@reviewjournal.com or 702-387-5203.
In-depth high school sports coverage