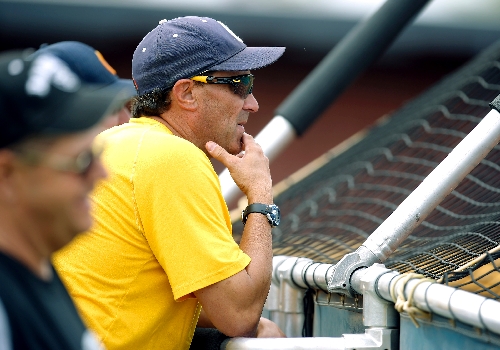 In 11 years at the College of Southern Nevada, coach Tim Chambers has fielded several strong baseball teams. This one, he predicted in August, would be his most powerful.
The addition of 17-year-old slugger Bryce Harper, the nation's top amateur prospect, fortified Chambers' beliefs.
He set the team's ultimate goal — the Junior College World Series in Grand Junction, Colo. — and hoped group expectations would create a positive self-fulfilling prophecy.
"We've talked about it all year," Chambers said. "Absolutely, we can win it."
Second-ranked CSN (49-14) will face No. 4 Pitt (N.C) Community College (41-11) at 6:30 p.m. Saturday in the first round of the 10-team, double-elimination World Series.
While his focus is on the present, there is talk this will be Chambers' last run with the Coyotes.
UNLV fired coach Buddy Gouldsmith on May 18, and Chambers is considered the leading candidate to take over the Rebels. He's well aware of the speculation.
"You get your text messages and your comments," he said. "But I'm the coach here. I have not been contacted by them, so if they are going to contact me, hats off to them for not doing it yet.
"If they do, who knows if I'll take it. I'm not just going to take a job because it's a Division I job. It's got to be the right job."
The Chambers-to-UNLV rumors are heating up in the community, but CSN sophomore infielder Scott Dysinger said it's not a hot topic in the clubhouse.
"That's kind of like the last thing on our minds," said Dysinger, a Bishop Gorman High School graduate.
"It's just fun playing for him. He's a good players' coach."
Since the Coyotes won the NJCAA Western District Tournament on Saturday, Chambers has talked a lot to his team about what to expect in Grand Junction. He went there in 2003 and won the program's only national title.
"He said it's going to be like a once-in-a-lifetime experience," Dysinger said.
Attendance at junior-college baseball games is typically small. But because of Harper's following, CSN has played in front of some crowds in excess of 2,000 this season. More than 12,000 will fill the stands at Suplizio Field.
The spotlight will be on the Coyotes after what Harper, who left Las Vegas High after his sophomore year, did last weekend in Lamar, Colo. He blasted a 500-foot home run Thursday, hit for the cycle Friday and produced a 6-for-6, four-homer game Saturday.
"We're going to get huge crowds," Chambers said. "None of these guys have ever played in front of that many people.
"We've got a lot of older guys. We start eight sophomores and a junior in high school, so I don't think they are going to be nervous."
Sophomore right-hander Donn Roach, the Coyotes' starter Saturday, said Chambers' future is not a team concern now.
"It's time to win a championship," Roach said.
Contact reporter Matt Youmans at myoumans@reviewjournal.com or 702-387-2907.
JUCO WORLD SERIES
At Grand Junction, Colo.
First-round games
Saturday
• Chattanooga (Tenn.) State CC vs. Hutchinson (Kan.) CC, 8 a.m.
• San Jacinto (Texas) College vs. State College of Florida, 11 a.m.
• Faulkner (Ala.) State CC vs. Temple (Texas) College, 2 p.m.
• College of Southern Nevada vs. Pitt (N.C.) CC, 6:30 p.m.
Sunday
• Iowa Western CC vs. Crowder (Mo.) College, 6:30 p.m.