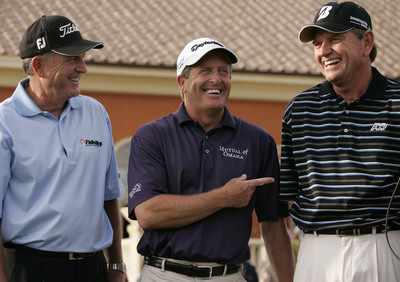 They might be geezers in the golf world, but when it comes to swinging the club, they still have it.
Jay Haas, Nick Price and Fred Funk have 89 years of professional playing experience, and they used it wisely Tuesday to win the Wendy's 3-Tour Challenge at Rio Secco Golf Club.
The Champions Tour trio beat the PGA Tour squad of Rocco Mediate, Stewart Cink and Kenny Perry and the LPGA team of Natalie Gulbis, Cristie Kerr and Helen Alfredsson by one shot in the second half of the made-for-TV competition after winning the first nine holes by three shots.
"We all played pretty well," said Haas, 54, who shot a 4-under-par 32 on the front in the stroke-play format. "It's not brutally long, and neither Nick, Fred or I hit it long, so I think the course worked to our advantage."
Price, in particular, handled Rio Secco with little problem. He was the best of the nine players in the first part of the competition, shooting 5-under 31. His second half wasn't as strong as he made bogey at the par-4 No. 11 when his tap-in putt rimmed out. But he nearly atoned for the miscue by sticking his drive on the par-3 12th within three feet of the cup.
"It shows we're still pretty competitive," said Price, 51, who played the back to 3 under. "My distance control was good, and I hit my irons great.
"When I made bogey at 11, I was ticked off because I thought it may have cost our team. But I really hit a good tee shot at 12, and it almost went in."
The Champions trio had just two bogeys all day; Haas had the other at No. 13.
Funk, 52, was steady throughout. He had some good putt attempts, but the ball didn't drop for him. He still played in the red all day, going 1 under on the front nine and 2 under on the back.
"I didn't do anything spectacular, just played real solid," Funk said. "But it was a blast being out here. Any time you can change it up and play for such a great cause, you want to be part of this."
The event, which is scheduled to be shown on ABC on Dec. 13 and 14, raised $3.7 million for the Dave Thomas Foundation for Adoption.
It also was a big day for Gulbis, who was playing her first competitive golf in two months since a strained back kept her off the LPGA Tour.
"It felt great to be back," said Gulbis, who recorded six birdies in her round and was 5 under for the entire day. "I had a lot of good things working for me. I had good course management, and I spent some time over the weekend with Butch Harmon getting ready, and I feel great right now."
The LPGA and PGA trios each will split $250,000, while Price, Haas and Funk earned $500,000.
Funk said he's not sure how far his share will go, however.
"It'll probably get redistributed with (President-elect Barack) Obama," he said. "But that's OK."
Contact reporter Steve Carp at scarp@reviewjournal.com or 702-387-2913.