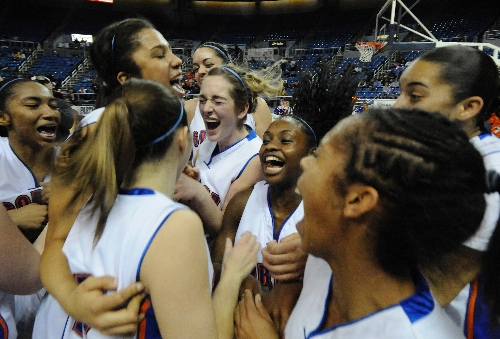 RENO — The party started on the Bishop Gorman bench in the fourth quarter.
It carried into the locker room, as the Gaels danced, chanted and reveled in another Class 4A girls basketball state championship. After a year of haunted memories from losing the 2009 final, they had every reason to go wild Friday night.
Senior guard Aaryn Ellenberg made five 3-pointers in the first half on her way to 21 points, carrying Gorman to an 82-59 victory over Reed in the final at Lawlor Events Center.
Gorman won its fourth state championship, all in the last five years.
"I'm extremely emotional just because Aaryn has been such an inspirational player for us," Gaels coach Sheryl Krmpotich said. "It's hard to put into words what she does for us."
The lone senior for Gorman (27-5), Ellenberg was mobbed by teammates as she received her individual medal.
"I'm glad we were able to win for our senior," junior forward Chelsie Pitt said.
Ellenberg, who has signed with Oklahoma, made 7 of 13 shots from the floor, including 5 of 8 3-point attempts. The McDonald's All-American also had six assists and three steals.
With 10 3-pointers in two state tournament games, Ellenberg set a big-school record. The old mark was seven by Linda Bjornsen in three games in 1993 when 3A was the top class.
"I wasn't really thinking about records," Ellenberg said. "I just wanted to help my team out."
Pitt supplied 18 points on 8-for-15 shooting for Gorman despite nagging back spasms.
"She's just heart and guts," Krmpotich said. "We call her 'Brutus' because she sacrifices herself for the good of the team."
Amber Lane and April Rivers added 12 points apiece for the Gaels. Lane dealt five assists.
The Gaels stormed to a 48-26 halftime leading by making 8 of 11 3-pointers. They rushed to a 23-8 lead and were never threatened.
Gorman was determined to bury the painful memory of last year's 59-58 loss to Centennial in the state final.
"It provided motivation for every practice," Pitt said. "Every time we stepped on the floor, we remembered what happened last year."
Danielle Peacon, a senior center who has signed with Pacific, led Reed with 25 points, 11 rebounds and four assists. Nyasha Lesure added 16 points for the Raiders (18-7), who were seeking their first state title since 1993.
Reed committed 21 turnovers, which Gorman converted into 29 points. The Gaels shot 52.7 percent (29-for-55) from the floor, including 20-for-30 in the first half.
"I thought our shooting was on," Krmpotich said. "We pretty much played an inside-out type of game. You can't key on one player; that was the great thing."
Krmpotich said the victory was emotional not only for sending out Ellenberg as a winner, but also for retiring assistant coach Bert Gallagher.
"I wanted to win that for them because they've meant so much to me personally and for Gorman," Krmpotich said. "It's a great feeling."
Krmpotich said Ellenberg, the only Gorman player to eclipse 2,000 career points, has set an example for the Gaels' four freshmen to follow.
"Going out a champion is what she's done," Krmpotich said. "It's been a joy and gift to coach her."
Contact reporter Tristan Aird at taird@reviewjournal.com or 702-387-5203.
In-depth high school sports coverage