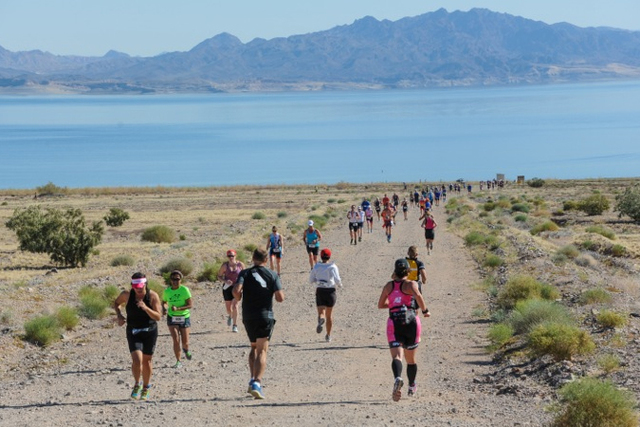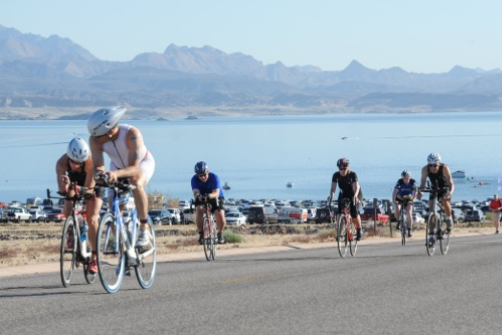 The Las Vegas Triathlon is entering its 19th year, but it's just the second operated by BBSC Endurance Sports.
And in its second year, registration numbers have spiked. This year's triathlon will be Saturday near Lake Mead.
Race director Cedric Keppler said the event attracted about 250 participants last year. This year, it will be just short of three times the size with around 700.
"Seven hundred was a great goal for a second-year event just because it's been pretty low for the last many years," Keppler said. "It's been around the 200s, maybe 300 for a while and then they sold it to us.
"Bringing it back to 700 in a year is great for us, and we envision this to be … maybe close to 1,000 athletes in the next couple years."
BBSC operates numerous other races around the Las Vegas area, including the Las Vegas Turkey Trot 12K on Thanksgiving Day.
"BBSC puts on really top quality races. We have really good quality shirts and medals, and then the race production is top notch," Keppler said. "As soon as (people) found out we had taken it over, we saw an instant jump in numbers."
Registration for the triathlon closes at midnight Wednesday. Keppler said the cap is 700 participants, and as of Monday afternoon, about 650 had signed up.
Competitors can participate in the "half distance" triathlon, Olympic distance triathlon, sprint triathlon and duathlon.
This is the first year BBSC has brought back the half distance event (1.2-mile swim, 56-mile bike, 13.1-mile run), and it has received a fair amount of interest.
"It's definitely bringing about 200 people more that otherwise may not do this race because a lot of athletes might be more interested in longer distances than they are shorter distances," Keppler said.
The most popular option is the sprint (750-meter swim, 12.4-mile bike, 5K run), and Keppler said maybe 350 to 400 participants were signed up for that event.
The race will begin with a swim through Lake Mead. Lake temperatures are expected to be around 75 degrees. From there, participants will bike through the Lake Mead National Recreation Area before running through the trails.
"It's really high energy, a lot of locals, a lot of people coming from out of state to this event. It's a pretty iconic race," Keppler said. "It's probably one of the oldest triathlons in the Las Vegas area. You'll see a lot of athletes coming and competing against each other at Lake Mead."
LAS VEGAS 3-ON-3 TOURNAMENT
Registration is still open for the Las Vegas 3-on-3 Hoopfest basketball tournament.
The event, which previously had been in Spokane, Washington, will take place in Las Vegas this year the same weekend the Los Angeles Lakers are in town to play two exhibition games.
The tournament runs from Oct. 14 to 16 at Toshiba Plaza next to T-Mobile Arena. Hoopfest has been running for 27 years. Sign up at lasvegas3on3.com.
Betsy Helfand can be reached at bhelfand@reviewjournal.com. Follow on Twitter: @BetsyHelfand
CALENDAR
Oct. 1: Las Vegas Triathlon, Boulder City (half, olympic, sprint)
Oct. 22: Pumpkinman Triathlon, Boulder City (olympic, sprint, relays; 10k and 5k runs)
Nov. 12: Rock N Roll Marathon 5k, Las Vegas Boulevard
Nov. 13: Rock N Roll Marathon (marathon, half marathon, 10k), Las Vegas Boulevard