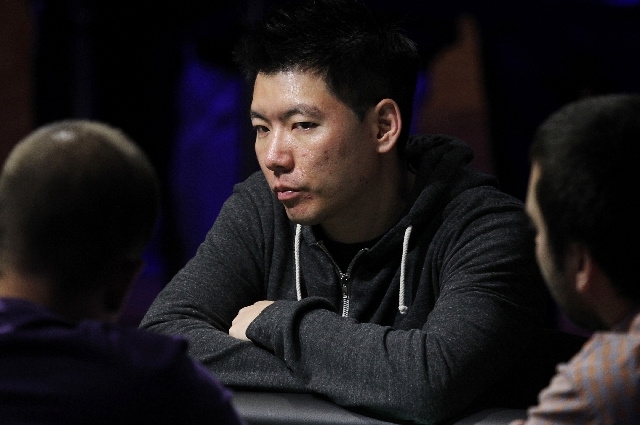 Now that the Millionaire Maker tournament at the World Series of Poker is over, the superstitious Benny Chen can once again talk to his family back in Prince Edward Island, Canada.
Among the first things he tells his brother will be to start looking for a new employee.
Chen won't be spending a whole lot of time helping out around Wayne's Takeout, the restaurant owned by his brother, after pocketing the nearly $1.2 million first-place prize in the $1,500 buy-in no-limit Texas Hold'em event late Tuesday night at the Rio.
"I help him out whenever I'm home and I play poker more recreationally and for fun," he said after eliminating Michael Bennington just before midnight. "Now, I might have to see where this takes me."
Chen, 32, can now at least tell his brother about his plans. Communication is not a part of his routine when he is playing in a tournament, so the siblings haven't spoken since the tournament began on Saturday morning.
"He (sent me a message on Facebook) earlier. That's about it," said Chen, who has had some success playing poker before, including five WSOP cashes, but had never won a live tournament anywhere.
"Everyone knows I'm very superstitious so they let me focus and do my thing and try to talk to me as little as possible."
His girlfriend, Jennifer, knew to stay away, too, opting not to make the trip from her California home even after Chen qualified for the final table and put himself in position to win in the largest non-main event field in live poker history.
"She wasn't here from the start and she didn't want to mess anything up," he said after navigating the field of 6,343 players.
Chen had a group of about 15 friends who were there from the beginning of the tournament and provided the most vocal cheering section at the final table, which lasted just less than 10 hours.
Las Vegan Josh Ladines was among the group. He said they all know how to keep things consistent for Chen during a tournament.
"It's mostly like if something happens and it works, then you just stick to it," he said. "We ate at Earl of Sandwich at the Palms every day."
Ladines said the group was optimistic throughout the tournament as Chen was consistently near the chip lead at the end of each day.
"Good guy, good friend," he said of the newly minted millionaire. "This honestly couldn't happen to a better person."
Not that Bennington wasn't equally deserving.
The 58-year-old physician moved to Las Vegas from Dallas last week so he could play more poker in his spare time.
The timing of his relocation was no coincidence. Bennington planned on starting work in Nevada in late July so that he could spend the first six weeks here playing in the WSOP.
Bennington looked like he was having a blast throughout the entire day at the final table, an attitude he attributes in part to having the financial stability to not have to worry about the payday.
"I'll tell you what, at my age, four days of 12 hours a day is pretty grueling, but when you look at the payout and divide it by the hours, it's not a bad hourly rate," said Bennington, who took home $741,902 for second place. "I'm pretty tired, but I'm on cloud nine right now, man.
"I'll tell you, I love this game. I just love it."
There wasn't a whole lot to enjoy once the final table was whittled down to two. Chen held nearly a 3-to-1 chip lead after eliminating Justin Liberto and Jonathan Gray in fourth and third place, respectively.
After just eight hands of heads up, Bennington was all-in with a pair of threes before the flop and looking across at Chen's pocket nines.
"I was extremely tired when we started the heads up, and then I lost like three or four hands in a row," Bennington said. "I just couldn't get anything to compete with that man. I came up with a low pair and with the way he raised and looking at him, I really thought he had two high cards. I thought I had like a coin flip with a little bit of an advantage, but when he called as quick as he did, I really knew I was dead."
Chen had a different perspective as the one who was ahead when the chips went in.
"I was just hoping it would hold," he said.
The board was no help to either player and Chen took home the first-place cash and the bracelet that goes to WSOP event winners.
Chen said he has no plans yet for the windfall and wants to get through the rest of the WSOP before thinking too much about it.
While Chen's days of pitching in at the restaurant are mostly over, Bennington isn't ready to give up his day job.
"To take that step to professional poker player, I just don't know that I see myself taking that big of a step because it's sink or swim out there," he said. "I've heard some of the pros say, 'It's a tough way to make an easy living.' It's scary."
The rest of the series will be a bit less intimidating for both players after their giant paydays.
Contact reporter Adam Hill at ahill@reviewjournal.com or 702-224-5509. Follow him on Twitter: @adamhilllvrj.