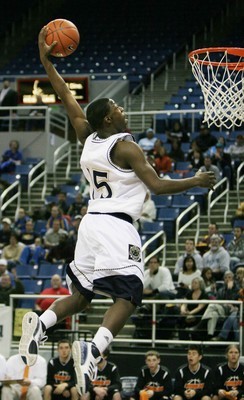 RENO — Cheyenne didn't mess with fancy traps or gimmick defenses Thursday.
Straight-up man to man was more than enough.
The Desert Shields' defensive pressure left Douglas looking like a deer in the headlights as Cheyenne rolled to a 93-55 win in the Class 4A boys state basketball semifinals at Lawlor Events Center.
Cheyenne forced 25 turnovers, 18 in the first half, as it built an early lead and cruised. The Desert Shields (19-7) will play Reno (25-6) in the state final at 8 tonight.
"Cheyenne's a very athletic team, and they came out strong," Douglas coach Corey Thacker said. "We had a little stars in our eyes to start the game off, and they just kept going with it."
The Desert Shields scored the game's first seven points and led 22-4 after one quarter. Douglas (21-11) turned the ball over nine times in the first quarter, leading to eight Cheyenne points. The Desert Shields scored 25 points off turnovers in the game.
"We're known to start off with a bang, and that's what we came out with, a bang," senior forward Ricky Henry said. "And with Elijah Johnson coming out there dunking like he always do, it's going to happen like that tomorrow, too."
Johnson had nine first-quarter points, including two spectacular slams: one on an alley-oop from Eric Leider and another to complete a fast break after a steal. Johnson also hit a 3-pointer from beyond 25 feet to help set the tone.
"I had to come out and show them 'don't be scared,' " Johnson said. "For the seniors, this is their last two games. If they think they can make that long shot, take it. If they think they can make that dunk, go for it."
Cheyenne was making nearly everything, especially in the first half. The Desert Shields were 10-for-14 from the floor in the first quarter and 23-for-36 from the field in the first half. They were helped by turnover after turnover by Douglas, which led to layup after layup.
"They came out, and they were ready to go," Thacker said. "They came after it right from the start, and we didn't handle that. There's nobody in the North that's as athletic."
Cheyenne coach Teral Fair said Leider helped spark the team early. Leider had five points, three assists and a steal in the first quarter.
"The thing that really got us going on a great start was Eric Leider," Fair said. "He played out of his mind. He played the way I thought he would when I first saw him as a freshman.
"I'm just so happy, especially for my senior class, to see them playing so well at this time of their senior year. It's such a special time of year."
All five Cheyenne starters scored in double figures despite spending most of the second half watching the second unit play. Henry led the way with 17 points and seven rebounds. Johnson scored 13 points, Demetric Williams 11 and Leider and Christian Lightbourne 10 each.
Lightbourne also had a game-high 12 rebounds, much to Henry's dismay.
"We battle every night," Henry said. "He got me tonight, but I'll get him tomorrow. I owe him 100 pushups when we get back to the hotel."
Contact reporter Damon Seiters at dseiters@reviewjournal.com or (702) 380-4587.