Chris Wood's anger doesn't show on the court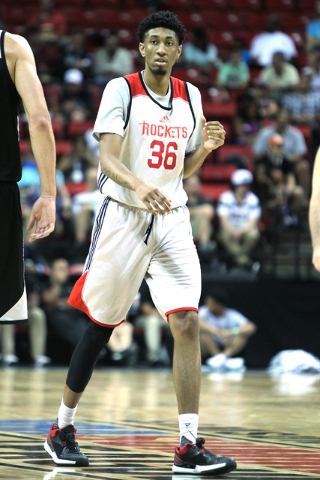 More than two weeks later, Chris Wood is still angry. At some point, he needs to start playing like it.
The sting of disappointment and disrespect Wood felt on draft night in late June is sticking with him this week at the NBA Summer League.
"It's going to last a very long time," he said.
It's up to him to make the sting go away. Wood, who expected to be a first-round pick, signed as an undrafted free agent with the Houston Rockets, a team that seems committed to sticking with a plan of developing the 6-foot-11-inch forward from UNLV.
"I think he came in with the right approach. He was working and he was pushing," said J.B. Bickerstaff, the Rockets' summer league coach. "He's got great length and a soft touch. He can block shots and he can run. With his ability, if the motor catches up to his ability, the upside is unbelievable."
Wood's motor remains the big mystery. Playing with energy and intensity does not come naturally to Wood, Bickerstaff said, so he's got to work on making it a habit. His future in the NBA depends on it. The Rockets are willing to give him a shot.
"We are big believers in taking risks and gambles on talent," Bickerstaff said. "The kid has the talent."
Wood showed flashes of his potential Sunday, shooting 5-for-12 from the field and totaling 11 points and three rebounds to help Houston defeat the Phoenix Suns 108-89 at the Thomas & Mack Center. He played 18 minutes, but did not always play hard.
Alan "Big Sauce" Williams, a 6-8, 260-pound forward from UC Santa Barbara, also went undrafted and signed with the Rockets. If he finds a spot in the NBA, it will be because his effort never lacks.
Williams had 16 points and eight rebounds Sunday, following his 27-point, 10-rebound performance Friday. Williams is out to make a statement and is doing a little better job of it than Wood.
"If I got drafted, then great. But I wasn't going to be devastated if I didn't get drafted," Williams said. "Luckily, I'm here and blessed to be in this opportunity to show what I can do. It's about proving people wrong and proving you can play at this level."
Williams said when Wood plays with an "edge" his talent becomes obvious.
"You see that flash of greatness that he can really be," Williams said. "He's long and athletic and really skilled, and that can get him a long way. I think he's extremely talented."
The knock on Wood, who averaged 15.7 points and 10.0 rebounds as a sophomore for the Rebels, is that he coasts too often and only dominates in spurts. Also, stories circulated in NBA circles that he did not interview well with several teams.
"If you want this to be your livelihood, he's going to have to make a decision," Bickerstaff said. "At this point in the NBA, coaches won't coach effort. But there's going to be opportunity for him."
Wood said he has no idea why he fell from a projected first-round pick in May to out of the draft.
"After I didn't hear my name called, I didn't want to know what happened," Wood said. "I don't want to hear it."
He found at least one fan in Rockets general manager Daryl Morey.
"They are interested in developing me, and I'm interested in getting better, and that's why I chose Houston," Wood said. "I like to run the floor, and their style of play is to push the ball, so I think it's a great fit for me."
Wood is likely to spend next season in the D-League. He's a long shot to land on the roster of the Rockets, who drafted Wisconsin forward Sam Dekker in the first round and Louisville forward Montrezl Harrell in the second round. But his attitude about the summer league is positive.
"Everything is a learning process," Wood said. "I think things are going great for me."
■ NOTE — Former UNLV shooting guard Rashad Vaughn, drafted 17th in the first round by Milwaukee, scored 11 points Sunday in the Bucks' 89-74 loss to San Antonio. Vaughn is 9 of 30 from the field, including 1 of 9 on 3-pointers, through two games.
Contact reporter Matt Youmans at myoumans@reviewjournal.com or 702-387-2907. Follow him on Twitter: @mattyoumans247.