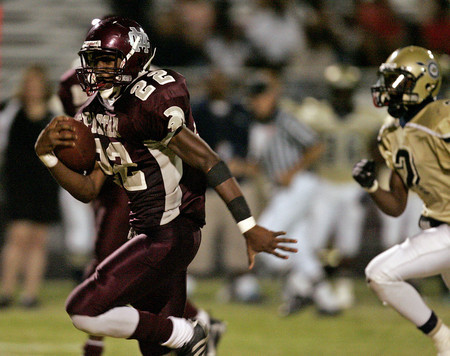 Cimarron-Memorial took the field for the first time in 2009 on Friday night, but the Spartans' trademark power running game already looks in midseason form.
Four Spartans ran for touchdowns and Cimarron chewed up 372 yards on the ground on its way to a 44-7 home victory over Cheyenne.
James Poole compiled 174 yards and two touchdowns, while Stephen Nixon ran for 81 yards and a score and Zach Barbara had 75 yards and a touchdown. Quarterback Kenny Banks also ran for two scores, matching the number of passes he attempted all night. Cimarron rushed the ball 37 times.
The Spartans (1-0) appeared a step slow on defense in the first half but still led 14-0 over a Cheyenne team with a game under its belt.
Having scraped off the rust, Cimarron quickly finished off Cheyenne (0-2) in the third quarter. The Spartans needed only one play to score on each of their first two possessions: Barbara's 67-yard run straight up the middle and Poole's 43-yard run off right tackle that made it 28-0.
"I thought we played more physically in the second half," coach Rod Vollan said. "We're Cimarron-Memorial, we play physical football. The line blocked well."
Poole credited a subtle shift in strategy for Cimarron's fast scores, as the Spartans ran straight at Cheyenne's worn-down defense.
"They were so worried about the trap, so we decided, why not switch it up and run the power on them," Poole said.
Cimarron's defense also emerged with new life after halftime as well. After allowing Cheyenne's Jordan Butler 86 yards on 13 carries before the break, the Spartans held him in check for most of the second half. Butler finally found space on Cheyenne's final offensive play, a 48-yard run to spoil Cimarron's shutout bid with 1:02 remaining.
Butler led Cheyenne with 137 yards on 21 carries.
• Legacy 39, Faith Lutheran 6 — At Legacy, Devin Weidemann passed for three straight touchdowns in the first half and the Longhorns (2-0, 1-0 Northwest) spoiled the Crusaders' first game as a Class 4A program.
Weidemann connected with Dionte Maxwell for touchdowns of 27 and 17 yards and Dillan Knowles for 46 yards, the latter coming 45 seconds before halftime.
But the Longhorns weren't done. They recovered a fumble on the ensuing kickoff and Dashae Edwards (110 yards on 18 carries) spun in from 5 yards to make it 25-0.
In the second half, Legacy senior Demetrus Hughes returned the opening kickoff 72 yards to the 8-yard line and Edwards ran it in on the next play. Martell Crockett (56 yards on seven carries) added a 2-yard TD run.
For Faith Lutheran, Don Pearson scored on a 10-yard pass from Joe Portaro midway through the third quarter. Interceptions halted three Crusaders possessions.
— Brennan Karle
• Palo Verde 52, Mojave 0 — At Mojave, the Panthers scored on eight of their nine possessions and their defense held the Rattlers to 68 total yards.
Chappell Thomas and Brandon Wright each scored two touchdowns, all in the first half, and Tyrone Blake ran 54 yards for a score on the first play of the second half.
Blake led the Panthers (2-0, 1-0 Northwest) with 136 yards on 10 carries and the team finished 379 yards on the ground.
Mojave (0-1, 0-1) didn't cross midfield until its final possession.
— Adam Berchin
• Bonanza 41, Sierra Vista 26 — At Bonanza, Bengals junior running back Dasean Martin wore down the Mountain Lions, rushing for 241 yards and four touchdowns in the teams' Southwest League opener.
Martin dominated the second half to break up a one-point game, running for 158 yards and touchdowns of 3, 6 and 10 yards. The Bengals finished with 324 yards on the ground.
Sierra Vista (0-2, 0-1) had 220 yards rushing, but managed just one score in the second half, Johnathan Hall's 6-yard run midway through the fourth quarter.
The Lions scored first on a 25-yard fourth-down pass from Kimurey Miles to Dontrell Hall. Bonanza (1-1, 1-0) quickly answered on quarterback Sterling Sprau 40-yard run.
Sprau finished with 74 yards and also completed 5-of-11 passes for 101 yards.
Dontrell Hall returned the ensuing kicking 95 yards for a Sierra Vista score, but Martin rushed 6 yards for his first touchdown, then ran for the 2-point conversion to put Bonanza back ahead 14-12.
Also in the first half, Johnathan Hall scored on a 2-yard run for the Mountain Lions and Jimmy Garibay caught a 56-yard TD pass for Bonanza.
Dontrell Hall finished with 93 yards on 15 carries and Johnathan Hall had 85 on 21 carries.
— Sam Leeper
• Las Vegas 17, Snow Canyon (Utah) 10 — At Las Vegas, the Wildcats (2-0) weathered a half-hour lightning delay to hold off Snow Canyon (1-2).
Las Vegas quarterback Hasaan Henderson completed passes of 28 and 39 yards to drive the Wildcats to the Warriors' 6-yard line as time expired in the third quarter, and the game was delayed. Upon resumption, running back Farrell Victor ran in for Las Vegas' only offensive touchdown.
With 2:41 left, Wildcats defensive lineman Trey McElhaney sacked Austin Larsen, forcing the Warriors into third-and-long. They eventually turned the ball over on downs.
— Michael S. Jackson Jr.
• Spring Valley 27, Clark 20 — At Clark, Anton Stallworth scored on a 27-yard keeper with 24 seconds to play, giving the Grizzles (1-1, 1-0 Southwest) their only lead against the Chargers (1-1, 0-1).
Stallworth, who had 66 yards passing and 57 rushing, grabbed a high snap out of a shotgun formation, shed three would-be tacklers in the backfield and raced around the left side for the decisive touchdown.
Stallworth also scored on a 1-yard sneak with 6:19 to play, and Sedal Lott's 2-point conversion run tied the game at 20. The played capped a 15-play, 62-yard drive that consumed nearly nine minutes.
The Grizzlies outgained Clark 343-95, but trailed most of the game because of two key turnovers and a big special teams play. Elbert Garry returned a kickoff 89 yards for a touchdown to give the Chargers a 13-6 lead in the first quarter.
Keneal Riley boosted Clark's lead to 20-6 by recovering a fumble in the end zone. Chris Jackson made an interception in the end zone for Clark in the second quarter.
But Brandon Lopez shifted the momentum to Spring Valley with a 72-yard TD run 31 seconds before halftime to cut the deficit to 20-12.
Nick Santos scored on a 27-yard run for Spring Valley in the first quarter.
— Tim Guesman
• Bonita Vista 17, Shadow Ridge 7 — At Shadow Ridge, Bryan Montreuil ran for 140 yards on 21 carries, including a 3-yard touchdown in the third quarter, and the Barons defeated the Mustangs in their opener.
Zak Hill caught a 2-yard pass from Nick McDearmon for Shadow Ridge's touchdown. Josh Mullins had three sacks and two tackles for loss for the Mustangs.
Bonita Vista quarterback Joel Gutierrez also had a 12-yard touchdown pass to Greg McGhee and German Palma made two interceptions.
— Kevin Klein
• Western 20, Pahrump Valley 14 — At Western, Brian Mikol rushed for 133 yards, including touchdowns of 39 and 52 yards, and the Warriors piled up 375 yards to beat the Trojans in both teams' opener.
Western did all of its scoring in the first half, starting with Mikol's 39-yard TD and Dante Warren's 58-yard keeper. Mikol's 52-yarder in the second quarter turned out to be the decisive score. Warren finished with 157 yards rushing.
Pahrump was stumped offensively until the fourth quarter when Shane Ervine ran in from 1 yard and Dajhan Celius from 2 yards. Ervine finished with 71 yards on 11 carries.
— Nolan Lister
• Desert Oasis 34, Canyon View 7 — At Desert Oasis, the Diamondbacks (2-0) blazed to a 28-7 lead and coasted past the Falcons (0-1).
Roycen Shepherd ran for two 2-yard touchdowns in the second quarter.
Senior quarterback Brennan Scott ran for a 7-yard score and threw 23 yards to Colin Maestas for another in the first half. Stott was 4-of-5 passing for 67 yards, ran for 41 yards and two touchdowns and kicked four conversions.
Sophomore Kamrenn Heatley rushed for 76 yards, including the Diamondbacks' final touchdown.
Aside from Will Cantrell's 34-yard touchdown pass to Zack Hansen, Canyon View didn't capitalize on several chances. The Falcons recovered a fumble at the Desert Oasis 5-yard line in the second quarter but failed to score.
Cantrell finished 7-for-22 for 113 yards with three interceptions. Robert Lawrence rushed for 73 yards.
— Sage Sammons
In-depth high school sports coverage
view video
view slide show