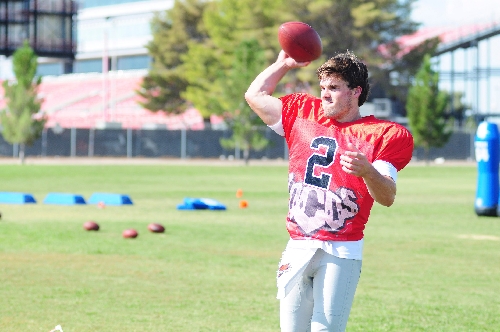 In August, Chase Clement was trying to survive a training camp battle to be the Locomotives' third-string quarterback.
On Saturday, the 6-foot-1-inch rookie free agent from Rice will get his first professional start as the 5-2 Locos look to clinch first place in the United Football League with a win over last-place Hartford at Rentschler Field in Hartford, Conn.
What happened between August and Saturday was a story about a player who did enough things right to convince his coach to keep him around and then was in the right place at the right time when an opening to play presented itself.
"The way I looked at it was I'm a young guy, I've got time on my side," Clement said. "I figured I'd learn as much as I can from (starter) Tim (Rattay) and develop as a young quarterback. That was my mindset, because when you're the No. 3 guy, you're not thinking, 'Hey, I'm going to be starting.' But things worked out that way.
"I guess I never gave up believing. I always thought I had the ability to play professionally. I just needed the opportunity."
That opportunity came nearly two weeks ago when the Locos were struggling against Sacramento at Sam Boyd Stadium and Drew Willy was having a tough night. Coach Jim Fassel made a switch at halftime, turning to Clement.
He threw for 102 yards and a touchdown. He ran for two more TDs, becoming the first UFL quarterback to run for two touchdowns in a game. And while Las Vegas came up short, 27-24, Clement's play convinced Fassel he was worthy of starting the Locos' regular-season finale against the 2-5 Colonials.
"Watching him in training camp, I thought he was someone who could make all the throws," Fassel said. "I liked the way he competed, and he's a real student of the game. He pays attention, and he wants to learn.
"He gave us a real spark (against Sacramento), and he's gotten better as we've gone along. I have no problem with Chase being our quarterback."
Clement was a star at Rice, passing for 9,785 yards and 99 touchdowns from 2005 to 2008. But, with Rattay and Russ Michna back with the Locos after last season, Clement said he was just trying to stick in Las Vegas. He beat out Michna and kept himself prepared.
Then Rattay ruptured his right Achilles' tendon Oct. 15 and was lost for the season, Willy became the starter and Clement rose to No. 2 on the depth chart.
"I tried to take each day as it came and do the best I could," he said. "I never looked too far down the road, but once Tim got hurt and Drew was the starter, I knew I might be one play away from getting in, so I made sure I was prepared in case I was needed.
"Now that I'm starting, my preparation is the same. There's a little more excitement, but my focus has been there each day."
■ NOTES — Defensive tackle Alfred Malone, who injured his foot in the Locos' Sept. 17 opener against Florida, is back on the active roster and will play Saturday. Defensive back Michael Ray Garvin was released to make room on the roster for Malone. … The team will travel to Omaha, Neb., from Hartford on Sunday and begin preparations for the Nov. 27 UFL championship game there rather than fly back to Las Vegas.
Contact reporter Steve Carp at scarp@reviewjournal.com or 702-387-2913.