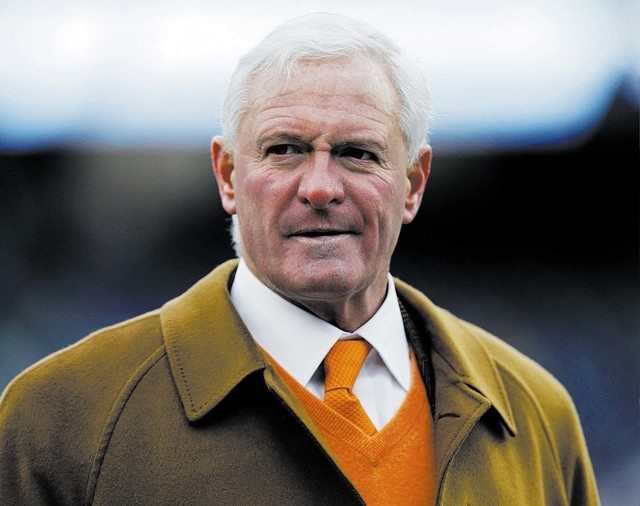 It didn't take long for an enterprising Browns fan to try to capitalize on Monday's classic news conference in Cleveland during which a local TV reporter asked team owner Jimmy Haslam if the team was being run by The Three Stooges.
On Tuesday, Stooges T-shirts surfaced with the heads of Haslam, CEO Joe Banner and general manager Mike Lombardi lined up like the comedy team of Moe, Curly and Larry above the phrase, "Rebuilding Disbelieveland since 2013."
At the news conference to discuss the firing of first-year Browns coach Rob Chudzinski, reporter Dan DeRoos qualified his question by saying he was "a news guy, not a sports guy" who was there as a voice for the fans.
After reciting several bitter fan comments from his station's Facebook page, DeRoos asked Haslam, "Can you assure the fans — their words, not mine — that you don't have The Three Stooges running this operation?"
Rather than channeling his inner Moe and poking the reporter in the eyes or cracking, "Oh, a wise guy, eh," Haslam took the high road.
"I feel really confident that we have the right people to take this team where we want to," he said. "We have the best fans in the world. I've said our fans deserve better."
We find the question insulting. To the Stooges. They're more fun to watch than the Browns.
Chudzinski couldn't be reached for comment, but we're guessing he would have said, "I was a victim of soicumstance."
Soitenly.
■ STEELER THAT STOLE CHRISTMAS — A 7-year-old Cincinnati fan gave Kevin Huber reason to smile after the Bengals punter suffered a broken jaw Dec. 15 on a block by Pittsburgh Steelers linebacker Terence Garvin.
In a handwritten letter to Huber, the boy wrote, "Dear Kevin, I hope you feel better soon. I am mad at the Steelers because you are my #1 player. … I know you played for the Bearcats and Bengals and I love the teams. I hope that Steeler player loses his house and has to live in his car. Get well soon, Nicholas Andrew Johnson."
Garvin isn't living in a van down by the river, but Johnson can take solace in the fact the Steelers didn't make the playoffs and his Bengals did.
■ FOOD FIGHT — Contrary to popular belief, Carmelo Anthony wasn't named after the Caramello candy bar. The New York Knicks star was named after his father, Carmelo Iriarte.
Anthony still appears to have an unhealthy love-hate relationship with food. He went ballistic during a game last season when former Boston Celtics star Kevin Garnett reportedly said that Anthony's wife, TV personality La La Vazquez, tasted like Honey Nut Cheerios.
On Tuesday, Anthony used food as a weapon in a war of words with a fan who berated him on his Twitter account.
The fan, @_Kingsleyy5, wrote to Anthony, "How about you win a ring you (bleeping) kill me man rooting for you all the (bleeping) time and you always disappoint me."
Replied Anthony: "I didn't ask for your glazed donut face ass to root for me anyway!!!!"
Too bad Carmelo can't come up with comebacks like that for the Knicks (9-21).
COMPILED BY TODD DEWEY LAS VEGAS REVIEW-JOURNAL