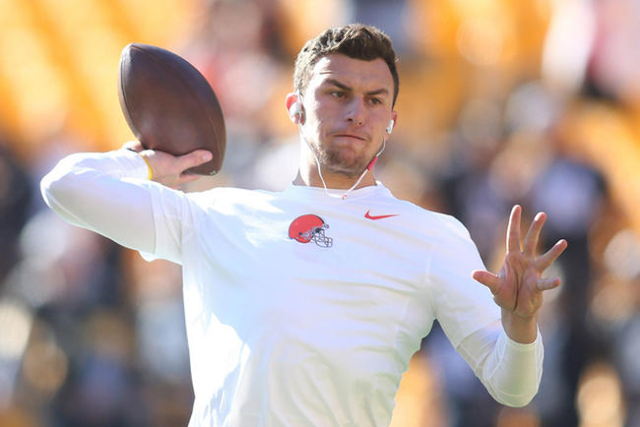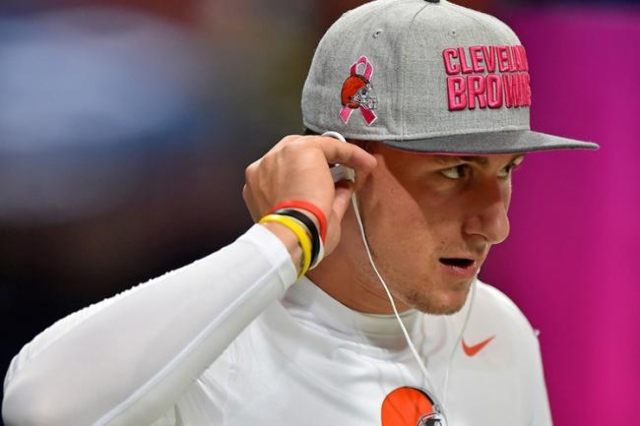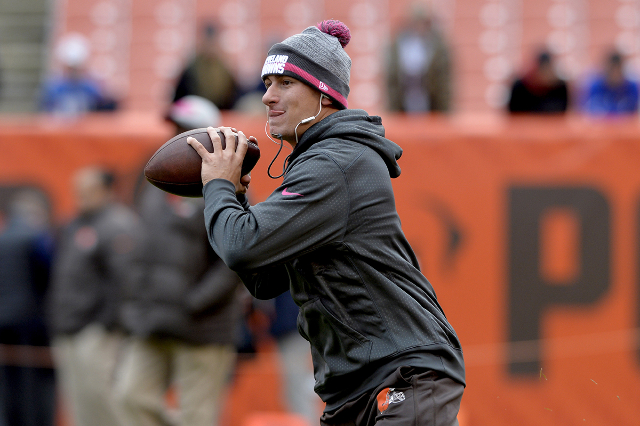 The Cleveland Browns will waive quarterback Johnny Manziel when the league year opens March 9 for repeated transgressions that have hurt and embarrassed the team, the Cleveland Plain Dealer reported Tuesday afternoon.
Earlier in the day, new executive vice president of football operations Sashi Brown indicated the team had grown weary of Manziel's antics — a clear signal that Manziel's football future did not include being a member of the Browns.
"We've been clear about expectations for our players on and off the field," Brown said. "Johnny's continual involvement in incidents that run counter to those expectations undermines the hard work of his teammates and the reputation of our organization. His status with our team will be addressed when permitted by league rules.
"We will have no further comment at this time."
Brown might not have any further comment to the media, but a league source told the Plain Dealer that Manziel had played his last football game as a member of the Browns.
Cleveland can't waive or trade Manziel until the league year begins March 9 because they've already exercised the option of moving their salary cap space from this year into next year, the newspaper reported. Therefore, they don't have the option of waiving him when the waiver period opens Feb. 8, a day after the Super Bowl 50.
On Saturday, police investigated an alleged assault that involved Manziel in Fort Worth, Texas. Fort Worth and Dallas police are working together to determine whether any criminal offenses occurred, and NFL spokesman Greg Aiello told ESPN that the league was aware of the situation and was "looking into it."
Earlier Tuesday, new Browns coach Hue Jackson weighed in on the 23-year-old quarterback's latest brush with the law.
"My general reaction would be disappointment," Jackson told the "Hey Tony" show on ESPN Cleveland 850. "As I've said many times, I would like for the Cleveland Browns' players to conduct themselves in a manner that represents the organization well.
"Obviously, that reflected differently on what we want to have happen. Obviously, it's a process that we're going through, and we'll continue to go through it."
When Jackson was hired, he said each member of the team would be re-evaluated and decisions would be made based on evaluations as players.
Jackson said he has begun that evaluation process, but he was not ready to make a decision on Manziel. Later in the day, it appears a decision had been made.
Fort Worth police said in a statement on Saturday that officers were called to an apartment building around 2 a.m. about a possible assault. Police said Manziel was not arrested.
"The preliminary investigation determined that a possible assault had occurred in that jurisdiction or multiple jurisdictions," the police statement said. "The complainant was uncooperative with officers on scene, and they were unable to locate a crime scene within the Fort Worth jurisdiction, however, our officers prepared a report nonetheless, and that information was forwarded to detectives for further investigation."
The police report stated that the woman was concerned about the well-being of Manziel, and an effort was launched to locate him that involved the police's helicopter unit. Police later determined that Manziel was safe and not in danger.
Cleveland fans seem to be tired of Manziel as well.
In response to the latest incident, one Cleveland fan started a "Johnny Free February" movement on Twitter and as of Monday more than 1,000 fans had signed up to participate in the campaign "not to tweet, retweet or mention Johnnie Manziel on Twitter in February or until he is no longer a Cleveland Brown."
Like Sports News on Facebook: